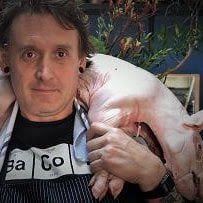 I've been going through every post ever written on this site over the past week, and a name has kept popping up: Scott Shampine. I wondered what had happened to the chef, who has worked for Branch in NE, Bluehour, a Cena in Sellwood, Olea in the Pearl District and Gracie's in the Mallory Hotel. I vaguely recall a bunch of rumors about his stint at Bluehour. After what seems like a long absence from the Portland food scene, he has resurfaced, taking over the kitchen at the newly revamped Uptown Billiards in Northwest Portland.
Uptown Billiards Club's new chef, Scott Shampine, spent a decade enjoying our five-course menus on his rare nights off.  One night, frustrated with what he described as the "stupid, ego-centric (expletive) of the high-profile-restaurant popularity contest," he was sitting in our dining room and said to himself, "When I'm ready to leave all this high-profile stuff behind, I'm going to have this (Uptown) job and I'm going to spend my days doing nothing but cooking the best food I can."
I would be foolish to try to expound on that.  I will simply tell you that once again the food at Uptown rivals everything in Portland.  Come try it.  If you aren't blown away by what this guy can do for your $39, dinner is on me.
Uptown Billiards Club, 120 NW 23rd Ave., 2nd Floor, Portland, OR 97210