Here are some of my biggest restaurant service peeves!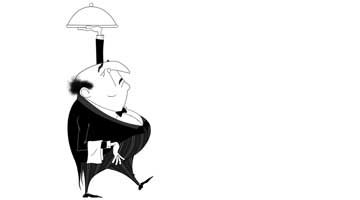 A few weeks ago, I ordered a burger. Since there was no mention of fries, I ordered a side. Twenty minutes later, the burger with a huge mound of fries arrived, as did the side, which was easily large enough to feed three people. Would it have been so hard for the server to say something when I ordered? It was just me, he knew I was alone, and yet he failed to mention that I didn't really need the side.
The same thing happened later in the week with greens. You'd think I would have learned, but didn't check when I ordered a side of greens. My table was swimming in them.
I know some people will say this is my fault, and that I should ask, but it seems to me that any server worth their salt might say "You know there is a huge mound of greens under the chop you ordered; did you still want the side?"
Coffee: make an attempt to meet my eyes for a moment before you refill, disturbing the perfect balance that I have achieved in my cup. I may not want any more.
Wine: I'd really rather pour it myself. Sometimes it helps to distribute things evenly, as there is frequently one person at the table that is gulping at double the rate of anyone else.
Water: Do you really need to refill the glass every time I take a sip?
Menus: Please tell me if you are out of things or have specials before I've looked at the menu for ten minutes.
Spills: if you splash coffee on my shirt, please just hand me a damp napkin, and don't try to dab at it yourself. It's very awkward, and unless you are really good looking, I will probably knock over the water as I recoil.
The tab: Don't ask me if I need change; it's awkward. Just bring me the balance, and I will tip appropriately.