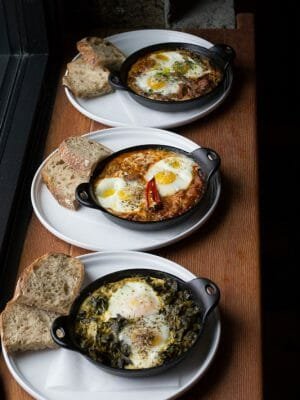 Shalom Y'all Expands to second location
Kasey Mills and John Gorham are doing a soft opening of their popular Shalom Y'all restaurant at 117 SE Taylor St. in Portland. The grand opening will be Monday, February 12th. From the PR –
Kasey Mills and John Gorham's new full-size Shalom Y'all Restaurant opens it's doors to the public for full-service February 12th featuring favorite dishes from Shalom Y'all West, Mediterranean Exploration Company, and new dishes inspired by Kasey's trip to Israel. The bar program by Jamal Hassan will put arak front and center. Shalom Y'all!
Holsteins Shakes and Buns Closes
It took more than a year for Holsteins Shakes and Buns to open the restaurant after they leased the Pearl District space, which was once the location of P.F. Chang's. In November of 2016, I openly wondered whether it would ever open. It finally did in May 2017, and again I couldn't help but make a few snide remarks.
"The restaurant is by Block Sixteen Hospitality which owns five other chains. It will be opening in the Pearl District where PF Chang's used to be. The space is huge, and I've really wondered how the owners managed to keep the space vacant for so long; the posters have been on the windows for at least a year. I've been wondering how a burger place can possibly fill such a large space in one of the most expensive rent districts in Portland. Just that it took them over a year to open the doors makes me wonder about the management prowess of the people behind this company.  The Las Vegas location features a menu of burgers starting at $15.50 to $32 (Kobe beef, foie gras, port onion marmalade, frisee, truffle mayo, since you asked). Also look for a few salads and typical bar food such as buffalo wings, sliders, and poutine.  Eater has some photos, all of which make sure it's not a place I'd want to eat."  Portland eaters didn't like it either – it received an average of 3 stars on Yelp.