6.18.12 – This restaurant is now closed.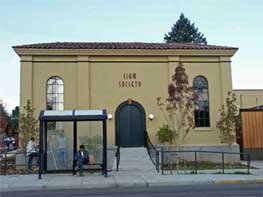 In my humble opinion, Thai food is one of the most difficult types of cuisine to make properly. Just look at how many Thai restaurants there are in Portland – four in just a few blocks of Alberta Street. Any Thai expatriate may think they can buy a little curry paste and make Thai food, but very few actually manage to pull it off. There are several reasons for this. One is because early Thai restaurants in America quickly learned they needed to adapt to American palates. This meant toning down the spices. Second, many ingredients used in traditional cooking were unavailable in the United States. The combination of these two factors resulted in food that was overly bland, and uninteresting, or just far too unbalanced and spicy. Finally, there is the question of balance. Most dishes have many ingredients, all with strong flavors and characteristics of their own. Add too much of any one, and the entire dish is thrown off.
Like a Bach fugue, each line on its own can be rather boring. Put all the different lines together and you have a wonderful balance of sound: sweet, sour, spicy, salty; all the notes work together to harmonize. Thai cooking is much the same way, but unlike Thailand where many vendors just specialize in one dish, American restaurants have to come up with entire menus. It's not easy to do the intricacies of this food justice on such a large scale.
Thai food is further complicated by influences from different regions. Everything from sauces to accompaniments tends to be in northern and southern versions. Early Chinese brought the introduction of stir-frying. Beginning about the 17th century, Dutch, Japanese, and Portuguese cuisine also influenced Thai cooking. However, Thai foods are different from those in the way they use spice mixtures. Pure spices are used and enhanced by herbs such as lemongrass and galangal. While Thai curries can burn intensely at first, they have a short life on the palate, where other curries, such as Indian varieties, tend to have a much longer finish. One should also remember that Thai cuisine is greatly influenced by the country's Buddhist background. It is rare to find the use of large animals in big pieces. Instead, larger cuts are shredded, the common utensil for eating being the spoon. You will still find many of these characteristics in Thai dishes today. This is further complicated by fusion restaurants that have come into vogue. There is both "Americanized" Thai food, as well as a fusion where other countries are strongly influencing dishes. Finally, recipes are generally influenced by the food's originating region. Take, for example, pad Thai. A dish with a huge amount of ingredients, there are also a great many different recipes for it. All of this can make it very difficult to review the food unless you go back to the founding influences from the very beginning. Does it follow the basic principles; is it balanced so all the flavors harmonize, and does it taste good? By these standards, much of the different variations can be judged equally, even with a modern twist on ingredients. Many other Thai dishes are the same way, with each chef having his/her own following, ready to argue that their restaurant's preparation is the only 'real' way to make a particular dish.
When ordering Thai food, keep in mind that dishes are meant to be shared. A proper meal should consist of a soup (which you should always find on any Thai menu), a curry, and some sort of dip with fish and vegetables. If the soup is spicy, non-spiced items should be substituted for the curry. There must be a harmony of tastes and textures, both within the individual dishes, but also within the entire meal. For the Thai, the heart of food is simple, plain rice. Without rice, many Thai will feel that they have not eaten. Rice and food – khao in Thai – are synonymous, and the Thai often refer to plain rice as 'beautiful rice' or 'noble rice'. The dishes that provide the nutrients and flavors which complement the rice are referred as kap khao, meaning "with rice". As with everything else, the way rice is prepared tends to vary between the northern and southern regions, with meals in the northern areas such as Chaing Mai more likely to serve sticky rice in small straw baskets (frequently in wrapping to keep it moist). In southern areas, you are more likely to get the fluffy jasmine rice generally found in Thai restaurants around Portland. One must also remember, noodles have always been a huge part of Asian cuisine, dating back many thousands of years, and are found in many regional dishes. For more information, see our Thai Food Primer by clicking here.
Enough of the primer; we are here to talk about one restaurant in particular, and that is Siam Society on NE Alberta. The first thing you should know is it is located in an old power company substation. A square blockhouse that was a warren of little rooms filled with electrical equipment has been completely renovated, yet still keeps the industrial feel of its past. From the imposing square building with a sweeping staircase leading to the front doors to the foot-thick concrete walls, there is no doubt this building has a serious industrial past. Many of the interior walls have been cut out, with large steel beams acting to replace their load-bearing capacity. The ceiling, rising some 20 feet, is studded with skylights. The old windows with their beautiful iron shutters are still in place on the otherwise, completely refinished outside shell. On a recent early evening, light poured into the room, dramatically lighting the space. With the accompanying industrial art, it really is quite beautiful. When Siam Society first opened, there was a problem with the heating system. This has been solved, but as the concrete tends to absorb cold, wear a sweater during the cooler months. In the summer there is a terrific patio upstairs in the back. I can't wait to have a drink out there on a warm evening.
The interior is broken into two sections, the full bar taking one side, and the dining room the other. The cocktail list is terrific with some of the best drinks in Portland. My favorites include the pomegranate cosmo: a perfectly balanced mix of fresh limes, shaken with 100% pomegranate juice, vodka, and triple sec, and their twist on the Brazilian caipiroska, with muddled limes, sugar, Stoli, and mango juice, beautifully adorned with slices of fresh mango around the outside. These cocktails are perfectly balanced, most around $7.00. Seven bottled beers are available: Singha, Hoegaarden, Corona, Bridgeport Supris, PBR, Kaliber, and Rogue Hazelnut Ale. Four are on tap @ $3.00, all Roots Organics', and there is a small selection of wines by bottle and glass.
We have a good thing going here: a nice building, attentive staff, excellent drinks… but it all comes down to the food, and, in most cases, Siam Society delivers with flair. All the portions are large; I'd make them a bit smaller. It would be easy to make a meal out of an appetizer and a soup. The presentation of every dish is beautiful. Some curries come to the table in the individual copper pots used to cook them: dramatic and they stay nice and hot.
The calamari may be the best I have ever had. It is lightly battered and cooked to exactly the correct crispness. I was dazzled by the subtle flavors of lemongrass and a hint of hot peppers married with the subtle seafood flavor. It doesn't get better than this. The lighter than usual batter really lets the flavor of the calamari come through.
The pork spring rolls have been a huge hit every time. You get a platter with about six large pieces that are crackling crisp, lying alluringly on a bed of spinach. Cinnamon, hazelnuts, and vanilla beans give them a wonderful depth. An accompanying dipping sauce works perfectly; this is an incredibly good interplay between flavors – just terrific. One caution, eat them while they are hot or they aren't nearly as good.
Though they are not always on the menu, the homemade sausages are a must-have. Chiang Mai is in the Ping River Valley, a well known agricultural region. The food from this northern part of Thailand has different characteristics from the other three parts into which Thailand is generally divided. Their namesake sausage is robust and wonderful, crackling with flavor. Everything pairs marvelously when you orchestrate a bite with the cabbage, peanuts, and ginger.
Soups are interesting, a bit different from the normal Thai fare. Even the small portions are quite large. I tried the ginger soup, which was VERY gingery, muting some other flavors, but it still went over well with my group. The Thom Kha with chicken was a bit thicker than you normally find around town, though not as heavy as you would find in Thailand. I think it is terrific; I could easily just have a bowl of this for dinner. The coconut milk blends perfectly with lemongrass, kaffir lime, fish sauce, and I believe galangal, making it refreshing during warm weather and warming during cool weather. When it is on the menu, the hot and sour soup shows the Chinese influence on Thai cuisine, but only in the basic structure, not in the final execution. It has a good combination of flavors, some of which I can't identify, but everything balances just the way it should.
I've had a pretty good sampling of the other dishes. Here is a quick summary.
Laad naa had a perfect level of deep, smoky flavor. The smoky pork balances the other ingredients, the fat wheat noodles provide the perfect base, and the Chinese broccoli and mushrooms are bright and crisp.
Phad Thai is probably the biggest selling Thai dish in America. It is also one of the most complicated and least appreciated for its complex melody of flavors. Instead of the nuts being finely chopped, they were halved and scattered throughout, a nice change that added some texture. It was a decent entrée, a dish that is very hard to compare to others because there are so many variations on the recipe. My recommendation is to think about it while you eat and try to pick out and appreciate all the flavors. Many versions have 17 or more ingredients.
The phad kee Mao with beef is a dish of great contrast, the textures and flavors of the crispy fried basil leaves, grilled red peppers, chilies, and onions all harmonizing with the tender beef, and perfect wheat noodles. This is not the "drunken noodles" you have tried most places, but a much more sophisticated version that really sings. Often, this dish is a blowout of spice that covers the other flavors (the reason they call it "drunken noodles" is because of the amount of water you'll want to drink to combat the heat.), but here the heat is held back just enough so that everything balances. The crispy fried basil gives lovely little explosive bits of flavor against the noodles; a transcendent dish that raises Thai-fusion cooking in Portland to a new level.
Kao soy with curried chicken is a good test dish for a Thai restaurant. This is a green northern version, originating from the Muslim community. Make sure to squeeze the lime over it to bring out the flavors, and pay attention to the subtle mace and cinnamon flavors hiding within the coconut milk. The first time it was wonderfully piquant, the second time the flavors were a bit muted, but as with most homemade curries, the flavor is going to vary a bit from batch to batch. Overall, it has a great combination of ingredients, with many layers of flavor giving it lots of depth. Crunchy noodles give a great contrast in textures. As with the other curries, it comes steaming to the table in a beautiful copper pot.
Grilled pork chops are great. If you like pork and spicy Chinese influenced dishes, you will think you are in heaven. The pork is cooked to exactly the right point. The chops are thick and juicy with a wonderful sear, the sauce full of fresh, crunchy textures. Thick slices of fresh mango cool at the same time the heat of the spices. A lovely effort.
Another big hit is the roasted chicken, glazed with a ginger rum sauce. The chicken is (once again) perfectly cooked and moist, the sauce giving it a slightly sweet resonance. We passed it all over the table as it is huge, and everyone wanted more.
Panang curry with grilled flank steak has tender beef and tiny Thai eggplants, giving it a subtle herbaceous flavor. The spice is just right, not too hot. Lately, it seems like there is less flank steak than before. Very smooth sauce, no separation – in a surprising change, if you have the leftovers the next day, you don't have to fight your way through a layer of congealed grease. The flavors are somewhat subtle, slightly overpowered by the spiciness, but if you concentrate, the different components are not difficult to pick out. It can be a bit on the sweet side, but if you spend any time in Thailand you will quickly realize that most curries are even sweeter there.
Finally, the massaman curry delivers a blow of complexity and flavor that will leave you stunned. I think this is the best dish on the menu, and that is saying a lot. There are many layers of complex flavors giving tremendous depth and a long finish. Even the potatoes are perfectly cooked. If you can finish the dish (the portion is so large and rich, this would be a bit of a challenge), you'll want to lick the bowl. An astonishing interpretation of a classic Thai dish.
Desserts at Siam Society can be stunning. Perfect ice creams take lots of practice because the flavors change so much as they freeze. Don't miss them here; they are always fresh, and close to perfect, with a creamy, tiny grain, and lovely balanced flavors. The coconut ice cream atop steaming sweet coconut sticky rice had everyone at the table fighting over the bowl. A cardamom ice cream had a remarkably rich flavor and did a delicate dance with vanilla notes. Coconut flan was a big step up from normal restaurant versions, absolutely smooth, with a vivid, silky mist of Grand Marnier. The lemon ginger cheesecake is on a crust that is light yet friable, the cake almost as light as a mousse, with tiny bits of lemon zest and a scattering of candied ginger across the top. Phenomenal! If nothing else, stop here for the desserts and a really good cup of coffee!
Siam Society is not true Thai in the purest sense of the word, but rather a new set of influences on a very old cuisine that is already influenced by many of the world's regions. While the food might not be as spicy as some would like, remember, they have to keep it at a level where it will be palatable to most people coming in. If you like things hotter, you can always ask for the sides of chile/spices.
It is nice to have a new addition to the Thai restaurant scene that is not just another cookie-cutter version of all the others. The inside is striking, the drinks excellent, and much of the food is quite memorable. I like that the owner greets you as you walk in the door, and the chef frequently makes her way out at some time during the meal to see w
Address: 2703 NE Alberta, Portland, OR. 97211

Google Map

Wheelchair accessible through the door on the left side.
Website:

siamsociety.com