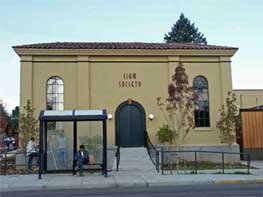 I heard a rumor that Siam Society over on NE Alberta had sold, and dropped a note to Owner Paul Van Slyke. I felt really stupid when he said they had sold the place back in 2010!
I have to say, I'm glad to hear this news. I became acquainted with Paul and his lovely wife Adrienne not long after they opened Siam Society. I can't say I know them well, but they have always stuck me as incredibly genuine; two of the best people I have met since I started this site. Unfortunately, early last year I made a fateful visit to the restaurant where everything just wasn't that great, and the single return visit I've made since then was also disappointing.
So for the past few years it has run under someone else with the same Siam Society name. Now I'm told that it has been sold again, and this time it will get a makeover. The new tenants will be remodeling the space and opening a gastropub, probably named Breaker House. No timeline at this point, though the website has been taken down.
(For those who have ever thought about moving to another country, Adrienne has written a blog where she is chronicling their move to a smallish city in Thailand. She's an engaging, interesting writer, and has included some recipes – though not the massaman curry, damn it!)