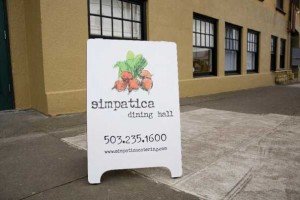 As the nation roiled in torment over the Vietnam War, Vortex, the only state-sponsored rock concert ever, was envisioned in an old Portland building at the corner of Southeast 9th and Pine. After the war and Richard Nixon's subsequent Watergate Waterloo–the time when later baby boomers were coming of age–the same building hosted the Pine Street Theater. There were no theatrical productions that took place as far as I know, only loud electric music. Beer, herbal refreshment and better-living-through-chemistry prevailed and cares melted away during full dance and sweat summer nights. The Pine Street passed away with my youth, but was reincarnated as La Luna for the next generation. It too faded away.
The building remains. New owners have extensively remodeled it and have broken up the large theater into a warren of smaller spaces. Only two are occupied so far, but the occupant should command the interest of local food enthusiasts. The ghosts of the Pine Street have welcomed Simpatica Dining Hall to their midst. The proprietors–John Gorham, Ben Dyer and Jason Owens–should soon become familiar names if they are not already. The boys–two transplanted from points east and one from the 50th state–already operate one of Portland's premier meat counters, Viande at City Market. Their other major operation, Simpatica Catering, booms. As if to prove sleep is not a priority, Jason, Ben and John have also operated a weekly booth at the Saturday Portland Farmers Market; served Sunday brunch at Pix Patisserie; and managed occasional dinners at City Market.
Initially, the Pine Street space gave the boys a little more kitchen space from which to stage popular catering productions. But the idea of consolidating their scattered dining operations quickly moved from the back burner to the fore. A wall went down, tables, chairs and artwork went in and the Dining Hall was born.
The Hall hosted its first Sunday brunch and fixed course dinner on December 11, 2005. I missed the brunch. This was a shame since this is the meal where Jason really shines. As for dinner, with assistance from clarklewis alum, Jason McHugh, the boys presented a five-course extravaganza centered on the Alsatian classic, choucroute. With their expertise in meat, this was a natural. This choucroute featured lamb ribs in addition to sausage, lardons and duck confit in champagne-braised sauerkraut. Other courses included half shell oysters as an appetizer and orange curd crepes for dessert. All the food was delicious and the crowd of about 40, which is at the Dining Hall's capacity, seemed to be having a dandy time. Among the celebrants were Vitaly and Kim Paley, out with a group of their friends and restaurant regulars; Roger Porter, dean of Portland restaurant reviewers; and a young couple who graciously agreed to switch seats so my group could sit together. The only criticism of the space is that it was so ear-splittingly loud that conversation had to be conducted at a shout. Ben promised prompt modifications. I hope they have been accomplished.
One winning element of the dinner was its family focus. By this, I am referring to the delightful servers at the event, namely John's wife, Courtney, and Jason's wife, Kelly. (Ben's wife, Meghan was home with their kids.) I mean no gratuitous criticism of others here, but the Simpatica group strikes me as the operation that in both form and function deserves the label, family supper. The family focus obtains outside of work too, with the three couples and their young children socializing together those rare times when kitchen demands can be set aside.
Now that the holidays have passed, the Simpatica Dining Hall moves into high gear, with
weekly Saturday dinners at 7 pm, Sunday brunch available from 9 am to 2 pm and Sunday dinners at 6:30 (a half hour later than the December dinners). According to a recent announcement, greater effort will be made to cater to vegetarians. In addition to unspecified vegetarian alternatives, the first 2006 Saturday dinner will feature a lamb shanks entree plus four other courses for $35. Sunday night is three courses, themed "Nona's Night," with Italian home-style dishes front and center for $20. One of the entrees is an eggplant Parmesan, the others involve meatier choices. Beer and wine are available for purchase at the dinners.
Although it is too early to say just how high the Simpatica Dining Hall arc will climb, if
the enterprise is anything like its proprietors' other efforts, chances are it is going to be a winner. To that I say, "far out."