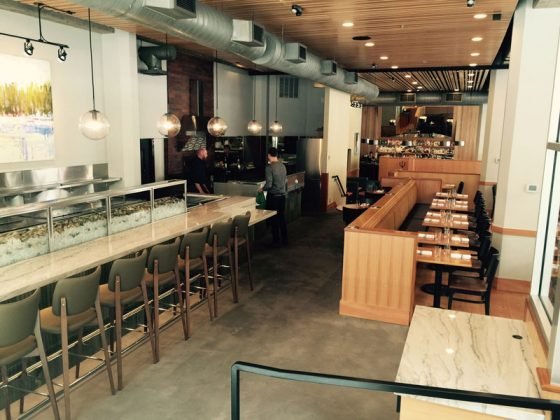 Southpark Seafood restaurant is "reopening", or at least they are officially done with the restaurant remodel. The lower section is open now, and the upper dining room is scheduled to be completed this week. The redesigned oyster bar will have "the largest selection of fresh oysters in Portland". They are celebrating tomorrow June 7th with their first ever Public Dinner; a family style ticketed dinner that will be celebrating Oregon King Salmon. Tickets are $100 and include a 4+ course meal and wine pairings.
Simpatica Dining Hall is discontinuing dinner and brunch service.
After ten amazing years, it is time to make some changes.
Thank you to all the folks who worked with us over the years, to all the guests that have shared a meal with us, it has been a true pleasure.
While our weekly Dining Hall Dinners & Brunch are going away, we will continue to be a resource for all your catering & private dining needs. We look forward to seeing you all again!
I've never quite understood the restaurant. I liked the food, but they did such a small amount of publicity, I rarely thought of them as a place to go. These days of social media, restaurants have to do more to stand out. Simpatica will close June 28th.
No sooner did I put the North Light at 3746 N Mississippi into the new patio database, when I got the news that they had closed. Now comes word that the space is being taken over by the local Verde Cocina chain. If plans go well, the restaurant will open later this month. Makes me nervous seeing them expanding so quickly. As my grandmother used to say, "a flame that burns brightest, burns out quickly". She was talking about love, but food is love, yes?
Crickets.
PORTLAND, Or. (June 3, 2016) Verde Cocina, the NW Farm-to-Fork inspired Mexican café owned and operated by husband and wife duo, Noé and Anna Garnica, will be opening their fourth location in North Portland.

The new café, set to open in June, is located at 3746 N Mississippi Ave. The space, formerly occupied by the restaurant North Light, includes a bar, and both indoor and outdoor dining areas with seating for approximately 54 inside and 60 out on the patio.

Anna Garnica shared that "we've been looking for a place on the east side for a long time — since right after we opened our first location five years ago. The opportunity and timing were finally right. We are very excited to be in the heart of such a fabulous neighborhood!"

Verde Cocina will continue to offer their signature gluten-free menu using ingredients tailored to meet a variety of dietary considerations for everyone from the carnivore and Paleo minded to ardent vegans. Menu items feature locally procured cheeses, eggs from pasture-raised chickens, grass-fed beef and pork, produce sourced directly from regional farmers, ancient grains, and fresh squeezed juice cocktails.

The new location joins Verde Cocina café locations in Hillsdale, 6446 SW Capitol Hwy., the Pearl, 524 NW 14th Ave, and Sylvan Highlands, 5515 SW Canyon Ct.
You may remember Earl Ninsom from such hits as Langbaan Thai (six month wait for reservations), or PaaDee, at which I had a really good meal a few weeks ago. His new Southern Thai fried chicken, curry and fresh roti restaurant called Hat Yai has opened in North Portland. I stopped in for a quick bite, skipped the fried chicken that everyone else was clamoring for, and had the beef cheeks roti instead. If future visits are anything like this one, I'll be putting it on my regular rotation. Hat Yai is at 1605 NE Killingsworth St,
Portland, OR 97211.
Belgian Brewer De Halve Maan turned to social media to expand production of their historic brewery without impacting the town. It seems the brewery is in the town of Bruges, which is known for narrow cobblestone streets and ringed with canals, all of which made it very difficult to get trucks between the two locations. What does any business do these days when faced with a financial problem? Crowd funding, of course.
The company proposed building a two-mile pipeline between the two facilities, which would carry more than 1,000 gallons of beer per hour. Anyone who donated $8,000 was promised a free beer a day for life. It didn't take long – they raised more than $300,000 and the pipeline should be completed by the end of summer. Read the full story on NPR.
Finally, Big Ass Sandwiches has closed. The sandwich cart, known for smothering everything with fries, rose to fame after being featured on The Travel Channel, won Best Sandwich of the Northwest on Adam Richman's Best Sandwich in America show, and was featured by Jimmy Fallon. Flushed with success, they opened a brick and mortar location at 5663 N. Glisan. In a statement to Fox 12 news, they said "We weren't able to reach the goals we set for ourselves in this spot and are ready to move onto the next stage of our lives".