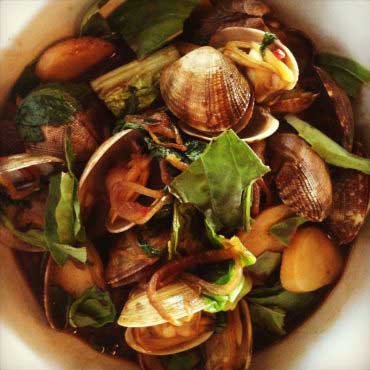 For some reason I tend to forget Smallwares, and that is sad, as in my opinion, it is one of the better restaurants in Portland. Now news that Chef Johanna Ware is debuting a second restaurant – Lil' wares.
Chef Johanna Ware of 'inauthentic Asian' restaurant Smallwares, is expanding with a new restaurant in Northeast Portland slated to open in late May called lil' wares. Located across the street from the critically acclaimed Smallwares and funky Barwares, lil' wares will open in late May with exciting activities and events planned through the summer. The restaurant, which features a 30-seat patio, will be open for lunch and happy hour during daytime hours from 11am-5pm, Monday–Friday.

"lil' wares is a place for me to spread my wings a bit and have some fun," said Ware. "I want to show people more of the food I like to cook and see how far I can push myself. It will be a fun, laid back summertime place – like a really great barbecue with killer food, drinks and music, but all done in my style."

Beginning June 1, lil' wares will also open for private parties and events. Ware plans to feature food coming straight off the grill, with familiar but boundary-pushing dishes like avocado toast with sesame chili dressing shiso and a fried egg, General Tso's sandwiches, and the Smallwares cob salad with kimchi Thousand Island dressing. The restaurant will also offer a version of the Smallwares kids menu.

Drinks will include fun takes on lassis and slushies (alcoholic) with options like mango gin lassis, or a strawberry and pink peppercorn vodka slushy, a full wine list curated by Sarah Egeland and a daily wine spritzer.

lil' wares kicks off with an all-offal dinner in late May. Please visit www.smallwarespdx.com for more info in the coming weeks. The restaurant will be located at 4537 NE Fremont Street.