This first-of-its-kind culinary experience seamlessly integrates food and tea
From the press release –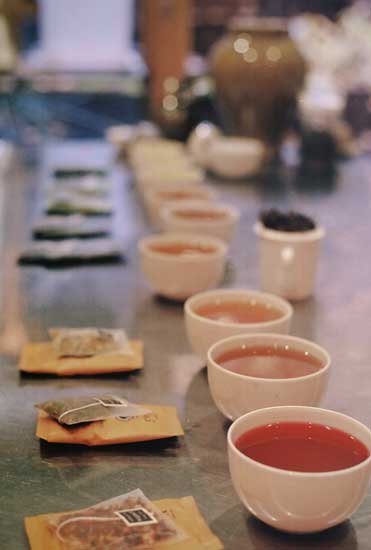 Portland, Ore. (May 13, 2021) — Smith Teamaker will open the doors to its path-breaking new concept on Saturday, May 29th. The Portland-based craft tea company, deeply rooted in plants, has recruited the talent and knowledge of Karl Holl (Portland Monthly Chef of the Year, 2018) as Culinary Director to work hand in hand with Smith's tea lab to create a plant-based menu, tapping into the library of flavor encompassed in their line of premium teas. Smith Teamaker's new signature tea experience will offer hot and cold-brewed teas, inventive specialty tea drinks, a food menu where tea is seamlessly incorporated as a culinary ingredient, and retail a selection of Smith's packaged teas. The new location on Northwest 23rd and Glisan Street marks a return to the Northwest neighborhood where the company was founded by legendary teamaker Steven Smith in 2009.
"As a company steeped in the world of flavor sourced from plants, expanding our offerings to include a plant-forward food menu is a natural evolution for us," says Darren Marshall, CEO of Smith Teamaker. "We're thrilled to soon welcome customers into our new location to experience our teas from leaf to cup to plate."
The Food
Culinary Director Karl Holl utilizes myriad techniques to incorporate tea as a key culinary ingredient in many of the signature dishes. For example, beets for the Garden Sandwich are roasted in fragrant jasmine tea, quinoa for the Smith Bowl is cooked in vegetal Sencha, and floral White Petal tea infuses sheep's milk cheese on the Rainbow Carrot & Barley Salad. At breakfast, house-made Chocolate Hazelnut Granola is served with Chai Milk (hot or cold), and coconut yogurt is topped with Red Nectar Strawberry Jam (strawberry jam infused with Red Nectar, a beloved rooibos/honeybush tea blend).  Smith Teamaker has partnered with artisan bakery Grano to bake breads for the café as well as to create cookies and pastries enhanced by tea, such as a Chocolate & Peppermint Croissant (filled with Woodblock chocolate infused with peppermint tea), a Masala Chai Spiced Morning Bun dusted with chai-cinnamon sugar, and a Pacific Lemongrass Curd Danish.
The Tea 
Ever innovating, black and herbal tea lattes (hot or cold) at the new location will be pulled from an espresso machine, fondly referred to as the shop's "teaspresso" machine. This technique extracts the aromatics and produces a full-bodied, concentrated tea while bypassing a long steep time, utilized in signature drinks such as the Meadow Latte and Black Lavender Latte. 30 different teas will be offered to brew hot, as well as four refreshing iced teas. They'll also offer signature tea flights, and a traditional Gaiwan service to showcase oolongs and other rare teas over multiple infusions. Complex seasonal, non-alcoholic tea cocktails will be created by Smith's Tea lab and featured on the menu each month. Smith Teamaker's new location will also serve as a retail shop with a curated selection of the company's expansive repertoire of plant-based sachet and loose leaf teas, including seasonal releases only available from Smith.
The Space
Smith Teamaker's new location encompasses the ground floor of a newly constructed glass building by Allied Works, and the interior was designed by coveted Portland designer Andee Hess of Osmose Design. She drew inspiration from Smith's iconic packaging and the teas themselves to design a soothing green-hued space with stylish elements such as geometric "vines" that travel up the front windows, and a quote by founder Steven Smith into the oak paneling that reads "The perfect cup of tea is one shared with others." There are 18 seats inside  (at tables, bar, and window seating), along with 18 seats outside on a covered patio. Guests won't want to miss the restroom, designed to evoke the feeling of being inside of one of Smith's tea cartons.
The "Smith Bowl" (sencha tea infused quinoa, kale, apples, tea plumped raisins, spiced sweet potato, chai walnuts, cider vinaigrette); photo by Lindsay Strannigan courtesy of Smith Teamaker
Info
Location: 500 N.W. 23rd Ave. (at Glisan) in Portland, Oregon
Hours: 9am-5pm, beginning on May 29th
Website: SmithTea.com
Takeout/Delivery Ordering: via Tock (exploretock.com)