A couple of notable press releases out today –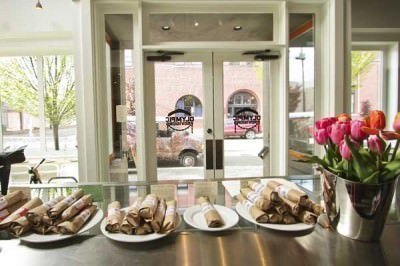 Olympia Provisions NW rolls out a new coastal menu, updates aesthetic
After 7 years, Olympia Provisions NW (OPNW) is growing into herself in Slabtown. Like a teenager, she's changed her clothes, dyed her hair, and now has her own style.

Dining at any Olympia Provisions location is something special and unique: old world charcuterie production meets contemporary culinary presentation. The combination of OPNW's new aesthetic and menu is a fresh example of this experience. The format is also our first foray into a more coastal European style bistro: we've added a raw bar next to the deli case, banquette seating, updated furniture and lighting, and threw up a fresh coat of paint. Likewise, Chef Eric Joppie is excited to focus on the intersection between Oregon seafood and charcuterie. The menu highlights coastal fare and seasonal vegetables while paying homage to what we know and do well: charcuterie, wine, and pastry. The quintessential dish will be a Hog & Rocks (meat and seafood) tower. Did we mention Jessica Hereth was named one of Food & Wine's 2018 Sommeliers of the Year? The natural wine program is highly curated and approachable.

Our aim is to be the go-to dining room of Northwest Portland. We are using food and wine to celebrate our community: from the fishermen to the foragers to the farmers to all the folks (new and old) in the city. The restaurant will be open for brunch, lunch, and dinner, transforming throughout the day to cater to our diverse assembly of vendors and customers. We invite everyone to come enjoy a meal and time together.
Olympia Provisions NW is at 1632 NW Thurman Street in Portland. You can see the full press release with the new menus here.
Southfork Reopens as Perlot
PORTLAND, Ore. (June 19, 2018) – On Tuesday, June 19th, SouthFork reopens as Perlot! Perlot is a creative, globally-inspired neighborhood restaurant, with unparalleled live jazz music. Approaching their one year anniversary, co-owners and childhood friends Eric Schindele and Casey O'Brien decided to start fresh, with a new look and name. Perlot draws inspiration from Schindele's pioneering family history. To celebrate the launch, Perlot will feature a rotating 3-course menu of some of Executive Chef Patrick McKee's most daring and seasonal plates that source inspiration from across the globe. This special menu thanks customers for a wonderful first year, and will be available through the end of July, for $35.

"As we neared our one year anniversary, we wanted to start fresh and be more representative of the incredible globally inspired plates Executive Chef Patrick McKee is coming out with," says Perlot co-owner Eric Schindele.

The Perlot name takes inspiration from co-owner Eric Schindele's family history here in Oregon. Inspired by Jean-Nicolas Perlot, Eric's great, great uncle, an Oregon pioneer by way of Belgium and France. Jean-Nicolas had many adventures in the early west – including mining the California gold fields and opening the first tourist trail to Yosemite National Park. He was known as the "French Gardener" in Portland, as one of the first landscape architects who worked with legendary Portland families like Ankeny. Perlot first planted a vegetable garden at Ankeny's home, then sold the vegetables and shared the profits. Ankeny later asked Perlot to landscape the property, which launched his landscape career. Jean-Nicolas Perlot wrote a book in French called "Vie et adventures d'un enfant de l"Ardenne"  (translated as "The life and adventures of a child of Ardennes") which was translated into English by UC Berkeley and retitled "Gold Seeker".

An Iron Chef America winner and 10-year veteran of James Beard winning chef Vitaly Paley's Paley's Place, Executive Chef Patrick McKee has spent time in some of the best kitchens in the world, including the Michelin-starred restaurant Arzak in Spain. Perlot's menus change with the seasons, and always feature the freshest vegetables a result of McKee's deep relationships with local farmers. McKee has even partnered with Urban AG Solutions to build a microgreens project in the kitchen. Perlot's menu features daring plates that source inspiration from across the globe, like the Vegetable Plate, with market vegetables, herb goat cheese, topped with shredded aged goat cheese, Fried Oyster Ssäm, with butter lettuce, bourbon pickles, hot sauce, and Mushroom Dashi, with smoked tofu & oyster mushrooms, shoyu & miso butter.

"Music fuels us here at Perlot", says Perlot co-owner Casey O'Brien. "We're really proud to have built a platform for Portland's best musicians to be heard."Perlot provides two unique and distinct experiences an open kitchen in front and a moodier back lounge where you can take in dinner and a show. The lounge features some of Portland's best jazz performers live on Friday and Saturday nights, as well as during brunch. Perlot is open for dinner Tuesday through Saturday, a one of a kind jazz brunch on Sunday, offers all night happy hour on Tuesdays and half-priced wines on Thursday. Perlot also boasts a patio open in the warmer summer months.
Perlot is at 4605 NE Fremont Street in Portland. You can see the full press release with the new menu here.