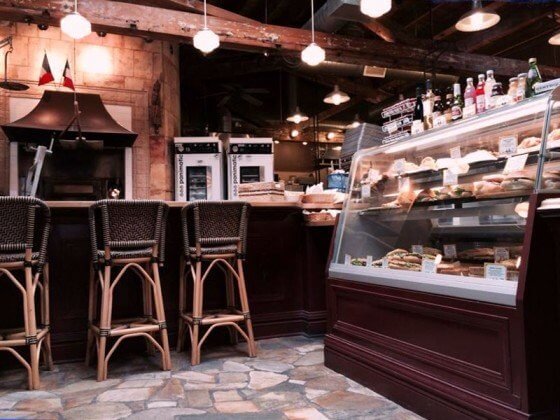 Updated 6.17
If Disney Corporation was told to design a French bakery, I would guess that St. Honoré would be pretty close to their final result. This is not necessarily a bad thing. It is more the movie version American tourists expect from a French bakery, but not like any I have ever seen in France. It just has too much of a 'big money' feel. However, it's still a great environment.
St. Honoré Boulangerie is named for the patron saint of bakers. A figure of him keeps watch over the bakery next to the large gas-fired clay oven. The space is huge with high ceilings, generous windows that open to the street, and big rustic wood beams that give an older ambiance to the building. On any day of the week, you can find it packed with scene sniffing NW Portland residents, drinking the Umbria coffee, and munching on large organic salads. Tables under new retractable awnings offer pleasant outside seating, with plenty of indoor seating at both a large community bench, and scattered café tables inside. It is often so crowded that one has to do a balancing act with coffee and pastries waiting for a place to sit down. The floors are a nice stone which contrast well with the enormous clay oven and the earthy colors on the walls and beams.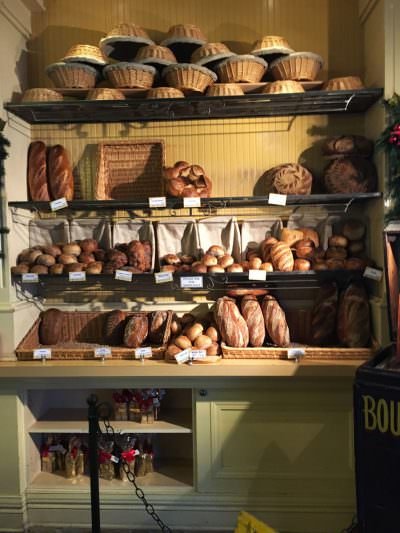 As you enter, a long counter snakes through one corner, tempting with tray upon tray of pastries. Breads sit cooling in baskets on the tile walls. The two biggest challenges are deciding what you want and then figuring out how to pronounce the name. Not to worry, the staff is helpful, and used to people pointing at the case saying, "I want one of those". Behind them a sea of workers scurry back and forth loaded with fat loaves of bread and trays of even more pastries. On all my visits, service has always been friendly.
Don't think that desserts and bread are all they have to offer. A large selection of tempting salads, sandwiches, and coffee drinks are also on the menu. Everything looks beautiful and the air is filled with the aroma of baking bread and just milled grain. I suppose there is only one thing left. How does it all taste?
We'll break it down into three categories: pastries, salads, and breads.
The pastries vary wildly in flavor. Some look beautiful, but lack flavor and are a disappointment. One thing that turns me off is the use of ingredients out of season. To me it is a bad sign when you can go in and buy a pastry with fresh strawberries in the middle of the winter. That's just not Portland.
Plain croissants are the true test of a bakery. Here they are a bit chewy for my taste, but everyone seems to love the almond version, coming in a hailstorm of silvered nuts. I only thought it was fair. The Normandy apple toast looks great, but is flat out boring, same goes for the flan aux abricots. Neither one taste nearly as good as they look. However, I recently tried an apple chiboust: a layer of thin crust, a layer of cooked apples, layer of custard, and a flamed sugar topping. It was toe-curlingly good, though a bit spendy. Another winner is the canalet, a traditional treat from the Bordeaux region of France. Invented in the 16th century by the nuns, it is in the shape of a small striated cylinder. It can be consumed on any occasion, including accompanying liqueur and wine tasting. Traditionally made with milk, eggs, sugar, flour, vanilla bean and rum, they taste like a cross between a cake and a cookie and are quite addictive.
I am frequently drawn to the Éclair café, not one of those huge American versions, but the small French size: pâté a choux filled with espresso custard, glazed with good chocolate fondant. A friend of mine gushes over the opera: layers of almond cake, with espresso butter cream and chocolaty ganache, but again it doesn't do a lot for me.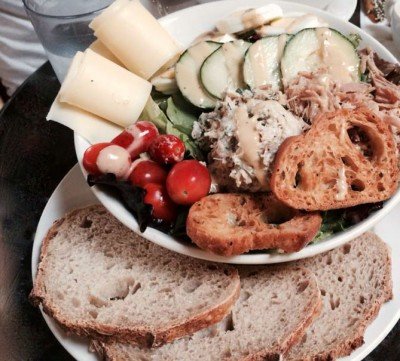 Most of the sandwiches are accompanied by a simple salad of lettuce with light Dijon vinaigrette. I like both the croque-monsieur – grilled bread, béchamel, thin slices of cheese and ham – and the tarte au fromage with grilled bread, gruyère, bleu, and chèvre cheeses. Both have just the right amount of cheese and arrive with a light crispy brown crust.
One warm afternoon on a drive up to Forest Park, I stopped in for a cold brie sandwich. It came on a nice baguette, lettuce, Brie, cucumber, and sliced almonds, but was over-buttered to the point where I found myself dissecting it and scraping some off. I know it is very French, but in these health conscious days that amount of butter gets to me. I knew at the time it would probably be a mistake to leave half in my hot car while I hiked, but threw caution to the wind and finished it when I got back. Through no fault of theirs, it was not a good evening.
Organic salads are large and satisfying. The choices are a Niçoise, red beet, Lyonnaise, Chef, and chèvre chaud (with duck) salads. I usually go with the roasted red beet with apples, blue cheese, walnuts, and vinaigrette over mixed greens. The blue cheese is creamy and mild, a good counterpoint to the sweet beets and walnuts. The chaud comes with thin little slices of cured duck and addictive croutons spotted with goat cheese. Their version of the Niçoise salad from Nice is not traditionally French as it adds potatoes and leaves out the French green beans, but is still just fine.
The breads aren't cheap, and while they are just fine, they fall a little short, like something is missing on the finish. If you don't get there first thing in the morning, some of them tend to get quite hard. For a special occasion there are other places in town I would pick first. I go here for the pastries, an occasional sandwich, and The Tour De France on the big screen.