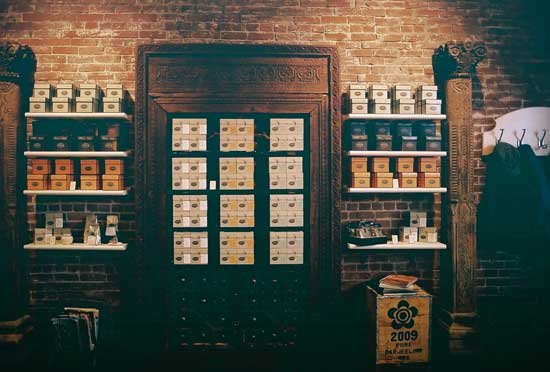 "Portland is a beverage town," Steve Smith says simply.  And his beverage of choice is — and always has been– tea.
Note: sad to report that Steve Smith died in 2015. However, Steven Smith Teamaker is still in business
Back in the early 1970s, Smith started Stash Tea, which sold teas and herbal infusions to natural food stores. The company grew to the point where  it was sold to a Japanese tea company in 1993; tea drinkers can still find brightly colored tea bags and boxes in almost every restaurant, deli and food store in the country 40 years later. Except Starbucks.
In 1994, Smith started Tazo Tea, a bit more traditional, a bit more refined in packaging, and it earned Smith the #13 spot on Gourmet Live's Top 25 American Food Entrepreneurs list. Starbucks bought out the company in 2006.
Now — as of 2009 — Smith is simply Steven Smith Teamaker.  His new company produces, packages, markets and even retails small batch, whole leaf teas and infusions out of a 100-year-old former blacksmith shop in an out-of-the-way corner of Northwest Portland.
From the quietly elegant tasting room/retail space to the large-windowed production area, Steven Smith Teamaker (the establishment, that is) seems to be the perfect end result of a lifetime of researching, producing, selling – and drinking a lot of – tea.
"When I first started Stash, we were so young, we were just kind of learning as we went," Smith says."Stash started from the remnants of a natural foods business; we were doing these herbal teas and infusions, and added black and green teas a little bit later."
He considers for a moment: "In some ways (with Smith tea) we are still dealing with the same kind of consumer, someone who wants unique beverages and better quality. When we started Stash in the early 70s, there wasn't much choice out there.  That was the tagline we had for a long time, "A Choice for a Change."
The initial customers were health food stores, co-ops, and juice bars. Soon after, they decided to head in more of a service direction, first on college campuses and then into restaurants.
"That is really very interesting, because when Stash was going into restaurants, it was a new thing," he says. "Now just about every restaurant, no matter whether it is fine dining or family dining, or even fast food, there are different teas out there.  I would guess that 90-plus percent of restaurants in North American serve some option of flavored tea.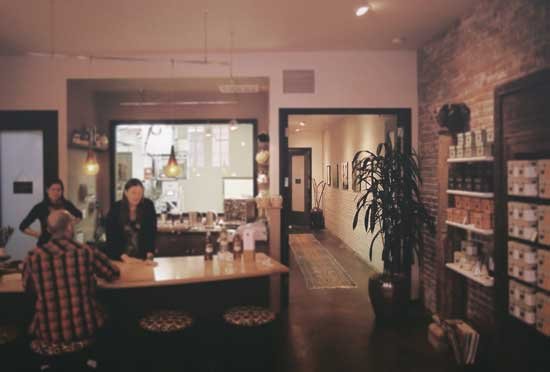 "If you are a restaurant, you agonize over the meat, your produce selection, your coffee selection, you get the best product you can, your wine selection, the beers you serve," he adds. "But what kind of tea do you serve? 'Oh, whatever the coffee guy brings me.'  Not good. I think people are getting it now."
After the sale of Stash, Smith took one step closer to his ideal. "(With Tazo) I felt if I could create a better tasting product, spend more money on materials and ingredients, that the bigger picture of the ingredients used in making the tea are one of smaller parts of the overall cost. The carton, the envelope, the tag, the string, the warehousing, all of that is a much bigger cost. "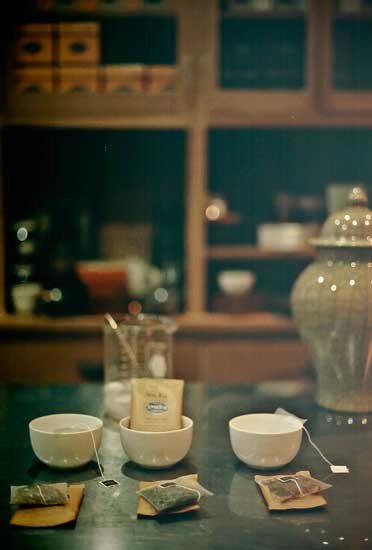 It worked; soon Tazo was competing with other major brands such as Bigelow and Celestial Seasonings and, of course, Stash, even though the Tazo product was about $2 a package higher in price than the other offerings.
"I felt that by increasing the quality of the product inside, that we could fundamentally change the way people felt about tea," Smith explains.
Which brings us back to Steven Smith Teamaker, the business.  It doesn't look a traditional tea room. There are no tablecloths, no tea cozies. Nor is there any food. (Hence the preferred term "Tasting Room.")  Customers come here to smell, to taste, to watch the production team at work through the large windows into the work space, to relax and maybe enjoy a tea flight, and to walk out with a beautifully designed box full of meticulously produced liquid gold. Even the tea bags are beautiful – larger than average, and the sachet itself is made out of a material that looks more like finely woven gauze than paper. It almost seems sacrilegious to throw them out when they are done.  The teas – black, green, white, a couple of oolongs, and a few infusions – aren't available at your corner store.  They are available through mail order, on site, through a few other specialty shops, or at Williams-Sonoma.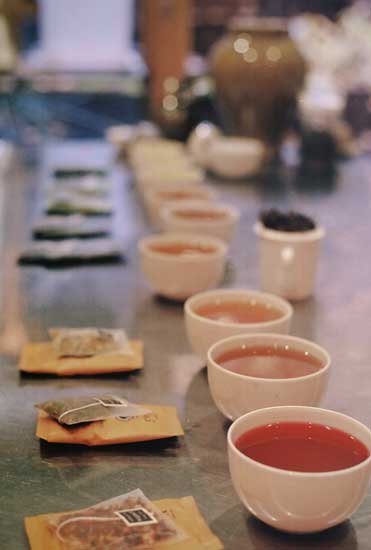 The Williams-Sonoma deal almost didn't happen, Smith says with a laugh, although the retailer was definitely on their hit list. For example, when they were designing the packaging that would be used, they called it the Williams-Sonoma Pack even before approaching them. "Once we got the mock-up of the package done, I sent an image to (them) and said 'you're getting the first look at this, because I think this is perfect for you.' I didn't tell them that we already called it the Wiiliams-Sonoma pack."
They turned him down.  A year later, they called back.
The quality of the packaging and the nice building are just window dressing, however. What makes Smith tea, Smith tea is the quality of the ingredients.  Smith gets animated when he talks about sourcing.
"The black teas come primarily from India and Sri Lanka, and then in the northern region that borders Myanmar (formerly Burma) called Assam, the teas are dense and gutsy and robust and caramelized, and they are the basis for our Brahma tea," he explains. "Nice complexity.
"Then further north and to the west, up in the hills, is Darjeeling.  We don't buy a lot of Southern Indian teas – they have nice leaf style, but they don't have the character that we are looking for."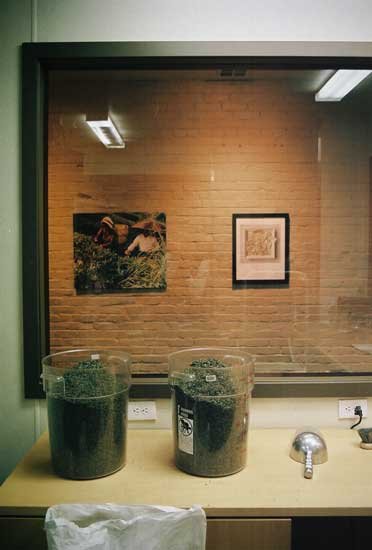 In Sri Lanka, Smith buys tea from three different regions.  He pulls out a map of Sri I Lanka and points out the three regions. "These three regions are separated by mere kilometers. For example, this would be Gresham, this would be Portland and this is Beaverton, but they have three completely different climates. There is this high ridge that runs through it, so when the monsoons hit one side of the island, the other side stays dry and that's when you get the best tea."
So tea has terroir – literal translation, soil, but the term describes how food varies from region to region — too. "Absolutely."
Botanicals are slightly different. The herbs, grasses, barks and berries that make up the infusions can come from multiple sources. "The thing with botanicals that is different from tea is that tea comes completely processed.  It is rolled, it's dried, sometimes it is fermented, sometimes it's not, it is ready to use. We might sift it by hand, sort it to get it to the leaf size we want," he explains. "But botanicals come in whole; we keep them whole until they are ready to be processed.
Once they are processed, once they are cut and sifted, that's when they come to life."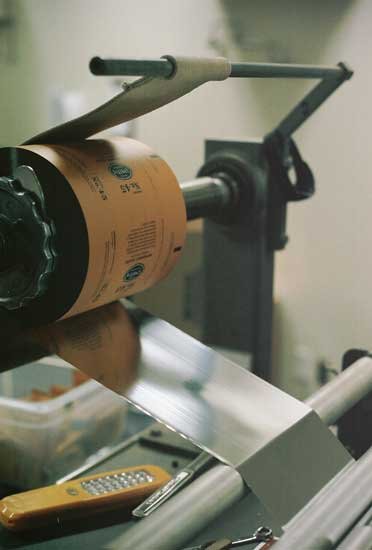 The processing itself is integral to the quality of the tea. Smith heads out of his office for a moment, and returns with two tea bags, one Tazo, one Smith. The difference is remarkable.
"I could have sold loose tea, but more people buy bagged tea because of convenience." He cuts open the first tea bag. "Here's a Tazo tea bag, which you have to use product that looks like this, a specific cut size, in order to make (the water) flow.  The (tea) cut is much bigger than what you would normally see in a tea bag, large fannings, well sourced. "
He then indicates the Smith Tea bag, which is shaped differently, as well. He tears it open to reveal the tea inside. "With the Darjeeling, it's hard to get all the subtlety unless you have tea that looks like this. " Think dried herbs, rosemary for instance, instead of the powdery substance found in the average tea bag.
And when he says it is small batches, it is exactly that.  Smith tea works in cycles, which are about 20 lbs, and a batch may be anywhere from two to five cycles of a particular product. A batch is whatever they will be able to sell in a specific amount of time.
"We can only run so many sachets a day, so we are limited in what we can produce in a single shift," he adds. They are also limited by storage space, which makes the small batch model even more practical. "Everything is done by hand.  We are limited in what we can produce, but in the two years we have been shipping, we have usually shipped our orders to our customers within two or three days tops."
Another unique feature of Smith teas is that customers can trace the provenance of the tea they buy by going to the website and entering the Assortment Number on the front and side of the box.  This is also done by hand; because the batches are small, the origins of the tea changes frequently. It is almost a uniquely Portland thing, just as Smith and Steven Smith Teamaker (the business) are.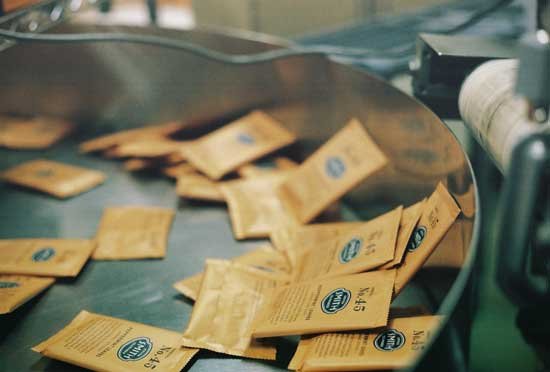 "I am in the stage now where I think we have a business here," he says. "The jury is out; we are more expensive, but we don't want to be your tea for special occasions, we want to be the tea that you drink all the time. It really only costs about 75 cents a cup. Who said that tea should only cost 10 cents, 50 cents, who said that? "He shakes his head. "We have to show people that our version of what tea should taste like makes sense. "Laughs: "Sense, not cents."
There are two Smith Tea tasting rooms in Portland Oregon:
NW Thurman: Our birthplace
Address: 1626 NW Thurman St., Portland, Oregon
Hours: Monday–Sunday 10am-6pm
SE Washington – Our headquarters
Address: 110 SE Washington St., Portland, Oregon
Hours:  Monday–Sunday 10am-6pm
Karen Woods is a Portland based freelance writer. A former music journalist, she decided to go to culinary school and now writes about food related things. You can follow her on Facebook.
You can find Smith Teas across the nation, and in many places in Oregon like Whole Foods, New Seasons Markets and Williams Sonoma. I have a serious addiction to my afternoon cup. FD
[My thanks to photographer Tim Roth, who was kind enough to take these fine pictures. You can see all of his Smith Teamaker photos below – click for a slideshow.]