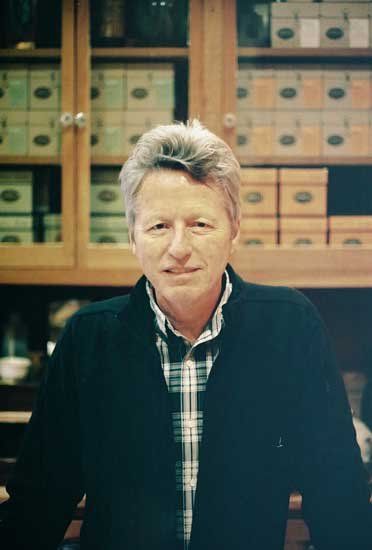 Sad news tonight. According to the Oregonian, local teamaker Steven Smith has died from liver cancer at age 65.
Back in the early 1970s, Smith started Stash Tea, which sold teas and herbal infusions to natural food stores. The company grew to the point where  it was sold to a Japanese tea company in 1993; tea drinkers can still find brightly colored tea bags and boxes in almost every restaurant, deli and food store in the country 40 years later
In 1994, Smith founded Tazo Tea, a bit more traditional, a bit more refined in packaging, and it earned Smith the #13 spot on Gourmet Live's Top 25 American Food Entrepreneurs list. Starbucks bought out the company in 2006.
In 2009, he started a new company, Steven Smith Teamaker, which produces, packages, markets and retails small batch, whole leaf teas and infusions out of a 100-year-old former blacksmith shop in an out-of-the-way corner of Northwest Portland.
In July 2014, Steven Smith announced that Smith Tea would be opening a large warehouse and retail space in SE Portland. The new location 27,600 square foot warehouse at 110 SE Washington Street will consist of a production area and retail café.  "In one of my former tea lives we were located near Produce Row and I have always felt the inner southeast had tremendous potential as a new destination for retail and restaurants," Smith said in a statement. "I am really excited to be re-joining the neighborhood's food and beverage scene, which is seeing explosive growth."
On a personal note, I met Steve in 2012, and found him incredibly gracious, humble and passionate. Rarely a day goes by that I do not drink Smith Tea. I'll raise a cup to him tonight. My condolences and best wishes to his family.
You can read our full 2012 interview with Steven Smith here.