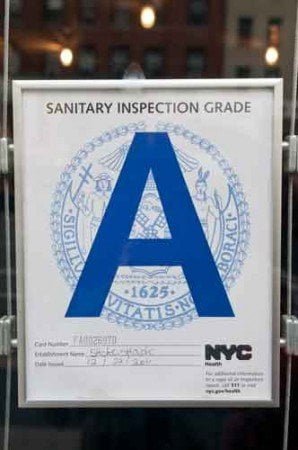 Per Se, the New York City restaurant owned by Thomas Keller of Napa's French Laundry fame, received a "C" grade in a recent health inspection. From the New York Times –
Its $310 tasting menu makes Per Se one of New York City's most expensive restaurants, but its "C" grade from health inspectors puts it near the bottom of the heap when it comes to sanitary violations.

Per Se got 42 violation points when it was inspected Feb. 19, city health department records showed. Infractions included failure to hold hot food at 140 degrees and a lack of a hand-washing facility near the food preparation area.

Per Se representatives did not immediately return a call seeking comment, but the restaurant will have a chance to argue its case at a hearing. Until then it must post a sign saying its grade is pending.
About 87% of New York City restaurants have "A" grades.
Speaking of which, Andy Ricker's NYC branch of Pok Pok has been forced to close by the health department after issues were found with its outdoor grills. From the restaurant's website:
Unfortunately, Pok Pok Ny has been forced to temporarily close. The problem stems from our outdoor, covered cooking area where we keep our two charcoal BBQs. Until we can satisfy the city that we are compliant with DOB and FDNY code, in that the structure covering the BBQs is legal, we must remain closed. The rest of our facility was determined to be in "A" grade condition. We are working with the city as quickly as we can to reopen. Our Whiskey Soda Lounge Ny, just across the street is available, as is Pok Pok Phat Thai, in the Lower East Side.
The health department released a statement today via The Gothamist blog –
Pok Pok was closed due to a public health hazard that could not be immediately corrected. In this case, they built an illegal structure in their backyard for charcoal grilling that was only partially enclosed, and the raw food kept outside for grilling was not protected from potential sources of contamination, such as rats, mice and birds. They also did not have permits from the Department of Buildings or the Fire Department to build this structure.
Okay then. Damn seagulls must have been contributing to the 'special sauce'. I'm thinking the restaurant is still closed as of this writing – the camera showing the wait time says "approximately 0 minutes".