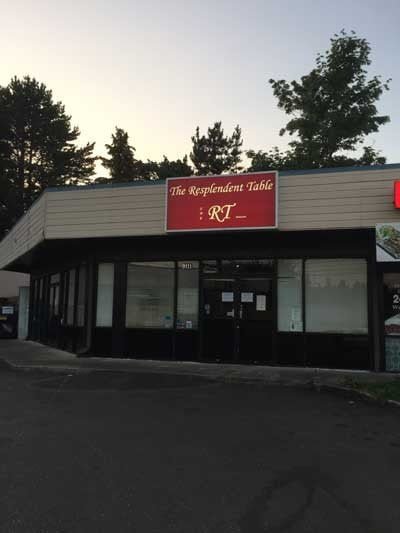 Back in May of 2012, The Oregonian's David Sarasohn gave New Delhi, an Indian restaurant located in a failing strip mall off of SW Barbur Blvd a good review, and being a fan of the cuisine, I decided to give it a try.
Without going into detail, let's just say that it was one of my worst Indian food experiences. We ate less than half our meal and fled, wondering if we'd been the victim of quid pro quo.
The restaurant has now gone out of business.
It is being replaced by a new one called The Resplendent Table, which will open July 6th for lunch only. Hopefully they'll give the space a thorough cleaning first. The restaurant website calls it "eclectic American and Continental cuisine with a comfortable smattering of Mediterranean that offers a re-master of traditional dishes we love and signature dishes from our kitchen".
The menu offers appetizer choices ranging from Marinated Feta and Olive Skewers ($6) to Mussels Vinaigrette ($10), and a Charcuterie Platter ($28 for 2 people). Salads include a Caesar with Tabasco Dressing ($9/$11), and a Roasted Carrot, Sweet Potato and Squash ($9). Resplendent Table will also have a selection of soups, sandwiches such as Lamb Burgers, Grilled Chicken Breast w/Slaw and Spicy Mayo ($11), and 4 Tartine's.
It's at 9111 SW Barbur Blvd, Portland 97219