Completely updated/rewritten 11/2012
Welcome to cold season in Portland.
Hot Pot City is a constant for many of us, especially in the chilly, gray winter months in Portland. It's warm, it's soothing, it's steamy – perfect medicine for the colds and stuffed sinuses that our climate seems to encourage.
Billing itself as Portland's only Taiwanese Hot Pot Restaurant, it is a casual "all-you-can-eat" type of affair, with a distinctively traditional and healthy Chinese twist. Since 2004 it's been a classic hole-in-the-wall for ravenous college students, little old Chinese ladies who lunch, downtown office workers and other food lovers. Asians and Non-Asians alike line up at lunch hour which can get quite crowded – get there early or expect a bit of a wait.
It works like this: a long counter for dining holds individual heating elements for each diner's hot pot (table seating is also available for groups). Sit down at one of the counter seats and choose your broth from a variety that includes Mild Vegetables and Chinese Herbs, Spicy Szechuan Ma-la, Thai Style Hot and Sour, Xiang Cai with Chinese Cilantro and Preserved Eggs, Meat Soup – long boiled clear soup of bones and broth, and even one with kimchi. You mix your own dipping sauces from condiments at the buffet. It is always clean and well stocked, and though the choices vary from day to day, many are standards. During lunch there are bowls of paper-thin sliced beef, chicken and pork, alongside thick chunks of fragrant boneless chicken thighs marinated in ginger, onion, and soy sauce, or sometimes in bright yellow curry paste. Seasoned meatballs are another perennial favorite, while other "alternative" meats such as tripe and liver make occasional appearances (fear not, those are always clearly labeled). There are usually seafood offerings as well, such as cod fillets, small whole blue crabs (which are difficult to pick the meat from), prepared squid strips, or other shellfish – even "Krab" sticks.
A real treat are the little golden bundles of fried wonton stuffed with ground turkey, vegetables, and seasonings. When I asked the name, the server looked at me like I was an idiot and said, "fried wonton." Not exactly the Chinese name I was looking for, but correct. Regardless, the fried bundles mix nicely with the broth and form toothsome yet silky and delicate soup dumplings.
Vegetarians and even vegans will be happy here. You can always expect at least two kinds of tofu, both cut into large 2″ cubes: a fresh soft kind, and one labeled "frozen," which upon further research is actually what the Chinese call "thousand layer tofu" – tofu that has been freeze-dried and reconstituted. It has an almost bread-like texture, and it makes a wonderful dense sponge for soaking up the hot pot flavors.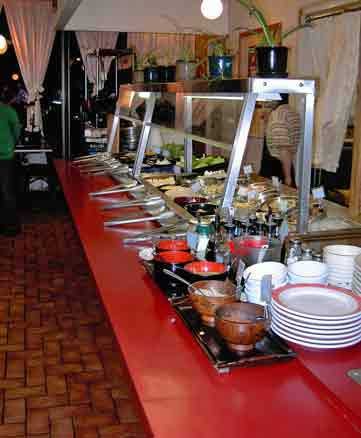 Vegetable options are also based on the seasons and availability at the market. Greens such as large cleaned spinach leaves, flavorful chrysanthemum stalks, and tiny crunchy pea shoots are always bright and fresh. There are raw onion slices, cilantro, broccoli florets, button mushrooms, and sometimes things like taro root, shiitake mushrooms, mung bean sprouts, bitter melon rounds, and hearty half-moon slices of vibrant orange squash. Pickled cabbage often makes an appearance, too.
Noodle choices include thin vermicelli rice noodles and thick udon or mein type wheat noodles. A friendly diner sitting next to me once explained that the noodles are often added to the hot pot last to soak up the now concentrated flavors. Although not all diners do this, it is now my favorite way to end the meal.
When your soup arrives it is a ritualistic process: watch how others do it. Add some food to the hot pot and let it cook, remembering that veggies will take less time than meat. After a while, fish the cooked food out with the little wire scoop or ladle they give to each diner, put the cooked food into a holding bowl, add new food to the pot, pick up cooked food from your bowl, dip or mix it with the sauce, eat, and repeat.
It becomes a rhythm: food goes in, food comes out, more food goes in, and eat. Easy. Once going, the hot pot bubbles and steams like a witch's cauldron, and at times threatens to spill over the top. Staff will come by regularly to adjust the temperature on the burner, and will top off the dissolving liquid as necessary.
Something else you should know: Hot Pot City has other things that are not on the menu, which can be ordered for a dollar or two per serving. These include all kinds of sea foods such as whole head-on shrimp, oysters, in-shell scallops, sea snails, special cuts of meat, raw egg, or traditional preserved duck egg. This brings me to one complaint: it's difficult to know what else they serve and servers generally don't tell you. You have to end up playing a guessing game of "do you have…". Service is attentive, but not always proactive and can be downright grumpy at times. You've been warned.
Buffet
The prices have risen over the years, but for $8.99 at lunch or $14.95 at dinner, it's a true all you can eat bargain.  Tea is included in the price, while soft drinks are available self-serve. Dinners offer more choices in meats and seafood, including things such as fish cakes and delectable and tender beef meatballs. While it is still a bargain, given the ingredients and amount of food, it hardly seems worth the extra money unless you plan on eating nothing but oysters or shrimp. There are no desserts that I know of, but there is a "regular" menu of greasy standards such as Kung-Pao beef and sweet-and-sour shrimp, but these are not special.
No, what's special here is the hot pot. It's a casual, inexpensive and very authentic dish that is perfectly suited for Portland's climate.
Address: 1975 SW 1st Ave. Portland, OR. 97201 Map
Phone: 503-224-6696
Hours: Lunch Mon-Fri 11:30am-4pm, Dinner daily 5-9:30pm. Sat, Sun and Holidays: 12:30pm – 4pm
Website: N/A
Happy Hour: N/A
Reservation Policy: N/A
Noise Level: moderate/high on busy nights
Price: A bargain, especially for lunch
Social: N/A