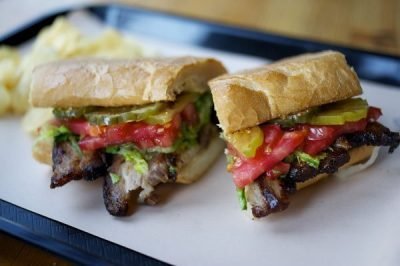 Tommy Habetz is opening a restaurant named "Bunk Sandwiches"
with business partner and former sous-chef Nick Wood. It will be at 621 SE Morrison. The deli will be open for breakfast and lunch Monday through Saturday, eventually opening up at nights. From Tommy,
"We are going to be doing about 10 or so sandwiches a day, just our favorite things. Things like roasted meats on a hero roll with some good pan drippings, or a really great Italian cured meats hero. We will do a daily soup, a daily salad and soft serve ice cream for dessert.

We want to make a place for everybody, just a classic sandwich shop. We want to offer good, honest food and beer…and wine…and maybe a little house-made soft serve ice cream for dessert.

We're looking to open early to mid November. We hope that you enjoy it."
The sandwich shop will feature classic sandwiches, which have been hard to find in Portland. Another upscale sandwich place on the East side. What about us westsiders?
Tapalaya, "A New Orléans small plates restaurant" set to open
Noticed a sign in the window on NE 28th in the old Taqueria Nueve spot, that Tapalaya, "A New Orléans small plates restaurant" would be opening. I'd first heard they were opening next to the new Ristretto, but either that rumor was wrong, or there are two similar restaurants coming our way. Opening is set for "early November".
New restaurant coming soon – Eat Oyster Bar
Speaking of the new Ristretto Roasters, which opened last Thursday, I've heard a restaurant named Eat Oyster Bar is going in next door to them. The food will be "dirty Southern" – food from below the Mason-Dixon line. Think oyster shooters, baked oysters, jambalaya, blackened catfish, red beans & rice and dare I say it… house-made pecan pie. No other details at the moment.