Note: Tastebud has moved to Multnomah Village in SW Portland.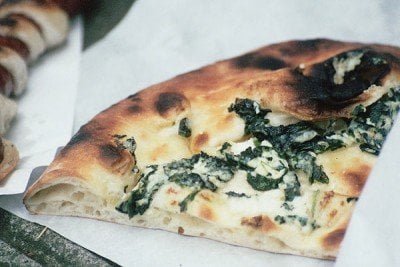 There was a time when pizza lovers had a devil of a time in Portland. But today there are Portland dough masters who treat the humble pizza with as much respect as does an old country pizzaiolo.
Dough that rises for 24+ hours, imported wood-burning ovens, sky-high temperatures, just the right amount of char; today the finer points of pizza making are all taken into account with delicious effect.
Ken's Artisan Pizza, Apizza Scholls, Nostrana and others have raised expectations here for what constitutes good pizza. Some offer a refined pizza experience and others are more rustic in character. Each has its charms and rewards.
Until recently in Italy, pizza was pizza. With the exception of Naples, you couldn't really taste the difference between a pizzeria in Florence and one in Trieste. (What has happened to pizza in Italy is a subject someone should write about as it is a good backdrop for a discussion on other changes in food culture there.) But Portlanders can be downright querulous about their pizza favorites. At least we take it seriously.
Tastebud's fame from the PSU Farmer's Market preceded it and formed the base of its popularity. At the Farmer's Market, the Tastebud pizza is almost enough of a reason to go. The combinations are always seasonal, fresh, and while on the rich side well-balanced. For example, Tastebud will season its arugula with oil and salt prior to placing it on a slice hot out of the warm-up oven, whereas traditionally the greens are left plain. The added fat does, in fact, add flavor, even if it might be unnecessary. And flavor the pizza has in abundance, as well as a thin, chewy crust.
At the restaurant, the menu is similar to the model at Ken's Artisan Pizza: simple, seasonal, and satisfying. The ubiquitous Caesar salad, a few oven-fired vegetable appetizers, four to six pizza selections, and baked fruit desserts fill-up the one-page menu along with beer bottled and on tap, wine by the glass or bottle, assorted San Pellegrino, Jones, and Izzie water and sodas.
Tastebud's staff will tell you their pizza crust is like focaccia, meaning to say "not as thin as Ken's". But it certainly is not as thick as all that, thankfully. The crust is good, puffy, and blistered along the edge and otherwise baked to a chewy consistency, the underside dotted with a perfect, light char.
These pies are for big appetites. The toppings are at times generous in comparison with the relatively ascetic approach at other places. The cheese covers the tomato sauce, usually, the vegetables are copious, and if you're having meat you'll have more than the usual sprinkle of sausage or salami. All this and the fact that the pies are large — about 16 inches to my reckoning — and you may have to calibrate your order to be sure not to overdo it.
The basic tomato and mozzarella cheese pizza is the foundation for a few seasonal variations and recently they included choices of basil, arugula, anchovies, lamb sausage, and spicy salami. You can add as many of these as desired. The cheese tends to be the master to the sauce in these pies, and in my opinion, Tastebud could go lighter. That would make the pie an exercise in balance between piquant and more delicate flavors and more authentically Italian as well. But subtlety is not an American specialty and for most local tastes the Tastebud approach may be the best cultural fit.
Other selections vary depending on what is at the market. The combinations are terrific. Try the cherry tomatoes, basil pesto, goat cheese, and arugula, or the chili pesto, roasted hot peppers, goat cheese, and cilantro, or the roasted peaches with pancetta, mascarpone, and arugula. A fennel sausage, tomato, and mozzarella selection have always been on the menu and there's a good reason why it is a favorite. But sometimes the combinations do miss — one evening last spring the morels, scapes, and goat cheese pizza was too dry and tasted surprisingly bland.
In the new Multnomah Village location, the restaurant has added more creative salads, whole chickens, fish, and a few other rotating dishes, all of which are good, but the pizza is still the focus.
Desserts make use of the oven as well, with fruit galettes and pies are regular items, served with ice cream or whipped cream. Happily, Tastebud doesn't seem to believe in going as overboard with the sugar as with the fat. The fruit in the rhubarb pie was perfect, not overly tart or sweet. The crust needed more practice however as it was too tough to cut with a fork and was resistant to a knife as well, a situation repeated later with another fruit concoction. Often fruit cheesecakes and cornmeal shortcakes are on the menu as well. These will run you from $6 for homemade ice cream to $10 for a warm dark chocolate brownie with salted caramel ice cream.
Frankly, I don't think ordering from each category on the menu is possible at Tastebud as one dish
or another by itself goes a long way toward satisfying any hunger. The recommended strategy is to share everything. It will be interesting to see how Tastebud celebrates the Fall and Winter seasons, given they have tapped in so well into the bounty of Spring and Summer.
Address: 7783 SW Capitol Hwy, Portland, OR 97219  Map

Website: tastebudpdx.com