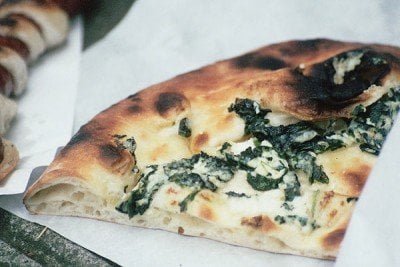 Tastebud restaurant in SW Portland, Multnomah Village area official opens Wednesday the 21st of October. If you've been in this area for a very long time, you will remember that the building at the corner of SW 35th and SW Capitol Hwy. has seen many businesses, occupied in the 1940's to 60's by Bill Ryan's Grocery and most recently Pagenwood Restoration. If that doesn't ring a bell, its next door to the must not visit, Village Coffee. Note they are closed Monday – Tuesdays.
If you are a beer lover, take a stroll down 35th to John's Marketplace – the selection is phenomenal, one of the largest bottled collections in the United States, and they have a large wine section too. The whole village is a pleasant diversion from the crazy overdevelopment taking hold in much of Portland.
My friends in SW Portland are excited to have a good restaurant in this food wasteland, and passed along the opening menu:
Small Plates
House-made bread, olive oil – 2
Marinated olives – 4
Chicken liver mousse with bagel chips, plum mustard – 6
Bruschetta with roasted squash, pickled peppers, ricotta – 5
Salads
Small for one, large for more
Kale, garlic & anchovy aioli, bagel croutons, roasted lemon 6/11
Puntarelle, roasted apple vin, hazelnuts, apples – 7
Farm lettuces, turnip, lemon, olive oil – 5/10
Plates
Roasted trout, autumn vegetables, buttermilk, dill – 19
Whole chicken, oven-roasted potatoes, onions, pan jus – 21
Twice-baked delicata squash, chanterelle, Ayers Creek barley, herbs, chrysanthemum greens – 17
Oven-braised Manilla clams, house bacon, white wine, bread – 16
Cast iron grilled lamb chops, borlotta gaston bean, taggiasca olive, marjoram – 26
Pizza
Poblano peppers, shiitake mushrooms, cilantro, ricotta, mozzarella – 22
Kale, delicata squash, ricotta, mozzarella, pickled peppers – 22
Lamb sausages, jalapeños, mozzarella, parsley – 24
Pork sausage, kale, pears, mozzarella – 23
Parsley pesto, squash, pickled peppers – vegan – 18
Pepperoni, tomato sauce, mozzarella – 18
Tomato sauce with mozzarella – 14
+ Arugula – 3
+ Anchovy – 3
+ Calabrian chiles – 3
+ Shaved Parmesan – 3
+ Four farm eggs – 4
Sides
Roasted potatoes with basil pesto – 6
Roasted cauliflower with Calabrian chilies – 6
Roasted kabocha squash with maple glaze – 7
Padron peppers, sea salt & olive oil – 6
Tastebud is at 7783 SW Capitol Hwy. Portland, OR 97219  Map
503-245-4573
Wednesday – Sunday 5 PM – 10 PM
Brunch and Lunch Coming soon.