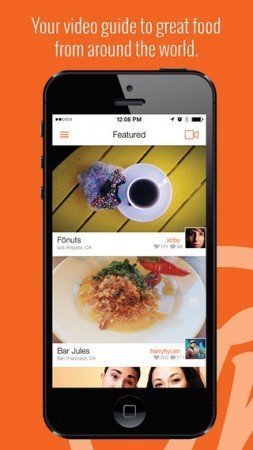 I know a lot of you love to document your meals for friends and family. This new smartphone app by Tastemade might be right up your alley, and it's free. It takes you through the process of making one minute videos of your dining experience, including photos and music, which you can then link to on your social networks. Now get out there and make a masterpiece!
From their promo page –
Discover. Create. Share.
Make delicious, 1-minute episodes, right from your phone, celebrating your food discoveries!

Tastemade is an incredibly simple, do-it-yourself video app that let's you host your own food show right from the palm of your hand. The only fancy equipment you need is a finger to press record and a healthy appetite. With pre-fab music, filters and titles, you'll turn visits to your favorite food & drink spots into bite-sized motion pictures, viewable and sharable right from your phone.

Awesome Features:
YES! Your Own Show: Simply follow our simple storyboard, shoot some video and it's automatically built it into an episode of your own show that you can instantly share with your friends and followers around the world!

CREATE
With dozens of professional filters, fonts and soundtrack options, no one will believe you made your episodes on your phone.

SHARE
One-click sharing to Twitter, Facebook, and an embed link complete with location tags. Feeling shy? We have private one-click sharing via email and text message.

DISCOVER
Nerd out with like-minded food lovers finding what's near you now with our geo-location searches or plan your future food travels by watching other people on the hunt for the perfect bite.
Note that I haven't tried this, just thought it looked interesting.