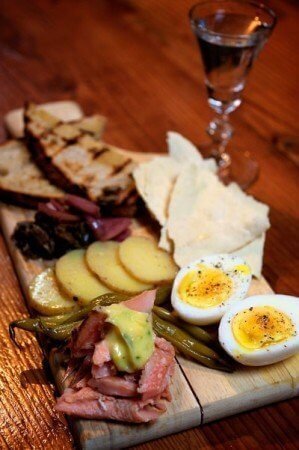 Tasty n Sons is reopening November 19th with a "New Look and Taste of the Chesapeake Bay".
John Gorham's Tasty n Sons, Portland's iconic brunch spot, is opening its doors again after a short reprieve. The dust has settled, the bar has been expanded, and the restaurant has received a lighter and brighter fresh coat of paint. With a new dinner menu, the wildly popular family-dining restaurant is ready to reopen its doors on Wednesday, November 19th.
Although the brunch menu will remain mostly the same – still featuring favorites like the Bambino plate with scrambled eggs, bacon, and a biscuit – the dinner menu has a whole new vibe. Largely inspired by Maryland's Chesapeake Bay and the East Coast, the menu will feature a "From the Sea" section including Fried Clams, Smoked Trout, Mussel Frites, and Crab Cakes. Another addition is more salad variety, with a new Cobb Salad and Chopped Iceberg salad.
The new Tasty n Sons dinner menu will also feature a new section for Mains n Two – six to seven types of meats served along with nine options for sides. With family style dining already a natural choice at the restaurant, these plates for two will further the team's mission to provide dishes all parties can enjoy together. "Mains" will include options such as: BBQ Pork Ribs, Pastrami Coppa, Flat Iron Steak, and Cajun Meatloaf. Sides highlights: Peanut Oil Fries, Mac 'N Cheese, Corn Cakes, Cheesy Grits, Fried Cauliflower, Baked Beans, Collard Greens, and Bread Pudding.
Daily greatest hits specials will rotate through the menu each week and will include dishes like Brunswick Stew, Chicken and Waffles, Bouillabaisse, and Cast Iron Cassoulet and will change seasonally. Die-hard Tasty fans can breathe easy as classics such as the Griddled Bacon Wrapped Dates, Carbonara, and Radicchio Salad remain on the menu.
Tasty n Sons is located at 3808 N. Williams, Suite C in Portland