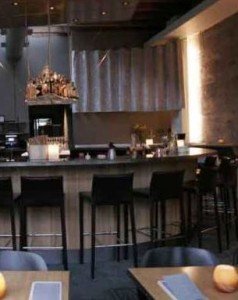 July 2007. The mixed drink scene has changed quite a bit since this was written, but my overall feel about Teardrop Cocktail Lounge is unchanged.
As I was doing research for this review in my father's old bar notebook, I came across a list of ingredients labeled "always have on hand". What especially interested me were incidentals like falernum, cassis, five types of bitters, orange flower water, Herbsaint, and tepache. They were standard ingredients back in those days, but you don't see them much anymore. Instead we have horrible infusions like sticky sweet banana rum, blueberry vodka, Red Bull… the list goes on and on. These make flat, one dimensional concoctions, their primary purpose to make things sweet and smooth enough to be gulped down, resulting in volume drink sales, a quick high and a wider appeal.
It wasn't always like this. I look through handwritten notes from the 40's. Baguio Skin, Red Rum Swizzle, Dog Hair, Jerusalem's Between the Sheets, Death in the Gulf Stream… what happened to these drinks? I remember when ordering was different: you'd say "Greyhound" – gin/grapefruit, or Cape Cod – vodka/cranberry. There is something vaguely romantic about using the original names; a hat tip to the past. Unfortunately, many people don't know what those are. These days I'd be afraid to order something like a tequila sunrise, because 90% of bartenders would think it was just tequila, orange juice, and grenadine, leaving out the all important crème de cassis, lime and soda, which leaves the drink a ghost of its original self.
My point is, these drinks were not just a vehicle to get drunk; they were sipped, and savored, multi-layered concoctions that contrasted flavors against each other in ways that made you think. Instead of a precursor to a meal, they were matched to dishes, designed to harmonize with each course. Then the 70's and 80's rolled in, and instead of thinking seriously about what one wanted to drink, the new vogue was getting drunk as quickly as possible: a sad point in the history of the cocktail.
Now the pendulum is starting to swing the other direction. Cocktail dinners are springing up across town, where chefs like David Padburg are matching multiple courses of food and alcohol. It is fun to participate at one of these meals, watching guests' eyes light up as they make the connection between food and drink; and the fact that the drink doesn't necessarily have to be wine to make a match.
Portland is lucky to have people like Lucy Brennan, who is never afraid to try new combinations of spirits and herbs, pushing things in directions no one has thought of before, with drinks featuring ingredients like avocado, mandarin puree, or cilantro. We have Kevin Ludwig, perhaps the best bartender in the city, constantly thinking and striving to produce twists on old ingredients, without resorting to the avalanche of sticky flavored vodkas. Gin & Tonic with house-made tonic water. Fresh gooseberries, artichoke bitters, and fresh celery juice all show up in his perfectly balanced concoctions (note to Kevin, open your damn bar before you miss the window). Now we have two new contenders for most interesting cocktails in town, in the form of Daniel Shoemaker and Ted Charak. Recent transplants from San Francisco, they have opened a new bar in the Pearl District called Teardrop. They have raised the ante, with drinks that are less fad and more nods to the classics that got us to where we are today.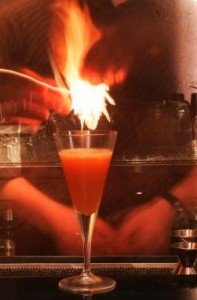 As with any review, I should start with the ambiance. Ever since Teardrop opened, friends have deluged me with comments. "Is this Miami or Portland?" "The most fanatical bartenders I've ever seen". They didn't need to tell me, as I'd wandered in the second night Teardrop opened, and was suitably impressed. Think rectangular room, cinder block walls, original wood beam ceiling, a few booths scattered around the outside walls, a big window wall across the front that opens to let the last rays of sunlight spill in. A skylight adds more light from above the old rafters. On nice days, chairs and tables are available on the sidewalk out front. Sound absorbing drapes have been added here and there, and carpet has been used on the floor, (though I have a feeling it will still be loud on a busy weekend night), but that's about it for ambiance, at least until you get to the bar.
It dominates the room, the only circular bar I can think of in Portland: an altar to the cocktail. A small tier of top shelf liquor floats above it without breaking up the flow of the space, but the focus is not on having a huge amount of choices. Instead it is on having a selection of what they think will work best for their drinks; important because their creations are works of art, quite simply marvelous examples of how to take the mundane modern day cocktail and replace it with something for which one would use words like finish, depth, and complexity to describe. Nothing is overly sweet; rather they dance a fine line, never straying too far in either direction. Daniel and Ted bring a whole new level of thought to the Portland cocktail scene.
I've been twice, sitting at the bar both times so I could watch them work. Order a Smoke & Mirrors, and watch while they cut fresh canary melon and muddle it with light rum and hibiscus water with lime and a rim of slightly spicy chipotle salt. The Batida Apasionada is made from fresh passion fruit, peeled before your eyes, cachaca, coconut water, lime organic cane sugar, and a quick grate of nutmeg. The Little Cloud matches syrup from fresh picked elderberries, peach bitters, Aviation gin and lime. The only place I've ever seen this many fresh ingredients is at Healdsburg, California's Cyrus Restaurant.
Their obsession isn't just with fresh fruits; it is also in digging up original ingredients – even making them in-house if necessary. A Mai Tai reaches an entirely new level of complexity with the addition of house falernum, a floral, slightly sweet syrup redolent of almond, oranges, and spices. Add house-made orgeat and house curacao, and at the first sip conversation will come to a halt, before you start passing it to your companions. I've never had a Mai Tai this complex! Moving on, I tried a friend's Dee Cee's Fuego with scotch, pomegranate molasses, and Carpano Antica vermouth. A quick flame of orange peel adds a caramelized orange note. Amazing.
Sake drinks are all the rage, and they have several. The Asia 76 at Teardrop Lounge is made with vodka, house-made orangecello (an incredibly fragrant orange liquor), and hou hou shu sparkling sake, and their Sake Sangria, a wonderful and refreshing mix of seasonal fruit, Hakutsuru sake, Oregon pinot gris, brandy, and spices. The sweetness comes entirely from the fruit, the end result a smooth elixir. A friend described it far better than I can "…one of the sexiest drinks around." The ripe round fruitiness of the sake, a backbone of brandy and the flinty pinot gris all work very well together. Add to that having a luscious peach slip into your mouth every other sip, makes this one I will definitely order again". Wow. Chopsticks are provided to pick the slices of peaches and berries out of the glass.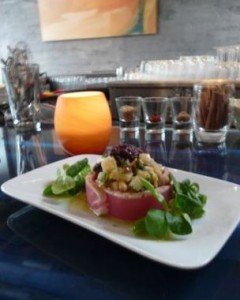 Teardrop Lounge cares about making the best possible cocktails. Everything is top shelf, from the liquor to the mixers. A happy hour runs everyday from 4:00pm – 7:00pm. There is a drink of the day – a fantastic fresh blackberry margarita the day I went, and a classic drink, as well as the sake sangria with seasonal fruit. It all depends on what is available at the farmers market. You can see a current drink and food menu here.
The beer list shows mixed promise with 17 choices. On the microbrew side are Great Divide, Lost Coast, Downtown Brown, Pyramid Hefeweizen, and Terminal Gravity IPA. Belgian beers make a strong stand: Achel 8 blond, Delerium Tremens, Dupont Saison Foret, La Chouffe, St. Bernardus Witbier, Urthel Hop-It Double I.P.A., and La Fin du Monde, Canada. Finally they have a small selection of international beers: EKU Pilsner, Frankiskaner Hefe-Dunkel, Pilsner Urquell, Samuel Smith Oatmeal Stout, Tecate, and Bitburger Drive. Prices are quite reasonable, though, as you would expect, some of the Belgians are quite a bit more.
Sake also plays a large part, with an entire page of the menu devoted to them. The servers are quite knowledgeable, able to discuss the various characteristics of each one. Hakutsuru Namachozo non-pasteurized sake is on the list, Tokubetsu Honjozo Ginjo, Kasumi Tsuru, Watari Bune Junmai Ginjo. Though I don't know a whole lot about the beverage, some of the people who have written me were quite impressed, especially that some of them are seasonal. There are over ten available, with the proper serving accouterments.
Over the week since Teardrop Lounge opened, I've been in twice, and I've sent in PFD 'operatives' for their opinion, and they have been unanimous. Though these may not be the type of concoctions you are used to, and some may not be to your particular palate, each one is well made, balanced, and interesting. Comments are full of terms like "smoky" "musky" "pungent", "layered", and "floral". They all make you stop and think; sipping drinks over conversation, which the owners seem happy to provide. Yes, the prices are about a dollar higher than most Pearl District bars, but the quality and care going into the drinks makes it worthwhile. I don't tend to go to bars very often, but if I did, Teardrop Lounge would be my number one destination. I am looking forward to watching them change with the seasons, and seeing what new concoctions they develop.
Teardrop Lounge
Phone: (503) 445-8109
Address: 1015 NW Everett, Portland OR. 97209 GoogleMap
Hours: Monday – Sat, 4:00p.m. – 1:00a.m. Happy hour 4 to 7, with 2 different cocktails and the sake sangria at reduced prices.
Website: TeardropLounge.com