The Paley's Place Cookbook Hits Store Shelves
There are only a few "celebrity" books that I use on a regular basis: Bouchon, by Thomas Keller, Mustard's Grill Napa Valley Cookbook, by Cindy Pawlcyn, and a few of the books by Alice Waters of Chez Panisse fame. Otherwise, I tend to stick with compilations. The point is, most of this type of cookbooks are just recycled recipes, or so complex I don't want to bother with them. However, The Paley's Place Cookbook – Recipes and Stories from the Pacific Northwest, is one that I am likely to keep close at hand.
The book starts with a rather charming essay by Vitaly Paley about his immigration to the United States, how he met Kimberly, their romance, and his general philosophy of cooking.
"One July Fourth-the 100th birthday of the statue of Liberty-when our work was done for the night, we wound up making out under the shadows of the torch the old Dame held high. We remember fireworks."
This is followed by a beautifully written essay by Kimberly Paley called, "If It's Wine You Like, Drink It."
"… the blanc was unique and radiant. It was easy to drink and its golden yellow color reminded me of the most perfect sunflower. And before I ever took a sip of the red, the aromas of spice, eucalyptus, scrub brush, and dry leaves filled my nostrils. When I swirled it in my mouth, my gums buzzed from the inky tannins and the flavors exploded across my palate. It was an emotional experience that began my journey into the world of wine."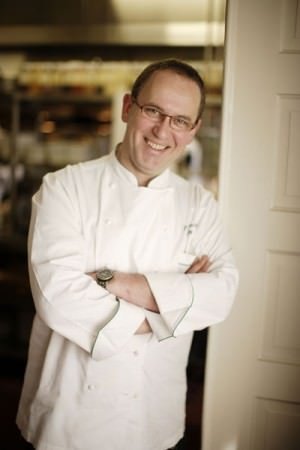 Both are emotional engaging writers, and the book is filled with little vignettes about ingredients, philosophy, and cooking methods. Kimberly is so good at painting a picture, I found myself wishing she had a few more essays in the book. However, her voice does continue in limited form, as she recommends an accompanying wine after most of the recipes.
It is no secret that I have always been a fan of Paley's Place, and I was pleased to find many of my favorite dishes in the cookbook. Include are old favorites like Escargots Bordelaise with Roast Marrow Bones, Roast Duck with Cherries, Summer Green Bean and Grilled Peach Salad, and Gazpacho – which is strangely enough identical to the recipe I've been using for years. I'm not sure if that makes me a great cook, or Vitaly a lousy one. There is a wide selection of desserts, including an excellent Tres Leches Cake and an assortment of cookies. The book finishes with a selection of cocktail recipes, including their famous Lemon Drop.
I've already made several dishes, and have been very happy with the results. On a recent rainy evening, I tried the Curried Butternut Squash and Pear Bisque, which is much better than the recipe I've used before. Last night, Duck Wellington with Mole Sauce – "A madman's Wellington with mole" made it to my table. The latter recipe is not something many casual cooks would normally try, but Vitaly gives very clear directions that leave little to question. The end result is well worth the number of steps, and it really isn't very difficult.  At this point, I am ready to make an entire meal from the book, or replicate some that I've had at the restaurant.
Most cookbooks of this genre fall into the trap of assuming the reader has a fair amount of cooking knowledge. A home cook may well be lost when they reach a step they know nothing about – "render the fat"? Though the directions are offset from the main recipe in the sidebar, the book generally tells you everything you need to know to bring a recipe to fruition. A few new (to me) techniques are thrown in – for example, grating tomatoes for gazpacho, why haven't I thought of that?
Overall, I'm quite happy with The Paley's Place Cookbook. I like the way traditional French cooking methods overlay "new American" ingredients, with even hints of Vitaly's Russian roots peeking through. This is a book that will make you salivate, and want to rush to the kitchen to try new recipes. I recommend it.