Following on the successes of "Tasty n Sons" and "Tasty n Alder", "Third n Tasty" to open.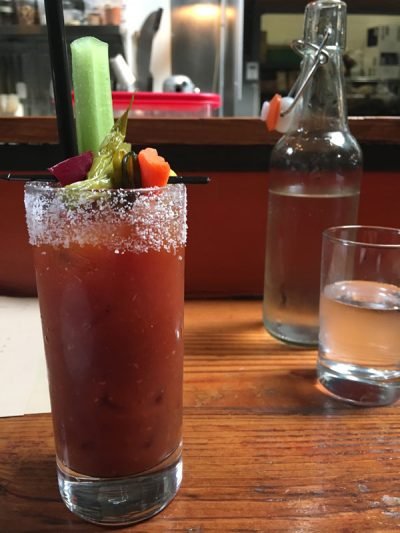 The press release tells the story –
Third "Tasty" restaurant will serve brunch and dinner in Downtown McMinnville

 

McMinnville, Ore. (

July 24, 2017

)

–The Toro Bravo Inc Restaurant Management & Design Group presents a new restaurant from chef and restaurateur John Gorham inside the new

Atticus Hotel

in historic downtown McMinnville opening in Spring 2018.

Third n Tasty

is the third "Tasty" restaurant from Toro Bravo Inc, preceded by

Tasty n Sons

and

Tasty n Alder

restaurants in Portland. Third n Tasty—playing off the fact it's both the third restaurant in Gorham's Tasty series and will be just off iconic Third Street in Historic Downtown McMinnville—will offer global favorites drawing from Tasty n Sons' brunch menu and Tasty n Alder's dinner menu.

"McMinnville is the first city outside of Portland to which we've expanded our Tasty program. Since McMinnville sits in the heart of Oregon wine country, we know we can both source our ingredients from local area producers, and have an audience of locals and international travelers who will appreciate our unique dining options. We're excited to be a part of McMinnville's continuing evolution as an international culinary destination," said John Gorham.

"With Tasty n Sons dinner program we focus on regional Americana," Gorham continued. "With Tasty n Alder we have influences of steakhouses from around the world, and with the Third n Tasty dinner concept we want to focus on the cuisines of the great wine regions of the world. We're going to bring in wine country's first Josper Oven from Spain to charcoal-broil local steaks." Third n Tasty will also feature a happy hour menu, in-room dining at the Atticus Hotel, as well as wine and cocktail service in the lobby.

The wine program will feature a strong showing of Willamette Valley wines while also celebrating classic Old World wines from France, Italy, and Spain. The bar program will be centered around the classic cocktails you'd find in great hotels around the world.

"The heart and soul of a Tasty restaurant is fun, and the new luxury and independently-owned Atticus hotel will be the perfect complement to our Tasty dining experience. We can't think of a better place to expand our brand," said Gorham.

First Tasty Cookbook Coming in August

Hello! My Name is Tasty: Global Diner Favorites from Portland's Tasty Restaurants

by John Gorham and Liz Crain will be released

August 15th, 2017

with a launch party at Gorham's gastronomic society and event space, PLAZA DEL TORO at

6 p.m.

Hello! My Name is Tasty features brunch and dinner favorites from Tasty n Sons and Tasty n Alder and is Gorham's second cookbook, following the acclaimed

Toro Bravo: Stories. Recipes. No Bull

, released in 2013.

About The Atticus Hotel

Opening in Spring of 2018, the Atticus will be a full-service hotel in Historic Downtown McMInnville—the heart of Oregon's Wine Country. Locally owned and operated, the 36-room Atticus has grown out of the roots of the community and will weave the collective story of a small town into the fabric of the hotel, ensuring every guest feels a sense of belonging and discovery. Embodying the spirit of McMinnville, the Atticus shares its layered history through carefully curated local art, products and furnishings, and ensures that a spirit of generosity defines each stay. For more information visit

atticushotel.com

or contact

hello@atticushotel.com

. Find the Atticus on Facebook at

Facebook.com/atticushotelmcminnville

and on Instagram as @atticushotel.

About Toro Bravo Inc Restaurant Group

Toro Bravo Inc. is John and Renee Gorham's restaurant management and design group. John Gorham is Executive Chef/Owner of iconic Portland restaurants Toro Bravo, Tasty n Sons, Tasty n Alder, PLAZA DEL TORO; co-owner of Mediterranean Exploration Company and Shalom Y'all; and founder of the La Ruta PDX gastronomic festival. Gorham believes that a chef's cuisine and style is influenced by a trade route composed of travels, past work and cities lived in. Gorham celebrates a range of global cuisines at his influential restaurants; each with a unique identity but all embodying the quintessential Portland dining experience of family-style dishes, house-made charcuterie and seasonal sustainably-sourced ingredients. For more information visit

torobravoinc.com

. Find Toro Bravo Inc at @larutadeltoropdx and on Instagram @rutadeltoropdx.