Online magazine Thrillist, names Stanich's Burger as Best in America, Little Bird Bistro comes in at #43.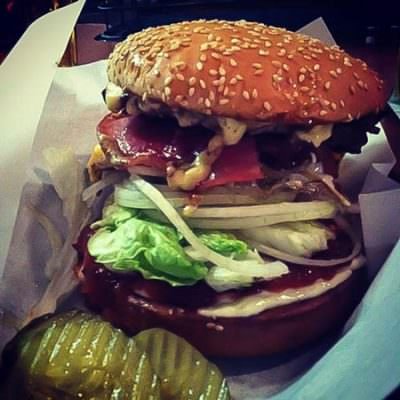 Kevin Alexander of Thrillist has finished a year-long quest across the USA, trying 330 burgers in 30 cities. Not only did Little Bird come in at #43, but Stanich's "Nick's Cheeseburger ($7.95) took the number one spot –
The sesame bun was griddled perfectly, preventing the somewhat messy burger from leaking through and getting soggy. The ground chuck had a good crisp edge, and the grilled onions, which must sit marinating in something, melded with the American cheese for that perfect diner burger mix. Normally, we'd stop there, but Stanich's does not yield. On the top bun, they use a combination of mayo and mustard while on the bottom, it's mayo and red relish. The end result is a mixture of sweet and salty flavors I haven't experienced anywhere else. In fact, I didn't even see the hamburger dill pickles sitting on the side until after I ate the whole damn thing, but it didn't matter. This burger is a national treasure. This burger at an old mom-and-pop sports bar that's been sitting in a random Oregon neighborhood since 1949 is the best burger in America.
Of Little Bird Bistro, Alexander said,
You must get this burger with American cheese, and not the brie they recommend. It is essential! And then you must eat this entire hyper balanced and delicious burger and then ask Gabriel Rucker about his tattoos.
I agree with the cheese recommendation. I'm too much of a purist for brie on a burger. Out of curiosity I jumped over to the 2017 poll results question, "best burger in Portland". While Stanich's has won in the past, they are not doing too well against the competition this year – Little Bird has double the votes.
You can read the full article with more notes on each burger here.