The New York Times has an article called (brace yourself) The Maggots in your Mushrooms.
It talks about the allowable amounts of insect and mold parts in processed foods. When I was in college I read something along these lines about Fig Newtons and didn't eat one again for months. I love this paragraph:
In case you're curious: you're probably ingesting one to two pounds of flies, maggots and mites each year without knowing it, a quantity of insects that clearly does not cut the mustard, even as insects may well be in the mustard.
Whew! Makes me want to jump into bed and hide my face under the pillows. Oh, wait… Oprah covered the number of mites in old pillows a few years ago. Haven't been able to sleep since.
Seriously though, anyone who has worked in a restaurant knows how many bugs there are in your food. I was always interested in the miscellaneous mites and worms left in the bottom of our organic produce boxes. After a while, you get used to it.
Chop, the replacement for Viande meats has moved smoothly into place.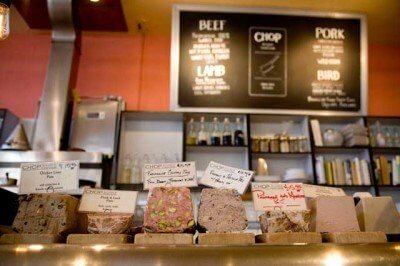 Chop has opened without fanfare. It's nice, the folks behind the counter are very knowledgeable. If someone hadn't told me about the change in ownership, I probably wouldn't have noticed. That's a good thing. Viande is moving across the street from Music Millennium over on 31st and Burnside, where Laurelhurst Market used to be.
Some folks still follow restaurateur Michael Hebb, so I'll add this for you.
Gourmet published an article called "Highway Hiking with Michael Hebb" (link no longer valid). "The renegade cook leads three fellow explorers on a 32-mile walk through Los Angeles to their dinner destination: the I-5 freeway."
But now the restaurateur has started over in Seattle with a new partner and a new obsession: cooking and eating dinner in weird places. After hosting a candlelit supper in a Seattle airport hangar and chatting about pornography with Gore Vidal in Hollywood, Hebb is now fixated on the I-5 freeway, which winds 1378 miles from Washington State through California. It is a civic space that millions inhabit collectively every day, solitary in their cars, so he wants "to imbue [the] landscape with meaning that has become utterly bereft of it." Partnering with art curator Stephanie Snyder, he plans to stage a dozen dinners along the freeway over the next two years. I wrangled an invite for the first, excited to take part in a sort of gonzo-locavore expedition—we would forage for dinner ingredients on private property and in 7-11s alike along the way—and in perhaps the ultimate exploration of a city's edible bounty. (Full disclosure: Michael is a distant acquaintance from Reed College, which we attended simultaneously for a few months, abating his leeriness about letting a reporter join his trek.)
Insert your own snarky comment here. This story has a huge target on it.