[adrotate banner="66″]
Michael Zusman goes to restaurants far more than I am able to, so I asked if he would be interested in an ongoing Top Ten Portland Restaurants list for the home page of the website. Fortunately he was happy to help, sending me 25.  FD]
Originally, my Top 10 Portland restaurants list was something I put up on Facebook because I thought it needed to be done. I have nothing to sell, no p.r. types hawking me, just a bunch of places I like that I thought would be fun to highlight after eating out at least a half-dozen times a week for 20 years or so. Food Dude asked if I would do something like a Top 20 on his site, so I'm combining an update of the original list (from 2/2/16) with the "Next 15" list I'd been working on anyway.
These lists are a snapshot in time. My top places change regularly. In fact, I wrote the "Next 15" after feeling I'd left some really outstanding places out of the initial Top 10. I try to be pretty discerning, even if I'm not 100% objective, so there's no hard and fast hierarchy, even between the two lists. Ultimately, it's just my informed opinion and a resource for those who care to use it. Feel free to disagree, but I'm a lot more comfortable with this list than any of those written by the usual rabble of neo-Portlander "experts" or helicopter critics from afar.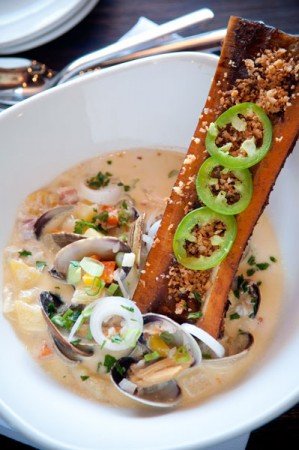 Top 10, in no particular order:
1. Ox: Grill me, baby, one more time. Where people meet to eat meat.
2. Kachka: Novel contemporary Russian (as opposed to a contemporary Russian novel).
3. St. Jack: French country classics from Portland's premier Canadian cook and hockey fan.
4. Ataula: From the streets of Barcelona to NW Portland, an infinitely creative procession of modern and classic tapas.
5. Roe: In a bizarrely seafood starved port city, elegant oceanic presentations to rival the plates at Le Bernardin.
6. Apizza Scholls: Atop the apizza heap in Portland for a decade and still without a serious rival.
7. Lardo: Sandwiches (and sides) that dreams are made of. Not a weak choice in the bunch.
8. Pok Pok: The uncompromised brilliance of Thai food from an authentic obsessive.
9(tie). Holdfast: Where top quality ingredients and modernist technique meet in a casual setting.
9(tie). Castagna: Where top quality ingredients and modernist technique meet in an authentic adult dining room.
10. Taylor Railworks: Choo, choooo! Get it? World cuisine from an unexpected source.
The Next 15, in no particular order:
11. Aviary: Sarah Pliner proves the power of one, a force exceeding the three-headed approach of yore. Order everything.
12. Little Bird/Le Pigeon: Gabriel Rucker's creative brilliance in dual incarnations. Wackified French food and a great burger are Rucker's stock-in-trade.
13. Biwa: Subterranean, dim and smoky are the ideal canvas for the izakaya palette of soups, grilled and fried items, even raw fish.
14. Podnah's Pit: Best Texas barbecue this side of the Rio Grande. Practice this: "I'll have the Texas Cobb with fatty brisket, please." Yee-haw!!!
15. Smallwares: Johanna Ware's menu pinballs around the globe, but tilts mainly to Asia.
16. Coquine: The French name may refer to a flirtatious young thing, but the mood and food are doubtlessly hamisch, the Yiddish term for homey.
17. Grassa: It's not an Italian restaurant, it's a pasta restaurant. Owner Rick Gencarelli's nonna wouldn't recognize half the excellent pasta dishes on the rotating menu.
18. Pho Oregon: The aromatics in the namesake beef noodle soup clinch the crown for top winter warmer. Naturally, you order the #1 with all the odd bits.
19. The Original Pancake House: I pity the tatted, bearded minions who wait long and quiescently for mostly mediocre short order cuisine. They must not know the morning joys of the serious breakfast food served here since 1953.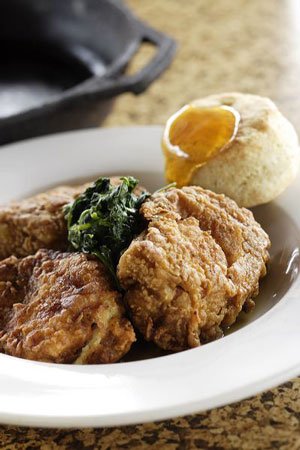 20. The Country Cat: After a long stint turning out original Northwest seasonal cuisine at Wildwood, Adam Sappington has dedicated his skills to stellar southern comforts.
21. Tanuki: Sure, call it a bar, but it's where you go to eat rich, bountiful plates of Janis Martin's Japanese drinking food. Tolerance for bizarre slasher porn a must.
22. EaT Oyster Bar: Best oyster selection in town plus gumbo, po' boys and other Big Easy fare, often paired with sports on the big screen or live tunes.
23. Fire on the Mountain; Forget the obnoxious corporate alternative. This is where to go for Buffalo-style chicken wings in multiple variations.plus maybe an order of tots. Join the hordes on game days.
24. Paley's Place and Higgins: The sole survivors from the original, mid-90s NW cuisine wave. Still helmed by the namesake founders.
25. Toro Bravo, the Tastys ('n Sons, 'n Alder), Mediterranean Exploration Company: The John Gorham empire delivers solid, often great food, polished service and the value equation Portlanders expect.