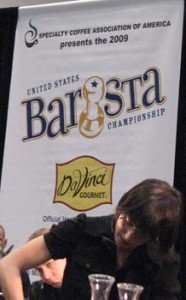 Let me start by saying this: I don't know a lot about coffee. At least, not anymore. Prior to jumping on the United States Barista Championship bandwagon, I surely thought I did. Yah, I drink it every day, have worked in a few coffee shops, go absolutely bananas if I have a good latte, but then I heard competitor Renee Teichen from Ritual Coffee Roasters in San Francisco describe espresso. She used terms I thought were only appropriate to describe pieces of fruit or wine (clementine zest, citrus notes). She told an entire life story of the farmer who grew the beans, and knew exactly what kind of condition the cherries were in when they got picked. Renee then presented her "signature drink:" a two-part experience consisting of a small plate of aromatics next to an ounce-sized mixture of ganache, espresso and espresso-infused whipped cream. And that wasn't even the semifinals.
In case you missed the four-day competition, here are some of my favorite anecdotes. I dropped in on the preliminary round at the Convention Center, talked to some folks behind the scenes and on the sidelines, watched the streaming web-coverage, and ran into the bike tour a few times. It was quite the event.
"I came because I love espresso," Kayla, a young Portland woman said. "Well, and there's this guy named Billy Wilson." She smiled. "He just opened a coffee shop down by my school [Barista] and he's supposed to be competing."
I felt a bit guilty for telling her that she likely wouldn't be seeing him on the espresso bar stage. Not only was he on the schedule for the day prior, but I'm pretty sure he never showed up. I'm confident of this because I was at his new coffee shop, BARISTA while the clock ticked past his competition time. So was he.
But Billy was hardly the only Portlander on the schedule. Alex Pond (noted Northwest Regional Champion from The Fresh Pot), Sam Purvis (from Coffeehouse 5), Kevin Fuller (from The Albina Press), and January Vawter (from Blend Coffee) were also on the bill. Sadly – for us prideful Portlanders – history repeated itself. At approximately 4:40pm on Sunday, the United States had its new barista champion. And he came from the Intelligentsia empire. They held the title last year, and this time Michael Phillips from their Chicago shop took home the trophy.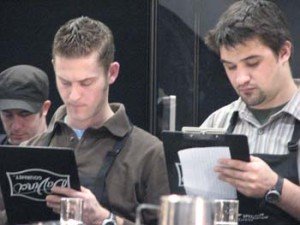 As I sat in the audience watching the judges scribble scores on each barista's performance, I kept thinking how great it is that something like this is out there. And by "this" I mean an intricate system designed to celebrate those who are the best at what they do behind a coffee bar (and a venue where you can hear the emcee shout things like, "Now make some noise for Ben's cappuccino set!"). "It's evidence that specialty coffee is continuing to evolve, and baristas are looking at (it) as a career. All of last year's six finalists are still working in specialty coffee," said Brent Fortune, World Barista Championship committee member and owner of Crema Coffee & Bakery.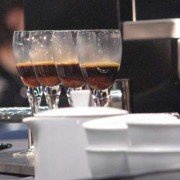 But, of course, it's not just about a career of climbing through the industry. More often than not you'd overhear people gush with pride about the farms that grew the beans they were using. Another of Brent's highlights was, "Seeing so many beautiful single origin coffees used in the competition, and (how) baristas are learning to work with single estate coffees as espressos." While thinking about where those estates actually are, coupled with the fact that many sources claim that coffee is traded around the world second only to oil, one can quickly understand that these little magic beans might just have the power to unite, you know, the world. Yah, I'd compete for that. But in the meantime, I'll keep drinking to it.
Catherine Cole is a Portland-based freelance writer who wonders if it's normal to think about food almost every second of the waking day. Her writing has appeared in The Portland Mercury, Portland Picks, and Venus Zine. She has a blog: A Fly On The Wall and can be contacted at catherine@ccole.info.