What temperature should pork be cooked?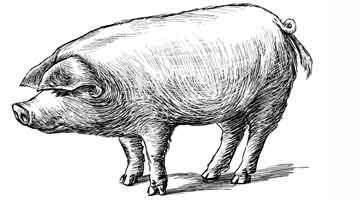 Most of us probably grew up knowing the rule that pork needed to be cooked to a higher temperature than any other meat. I remember being told that I would get trichinosis if it was undercooked, and though I had no idea what that meant, it conjured up horrible images. That being said, I was also taught not to eat shoe leather, so I have always heated it to 150 degrees.
Everything changed today when the US Department of Agriculture announced that it has lowered its temperature recommendation for cooking pork to 145 °F.
Can Safely Cooked Pork Be Pink?

Cooked muscle meats can be pink even when the meat has reached a safe internal temperature. If fresh pork has reached 145 °F throughout, even though it may still be pink in the center, it should be safe. The pink color can be due to the cooking method or added ingredients.
The new requirements call for leaving the meat to rest for "at least 3 minutes" before carving, but most home cooks already know that. Ground pork should still be cooked to 160 °F. One other note,
Partial Cooking
Never brown or partially cook pork, then refrigerate and finish cooking later, because any bacteria present won't be destroyed. It is safe to partially pre-cook or microwave pork immediately before transferring it to the hot grill to finish cooking.
I was once in the kitchen at a catering gig where the chef was doing exactly that – pre-cooking all the meat half-way to finish later. Ugh. Fortunately, the final cutlets as plated were so vulcanized¹ they were only good for patching tires, and no one ate them anyway. Memories.
The USDA pork page is actually kind of interesting. You can read all the updated rules here.
¹Yes, I am so old I have patched the rubber inner-tubes of car tires via the vulcanization process. Pieces of old pork work well.