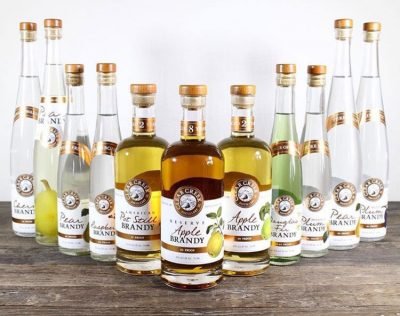 Alien Life Forms in Clear Creek Distillery Bottles Identified!
Yet another article from The New York Times on Portland, or to be more specific, Clear Creek Distillery. They have some really nice pictures of pears that have been grown in the bottles, but most interesting is the attitude of Clear Creek's Stephen McCarthy.
While the tall, bearded Mr. McCarthy is ordinarily mild-mannered and affable, his tone hardens when the subject turns to cocktails.

"We don't consciously sell to that market," he said as we walked among the four small copper-topped pot stills in his bright new distillery. "We get these bright-eyed and bushy-tailed bartenders who've invented something, and that's great. Maybe I'm dead wrong, but I've sought out the fruit and gone to great lengths to insure their purity."
Interesting article; you can read it by clicking here
---
Exactly how expensive is the "World's Most Expensive Dessert"?
According to Forbes Traveler, the price is $14,500, but you get to keep the accompanying 80-carat gem that is part of the presentation. Next time one of our readers is at The Fortress at Sri Lanka, please try the Aquamarine and send me a review. I promise to publish it.
The next one on the list is a much more affordable Brownie Extraordinaire with Saint Louis from Brûlée: The Dessert Experience in Atlantic City. It "comes with a Saint Louis crystal atomizer, a $750 keepsake filled with a shot of rare 1996 Quinta do Noval Nacional port wine to be sprayed into the mouth between each bite of hazelnut-coated brownie." I wonder if you can get it to go?If y'all would like to take up a collection to give it a try, I'd be happy to give it my best shot. Seems to me you'd be getting a bargain. [Forbes links are no longer valid]