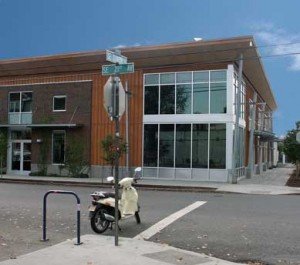 This restaurant is now closed.
[updated 6/13 – prices, comments]
Vindalho- vin-dah-loo' – Indian (from Portuguese vinha d'alhos: vin(wine) alho (garlic): fish, vegetables, or meat (most commonly chicken or lamb) prepared in the Goan style, with vinegar, garlic, sometimes potatoes, and tomatoes in a spicy curry.
Vindalho was opened in 2005 by David Machado, owner of Café Lauro a few miles east on Division. David Anderson, formerly from Lauro, moved to this location as the chef de cuisine. The interior space was designed by Portland's Sienna Architecture, and is quite striking, especially compared to the rest of the neighborhood. Modern with lofty ceilings, big bright windows, a mezzanine level that looks over the space below, and hanging art to break up the space, it has a contemporary yet comfortable feel. The kitchen is open, the amazing range hood a work of art. It is easy to see the cooks, Chef Anderson busily expediting things, giving you plenty to watch if your date is going down in flames. The room is L-shaped, wrapped around the kitchen with a bar that holds about 20 in the far corner. A large roll up door opens during nice weather. There are lots of comfortable bench seats and bamboo topped tables. The upstairs seating area provides a nice vantage point to watch the action below, though you can't see the kitchen. On very busy nights, noise levels can be a problem here, and at times it can be difficult to hear other people at your table. Still, I like the ambience very much.
A full bar is available with four beers on tap, now Hopworks Organic Lager, Double Mountain Hop Lava IPA, Ninkasi Double Red Ale and Gilgamesh Mamaba Rye, all $5. Seven are available by the bottle; prices range from $4.50. A list of specialty cocktails is also available, drawing from both old school like the mint julep, to the newer ginger lemongrass martini. Some are pretty good, some need an early retirement. The nepaltini – a mixture of tea-infused vodka and sweet and sour served in a martini glass with a sugared rim would be better served to grown up sorority girls in the Pearl. Ditto for the mint julep. Mint juleps are one of the simplest concoctions – whiskey, mint, and a hint of sugar, muddled and served with crushed ice. The idea is that there is a balance between the three ingredients with none of them dominating. Unfortunately the mint julep at Vindhalo just tasted like heavy sugar-water with mint thrown in. All specialty drinks are $9.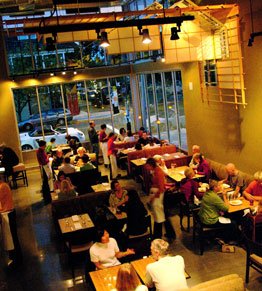 A small choice of wines is available, many by the glass, half-liter, or liter – a nice touch. Markup is very reasonable, and the choices are well-selected to match the food. The menu bills itself as "spice route cuisine". Though it certainly has Indian roots, it is more of a modern take on the classic dishes. When Vindalho first opened, I wasn't too impressed. Food wasn't spicy enough, sauces tended to be out of balance, and some dishes didn't work. However, in the last year, they have made tremendous strides. I would guess this is largely because of Chef David Anderson's trip to India. There is nothing like experiencing the food and culture for yourself to really get an idea of what a cuisine is all about. Since his return, all the dishes have been tweaked, the result bringing excellent balance and a great harmony of spices to David's already excellent kitchen skills. In short, quality has soared.
Portions tend to be large; most likely you'll have some leftover for the next day. The menu and prices have remained pretty much the same. Don't miss the specials board when you walk in the door. They are usually quite good.
Meals start with complimentary papadum, for the uninitiated, a very thin, brittle, spiced lentil cracker, about the size of a plate. They are light as paper and crisp, with just the right flavor – very addictive. As is true with all the chutneys here, the tamarind-date variety that comes with this dish is excellent. When you finish, save any that is leftover to use with other dishes.
The roasted beet salad is interesting, loaded with beets, a light fennel flavor, slight spice from mizuna (a green often used in salad mixes), frisee, fennel, and spicy little toasted chickpeas with a cardamom-yogurt dressing. There are a lot of interesting textures and flavors in this salad, and I enjoyed it ($9.00).
Mulligatawny soup is South Indian: mullaga (pepper) and tanni (water or broth). Like many Asian dishes, the original recipes have morphed into innumerable versions, with every family having their own recipe. Vindalho's version uses chicken, tamarind, tomatoes and rice. The vegetables are perfect – not soggy as you find in many restaurants, and the entire dish has a nice stew-like flavor. It's perfect for a cool fall night ($7.00).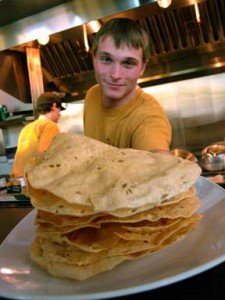 On some nights chicken pakora are on the specials board. They are just terrific, creamy coriander-spiced chicken wrapped in a coconut shell and deep-fried. A side of tamarind-yoghurt chutney provides a perfect counterpoint. Between the textures and flavors this is a great starter; highly recommended ($8).
Samosas are made with an eye to the best seasonal ingredients to complement the potato base. I've had them with shrimp, English peas, and the current corn and potato version. They are perfectly fried and not a bit greasy, with the light dough gently encasing wonderfully tender potato and sweet corn interiors. Taken either solo or with a dollop of the bright green chutney, these are perfection. Once again the chutney comes through as a great accompaniment, the current version mint and yogurt ($8).
The lamb kebobs in fenugreek cream also deliver. Two large, formed kebabs of spiced ground lamb that have been shaped into 2" diameter cigars and fired in the tandoori oven, came out tender and moist. The bright yellow fenugreek sauce was rich, but not too rich ($8).
Goan is Portuguese-influenced cooking style of Goa, a state on the west coast of India. The Goan style mussels changed a bit from meal to meal. Most nights they are really nice with a marvelous sweetness from the coconut milk, and spices which combine well with the perfectly cooked fresh mussels. On a few visits they were a bit toothy, but the sauce was still terrific ($10.00). Another of my favorite dishes, the tandoor suvir Saran's prawns are not on the current menu, but so good I'll mention them: plump and cooked as you'd expect, fresh, flavored with ginger, cumin, and lemon giving the prawns a smoky Indian spice. These are accompanied by rice, which makes the portion big enough for an entrée ($15.00).
Goan chicken curry also uses coconut milk. This one was at first subtle, but after 2 bites grew in complexity. The spices themselves are not "spicy" but instead heady and deep; although a little something was missing to really make this dish pop. The chicken however, was so flavorful and moist that I can't complain too much. Served with simple rice and a beans foogath, a wonderful shredded green bean, curry leaf and coconut side dish, this was outstanding ($15).
The pork vindalho over balsamic rice is one of the best things on the menu. The pork is fork tender and moist, the sauce sweet, tangy and fragrant, with a long spicy finish. A dash of vinegar gives it a piquant, yet balanced undertone. It's served with a pyramid of light and fluffy saffron basmati rice, and topped with somewhat incongruous plump onion rings. Another terrific choice ($17).
Boti Kabobs made from Oregon lamb are marinated in yogurt and mustard seed, giving them a nice spice level that contrasts with the smoky taste from the grill. There is just the right amount of char, the meat is moist and rare, and the accompanying pyramid of saffron rice balances the dish. As usual for these days, the lamb was very mild in flavor – not gamey at all. A side of mango chutney provides the perfect sweet foil ($17.00).
Tikka means small pieces of boneless meat, fish or vegetables, marinated and grilled kabab style. The chicken tikka is good tandoori, though a bit under-spiced for my taste, and on one visit, slightly dry. The excellent accompanying chutney and onion/lemon salad was really good, consisting of onions, radishes, and a few thin slices of lemon in a light marinade ($16).
For those who think the tandoori beef sounds like a less spicy, more American dish, think again. You'll get plenty of medium rare meat topped with huge onion rings, but the tamarind marinade raises it above the ordinary. The spice level (not heat), contrasts rather strongly with the mild meat. At first I didn't particularly like it, but when paired with the accompanying chutney, everything works just perfectly; the flavor of the grill, sweetness of tamarind, spiciness of the marinade, and yet a different, slightly hot flavor of the marinade. It wouldn't be my number one choice, but I would order it again ($19).
These days I like the naan, a flatbread that is cooked quickly in the tandoor oven. It is fairly thin, not overwhelmed with ghee (clarified butter) like it used to be. Cumin and fennel spices give it a nice fragrance ($3).
Finally, don't miss the chutneys. They are an important part of Indian food and a way to change the tastes of a dish from bite to bite. For the uninitiated, they are a condiment combining fruits or vegetables, vinegar, sugar, and spices. The flavors are designed to complement or enhance dishes. The chutneys at Vindalho have expanded greatly, with eight on the current menu. You can get a three chutney sampler for $5 that allows you to choose which ones you want. At this point I've tried them all: peach-kalonji (nigella), cucumber mint raita, and red onion date, mint-yoghurt, spicy red chile, fresh coriander, and sweet tomato chutney. All were surprising, and quite good. The peach chutney with black nigella seeds added an end of summer sweet note balanced by the slight anise flavor of the nigella seeds, while the raita was textbook and exactly how raita is supposed to be made – cooling and creamy with bits of cucumber and spices.
Desserts are a weak point. The best of the lot is the bittersweet chocolate samosa. When they opened, it consisted of a flakey puff pastry turnover with a layer of bittersweet chocolate sauce inside, quickly fried, drizzled with honey and caramel sauce along with sautéed bananas ($7.00). Now they are using a more traditional samosa for the wrapping, and the bananas are no longer served on the side. It's still good, but not as incredible as before. For those wanting something lighter, the ginger crème brûlée is light and creamy ($7.00). There is also a lime tart. It's just fine, with a decent citrus flavor, but the crust is uneven, and so thick on the outside it's hard to cut. Ok, but nothing to write home about ($7.00).
In all my visits, I found the service to be a step up from the Portland restaurant average. Staff knows the dishes, and when queried can discuss the more unusual ingredients. On very busy nights you might find things slow a bit, but never to the point where it becomes annoying.
I like Vindalho very much, and think things are balanced, meats tender, and sauces complex with lots of depth. The restaurant has come a long way since opening, and is an excellent addition to the Portland restaurant scene. If you haven't been since they first opened, you owe it to yourself to give them another try.
Phone: 503-467-4550
Address: 2038 SE Clinton Street, Portland OR. 97202 Map
Hours: Tue-Thurs 5pm to 9pm, Fri-Sat 5pm-10pm