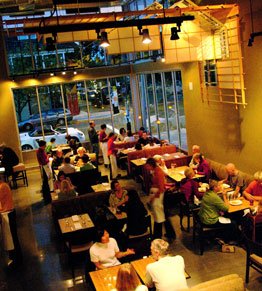 Indian "spice route" restaurant, Vindalho at 2038 SE Clinton Street, is closing tonight.
Vindalho was opened by restaurateur David Machado in 2005, at the time, his second restaurant. David Anderson, formerly from Cafe Lauro, moved to this location as the chef de cuisine, but left a few years ago to cook at Genoa. Unfortunately, the restaurant seemed to drift downhill over the last few years, and Machado's focus seemed to be on the more popular Nel Centro, in the downtown core.
The interior space was designed by Portland's Sienna Architecture, and is quite striking. Modern with lofty ceilings, big bright windows, a mezzanine level that overlooks the space below, it has a contemporary yet comfortable feel. The kitchen was obviously a large investment, and it will be interesting to see what happens to the space in the future.