I know… I am way behind on news. Where have I been? Working on a couple of big projects, and eating – getting caught up on the newer restaurants that I hadn't made it to yet and returning to old favorites.
Here is some news scraped from the endless stream of press releases over the past month.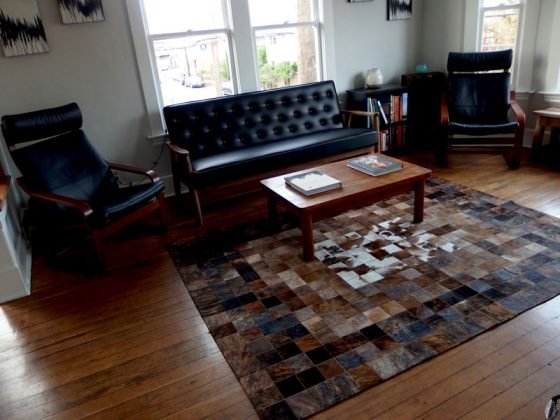 Have you heard about Willow? The restaurant at 2005 SE 11th avenue opened April 1st to good reviews from the public. The images they sent to the press have piqued my interest – the restaurant only has ten seats, and will do two seatings per night. Chef Doug Weiler is a grad of Johnson & Wales and Glyph, and Chef John Pickett is a graduate of CIA, Biwa and Ración. Each meal is six courses for $50 per person.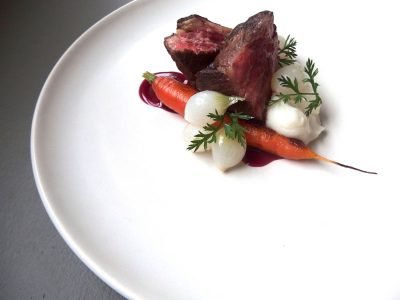 Here is a look at the opening menu:
Vegetable poutine, candied beets, ricotta, 'gravy'
Ocean trout, carrot sugar, dill, pickles.
Preserved 'caesar', sardines, egg yolk, brined lettuce
Leg of Lamb, potato, spicy greens, alliums
Willow Creek cheese, goat milk caramel, charcoal cracker, spiced carrot
Sweet Potato custard, rutabaga, miso-malt crumble, crunchy salt.
Willow Restaurant is located at 2005 SE 11th Ave., Portland.
Ristretto Roasters had a crew of four in Atlanta this past week, at the SCAA National championships, including Becky Reeves, who'd placed third in the western conference for barista and came in 10th nationally, and Ben Jones in brewer's cup and Aeropress, the latter of which he won, 1st place. I wasn't there but it was apparently an intense three hour carnival, as you can see from this Sprudge link. Ben will head to Ireland for the World championships in June.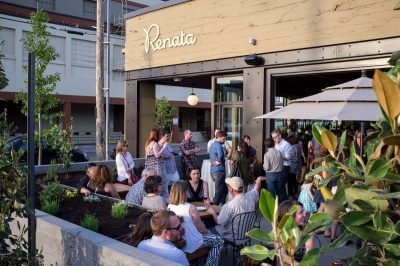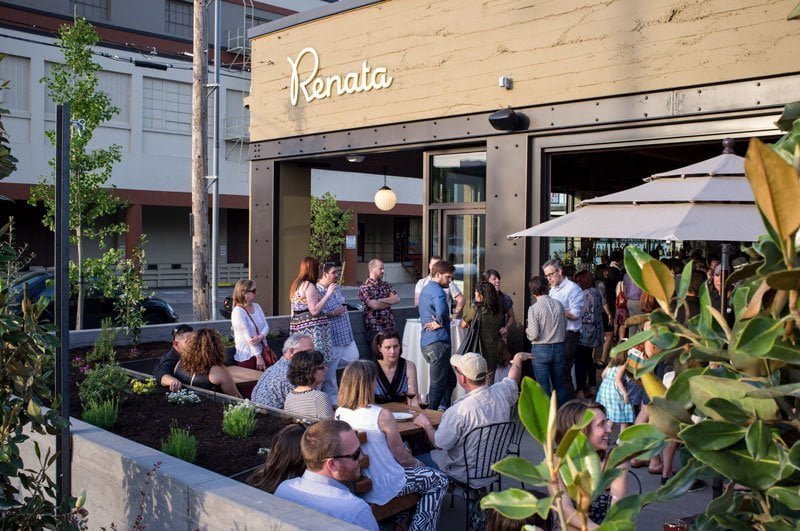 Renata has launched a new happy hour menu, Aperitivo. According to the press release, it showcases bits reminiscent of Italian street food. Some highlights include: Salt and Vinegar Pork Rinds, Lamb and Beef Meatballs with Polenta, Fritto Misto, and more. The happy hour is available at the bar and on the patio Monday-Friday from 4pm – 5:30.
I finally got a chance to try 180, Portland's first xurreria. These are not the xurro (chu-ro) sugar bombs from county fairs, but the real thing, as in, this is what you find in Spain. Owner Jose Chesa is doing monthly collaborations with 16 rotating chefs. First up is Rick Gencarelli, chef/owner of the ultra-popular Lardo. Gencarelli's xurro is a mash up of the Italian classic, the cannoli, and the Spanish classic, the xurro. His Xurroli will be stuffed with sweetened ricotta and served with a chocolate sauce flavored with orange and pistachio. Inspiration leans heavily on visits to New York's Puglia Bakery, a ritual Gencarelli used to do with his father each Sunday growing up. The creation will be available the entire month of April beginning Friday, April 1. All proceeds of the Xurroli will benefit Dollar for Portland. The list of chefs that will be contributing is impressive – Joshua McFadden of Ava Gene's, Earl Ninsom of PaaDee, Langbaan, Gregory Gourdet of Departure, Vitaly Paley… it's a great list. Norman's cookies and cream xurro to be served in May, will be covered in white chocolate and be served with homemade Oreo sprinkles. In June, McFadden will prepare a xurro stuffed with peanut butter cream, dipped in chocolate and then again in salted peanuts.
Give it a try.  The small shop is located at 2218 NE Broadway, Portland
I also went by Providore Fine Foods, the City Market like space that opened last month at 2340 NE Sandy Blvd. It's a collection of food stores and stalls, currently Pastaworks, Arrosto, Flying Fish Company and Oyster Bar, The Meat Monger, Rubinette Produce, Little T Baker and Emerald Petals. This is a really nice space, they have lots of hard to find food ingredients, and a seating area that is a pleasant place to have lunch. However, bring your credit card – let's just say I was a bit stunned at some of the prices. However, it's the first place I would go if I was looking for a specialty item. They are open daily.
KitchenCru is helping to launch a new popup: Fusspot Chicken. According to my Korean friends, if you haven't tried Korean fried chicken, you should give this a try. The folks behind the popup spent three years fine-tuning the recipe until they were ready to go public. The next Fusspot will be on Saturday, May 7th. They are held at KitchenCru, 337 NW Broadway in Portland.
Tourant is opening in the former Din Din space in Northeast Portland. "The inspiration for the name comes from the French word tournant (pronounced toor-nahn), which means turning or revolving. "In a classic French kitchen brigade system, the chef tournant is a roundsman who is not tied to one station but rather floats and supports all chefs in the kitchen," Johnson explains. "This is the role we want this space and venture to play in the Portland food scene." "We envision Tournant to be a creative and kinetic space that plays host to events and gatherings of all kinds," adds Foster, "from our own dinners and Oyster Social events, to private celebrations, to guest chefs' pop-ups and supper clubs." They will be doing catering, and have a dining space with seating for 45 and standing room for 65.
Slate, the replacement for Equinox has opened at 830 North Shaver Street. They will be open for brunch and dinner, with a happy hour, so those of you who loved the Equinox patio can still get your fix. You can see all the information and the menu here.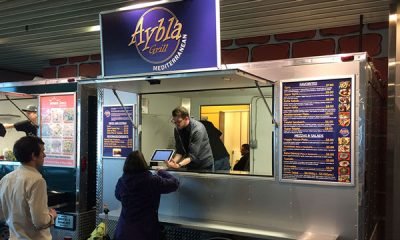 The Portland airport has two new food carts. Aybla Grill serves Mediterranean dishes, and The Whole Bowl, which specializes in "healthy mix of vegetables, grains and protein". They are both located in the Oregon Marketplace near Bangkok Xpress. I have to say, I've passed through a ton of airports over my life, and nothing compares to PDX. Programs like this make it even better. At what other airport can you get a pretty good meal for $6.00?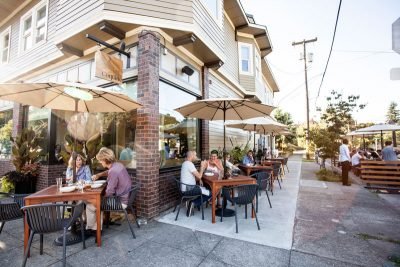 The outdoor dining page is growing like crazy and it is becoming a pain to dig through. So, I'm going to break it up, removing places I have almost no information about into a second list, and improving the ability to find restaurants and bars with specific amenities easier. In the meantime, I figured I might as well collect even more information on each place. The form to submit your restaurant has been rewritten to be more efficient and asks a few more questions so that I can give everyone more exposure. Now you can add photos too. If you are listed and want to make sure your listing stays on the main page, it's easy – just click on the link, select "update an existing listing", and fill out the details. I'll take care of the rest. If you have any suggestions on what additional information you'd like to see on the outdoor dining list, drop me a note!