By Bruce Bauer
There are times when I've gone to a restaurant and had an incredible experience, but for various reasons, I didn't make it back. Such was the case with Yakuza Lounge on Portland's northeast side. I had my first experience with my friend DOR last October. It was such an-out-of-control meal we ended up having their burger for dessert. After my rave to w about that dinner, she's had it on her agenda. Due to extenuating circumstances involving pregnancy, birth, infancy and all the nasty bits that entails, we didn't have the chance to go until last night, when, thanks to the liberating army of one we call "babysitter Amy", our date night was locked and loaded, and Yakuza was the target.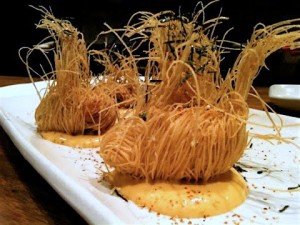 Yakuza is owner Micah Camden's take on a Japanese izakaya, or drinking bar, where the plates are small and meant to be washed down with copious amounts of beverages. I love walking into the cozy, cool, low-slung dining room, with two and four-tops along the walls and communal tables spread in the middle of the room. The bar and kitchen are in the back corner. The menu has a definite Japanese bent, while not adhering too strictly to Asian tradition. The menu is divided into four sections: salad, signature dishes, signature sashimi, and house rolls. Once again I find myself wanting everything. However, reason in the form of my lovely wife sitting across from me prevailed. We started with a glass of Cava for w and a Ginger Fizz for me, which was a bitey combination of fresh ginger, vodka, lime, simple syrup, and prosecco that would have gone from good to great if it had been served colder. Then the parade of plates commenced, starting with their beautiful Scallop Tempura ($9), a gorgeous and delicious plate of scallop surrounded by a frizz of shredded filo, sitting atop a spicy cream sauce with nori. This is pretty spectacular, a rare dish that tastes as good as it looks. The sauce provides the perfect counterpoint to the crunchy filo and rich scallop encased within. Following that were their Soba Noodles ($7), which were perfect in their simplicity. Cool and soft with bits of ginger to wake up your palate, they were made of a scattering of green onion, a sprinkling of toasted black sesame seeds, bits of nori, and a snappy ponzu sauce lightly dressing the dish. It was really good, and almost palate cleansing in its freshness.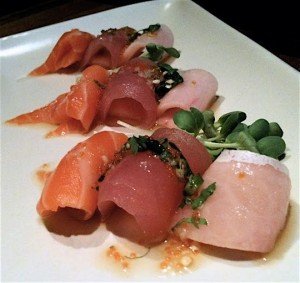 Also landing on the table about the same time was the Sashimi Trio ($16), which was comprised of beautifully plated and very fresh tuna, hamachi, salmon with a light Thai chili sauce, and tobiko. Sashimi this good is something I could eat endlessly. Luckily we had other options coming.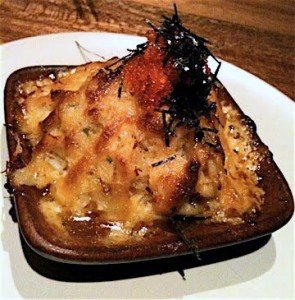 After that auspicious start, our friendly waiter refreshed our glasses of Cameron Winery "Giovanni" Pinot Bianco ($8 per glass). It was the perfect wine to go with the food in the next round – Dynamite ($10), which is described as Dungeness crab, apple, celery root, and tobiko. We were expecting a salad of some sort. Instead, we got a generously proportioned hot pile of shredded fresh crab mixed with the other ingredients, which we ate with much gusto. The slightly crisped exterior played beautifully with the sweet crab.
That is what struck me most about the whole meal at Yakuza. Camden and his kitchen staff seem to have a handle on texture and how important that is to a satisfying meal – soft with crunchy; sweet with tart; hot ginger countered by cool, soft soba. It is really impressive and no mean feat when you sit back and take notice. Our next two plates were perfect edible illustrations of that concept. The Shrimp Roll ($10), is a sushi-house-style roll of tempura shrimp, avocado, and the same spicy sauce that under-laid the scallops, and tobiko. Again with the texture thing: spicy sauce and the crunch of tempura batter around fat, sweet, tender shrimp, and the Yakuza Roll ($9), an eye-opening and palate-pleasing combination of fried, grilled Japanese eggplant and assorted vegetables. The succulent, smoky charred eggplant, all softly cooked, sat astride a crunchy underpinning of cucumbers and carrots, all held together with a nori wrapper and superbly cooked sushi rice.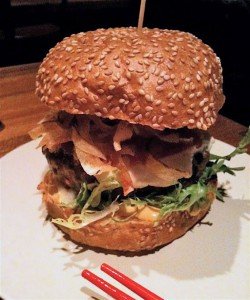 Because of the impression it made on me the first time, I couldn't leave without the taste of the Yakuza Burger ($12). Once again, this piled-high beauty was satisfying. The grilled, hand-formed patty (I'm not sure where they get it), was very clean tasting, cooked perfectly to medium-rare, and layered with rich chèvre, shoestring potatoes, and a zippy house-made ketchup, all cuddled in between what seemed like a brioche-style sesame bun. This is easily one of the best burgers in town. The surprising thing was that we saw at least two tables who seemed to be having burgers and nothing else with their drinks. How do they do that? Where does that self-control come from? Most importantly, I hope to God it isn't contagious!
As we were getting ready to leave, I mentioned, and w agreed, that this would be a perfect place to take people from out of town for a casual, fun, sure to be satisfying dinner, and to give them what feels like a truly Portland dining experience. Eight months between visits, and just as good as I remember. Kudos to Camden for keeping this part of his mini-empire firmly on course. Rest assured it won't take me eight more months to get back!
Address: 5411 NE 30th Ave., Portland OR 97211
Phone: (503) 450-0893
Hours: Wed-Sun 5 p.m. – 10 p.m.
Website: YakuzaLounge.com