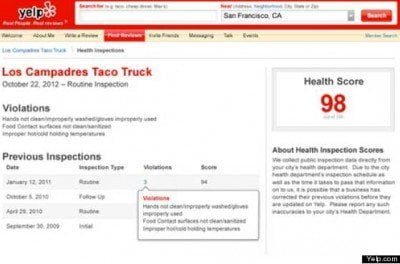 Yelp, the restaurant finder/public review service that restaurateurs love to hate, has begun rolling out a new feature, which adds health inspection scores to Yelp reviews in San Francisco. You may ask yourself, San Francisco? Why do I care? Perhaps because it is coming soon to New York, California, Texas, Illinois and the District of Columbia. Let's face it, most likely it will hit Portland restaurants. Furthermore, other restaurant listing services such as Google will probably follow Yelp (Google partners with Yelp). At this point, the scores are added in partnership with local governments, who upload current data directly into Yelp.
"Increasing the transparency and accessibility of important public information is another example of how San Francisco, New York and other municipalities are leading the charge in bettering citizens lives by fostering innovation," said Jeremy Stoppelman , CEO and Co-founder of Yelp. "It's exciting to be a part of an important initiative to disseminate valuable health department information to the 84 million unique visitors that turn to Yelp each month on average."
PR Newswire
Many in the public would argue the addition of health inspections to ratings is a good thing. Based on the photo released with this news, the "Health Score" doesn't appear to show what the violations resulting in citations were for, but rather just show the number of violations and the overall score for the restaurant. Those of you who work in restaurants know that there are times when an inspector will cite a business for minor infractions, such as they've run out of hand soap in the restroom, or an automatic door closer that isn't working. I also know of a case where a disgruntled employee deliberately sabotaged their employer by deliberately breaking rules when the inspector came in the door. It frequently seems as though health inspectors have to find something wrong before they will leave the premises. If an aggregate score is listed instead of the individual issues, potential diners have no way to make an informed decision as to whether they should eat at the restaurant. As you may know, Multnomah County Health Dept, Washington County Health Inspections, and Clark County Restaurant Inspections are already online, but their sites provide detailed reports.
On the other hand, the listing of health inspection scores may encourage businesses to up their game. As I've mentioned before, in 1998, Los Angeles County, which scores restaurants from A – F, started requiring them to post the scores in the windows, something that the consumer side of me thought was great, while my restaurant experience made me cringe. Still, studies by Stanford and researchers from the University of Maryland show that restaurants with A ratings earned 5% more than those with B's. A story in the Journal of Environmental Health showed that the "restaurant hygiene grading program was associated with a 13.1 percent decline in the number of foodborne-disease hospitalizations in Los Angeles County in the year following implementation of the program (online links are now dead). This decrease was sustained over the next two years." You'd better believe, when the score is posted on the front door, everyone working there pays more attention to those little details.
I'll update this post when/if the scoring system comes to Portland.