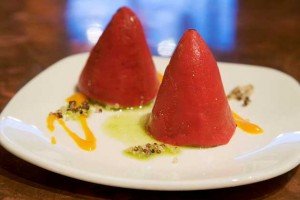 Your Grill Brush May Be Poisoning You!
NPR first posted this story, and it's so important I decided to rush it into the news!! Your grill brush can send you to the emergency room, for a reason you may have never considered: as you brush the grill, the small metal fibers can break off, and end up in that lovely chicken breast. According to NPR and the "American Journal of Roentgenology" (who knew?),
Between May 2009 and November 2010, Rhode Island Hospital admitted six patients to its emergency room after they accidentally consumed the tiny wires from the brushes used to clean their grills.

The patients initially complained of pain while swallowing or abdominal pain and had all recently eaten grilled meat. Upon inspection of x-rays and CT scans, doctors discovered the wires in the throats or abdomens of the patients, and concluded they were the bristles of grill brushes that had broken off and become embedded in the meat.
Reading between the lines here, I can't help but wonder if this is just a problem with the famous "Rhode Island Grill Brush", rather than the one most of us use, which is delivered by the Fuller Brush Man. Just askin'. You can read the whole story, and watch a video here.
Food Dude
---
Instant Pizza Delivery Via a Refrigerator Magnet
Under the "really stupid idea category", comes a service which automatically orders a pizza when you press a magnetic button on your refrigerator magnet. From Huffington Post,
The 'VIP Fridge Magnet', which stands for 'Very Important Pizza', is a takeaway addicts dream, as users don't even have to pick up the phone to give into their junk food cravings. They simply tap the magnet and the pizza is ordered and delivered within the hour.

Created by a fast food company called Red Tomato based in Dubai, the pizza box shaped magnet can be synced up to your smartphone and customers complete the order through Bluetooth connection.
Here are some of the things that might go wrong with this idea:
You are mopping the kitchen floor, and the handle bumps the button. Bam! You've ordered a pizza!
You are having a party. The house is full of happy people who follow the incredible smell from your kitchen. They gasp at the perfectly cooked ribs on the platters. More guests rush over. Bumping ensues. Bam! You have a pizza guy at the door with a onetwothree – six – sixteen pizzas!
Little Tony is learning to walk. "Honey, get the camera! Tony is walking! Look, he's in the kitchen!". Bam! The baby has ordered a pizza.
I don't think it is necessary for me to keep illustrating the issues with this device, but those of you who live in Dubai are welcome to comment on how it's going.
Food Dude
---
Whole Foods Will Stop Unsustainable Wild-Caught Seafood Sales by Earth Day
I've covered this topic many times in the past, but this time the end is in site. Again, from the Huffington Post,
Starting Earth Day, April 22, the natural and organic supermarket chain will no longer carry wild-caught seafood that is "red-rated," a color code that indicates it is either overfished or caught in a way that harms other species. The ratings are determined by the Blue Ocean Institute, an advocacy group, and the Monterey Bay Aquarium in California.

Among the seafood disappearing from Whole Foods shelves will be octopus, gray sole, skate, Atlantic halibut and Atlantic cod caught by trawls, which can destroy habitats. The company will stock sustainable replacements like cod caught on lines and halibut from the Pacific.
This is a little bit different than they promised in 2010. As posted on this site –
From KGW News: Whole Foods Market has unveiled a fresh seafood ratings program, which will give clear indication of the sustainability of the seafood they carry, by a series of green, yellow, grey or red tags.

The program is based on the "Monterey Bay Aquarium's Seafood Watch", a widely respected system for rating the sustainability of different types of seafood. .

A green rating indicates the fish is abundant and caught in environmentally friendly ways.
The yellow tag means there are concerns with the way the fish are caught or  that there is concern with possible overfishing.
Grey means the item has not yet been rated.
The red tag means the species is "presently caught by methods that harm other marine life or the environment.
No mention of colored tags now, but Whole Foods says they will only sell green and yellow rated seafood, as determined by the Blue Ocean Institute and Monterrey Bay Aquarium. Why didn't they wait until 2013 as planned? I can only speculate that they are trying to keep up with chains such as Albertson's and Shop 'n Save, which have already made the move. Still, good for you, Whole Foods!
Food Dude
---
PBS to Premiere Food Documentary Series
On Monday, April 16th at 11:30 pm, PBS will present the new food series Food Forward. "We've all heard what's wrong with the way we eat. It's making us sick. It's depleting natural resources. It's unsustainable. Food Forward offers something different," Greg Roden, director of Food Forward, said in a press release. "Our program goes beyond celebrity chefs, cooking competitions and recipes to reveal the compelling stories and inspired solutions from Americans striving to create a more just, sustainable and delicious alternative to how and what we eat."
Future episodes will explore topics such as sustainable seafood and school lunch reform. Here is a trailer for your viewing pleasure:

---
It's Hot Outside! How About a Crushed Bug Frappuccino?
Those of you who haven't spent time eating grub tacos in Mexico, may find this next story difficult to read with breakfast, especially if you are having a Strawberry Frappuccino. From NPR,
Some Starbucks patrons have been distressed to learn that the chain's Strawberry and Creme Frappuccino owes its pink coloring to crushed insects.

The coloring in question, cochineal, is made from a tiny white insect, Dactylopius coccus. When crushed, its body exudes a brilliant red color. Cochineal has been used as a coloring for foods and makeup for centuries.
Vegans and Vegetarians are not happy.
In an email to The Salt, Starbucks confirmed that cochineal is also used to color its strawberry smoothies, and three food items: the birthday cake pop, mini donut with pink icing, and red velvet whoopee pie. "Cochineal extract is a commonly used ingredient and is a natural, FDA-approved colorant found in a wide variety of food and beverage products in the U.S.," a Starbucks spokesperson wrote.
Apparently, some people don't realize there are bugs or bug parts in just about everything we eat. You can read the entire NPR article here.
Food Dude
---
It may occur to some of you that a few of these are April fool's jokes. I assure you, they are not. Just sayin'