Restaurateur Nick Zukin has thrown in the towel on Zapapizza, which featured pan pizza with Mexican toppings.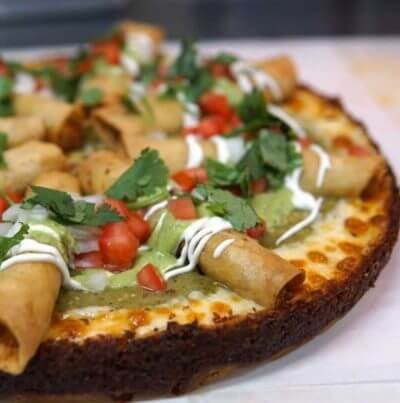 I have heard Zapapizza was good, and am a bit embarrassed I never visited the restaurant. It was on a street I don't happen down very often, and I pretty much forgot about it. Best of luck to Nick and his employees.
Here is the Facebook announcement which is quite interesting:
Today will be our last day.

We want to thank all our customers and those in the neighborhood who have supported us since we opened. Not all will be lost. The Valentina wings will be available at Mi Mero Mole starting next week. But really, thank you. We know a lot of you tried in vain to get friends and colleagues to give us a try.

On a personal note, I want to thank my staff — Christopher, Harrison, Edgar, Carmen, Pablito, Antonio, and Brian. They helped us get glowing reviews in both the Willamette Week and Oregonian, plus maintain over 4.5 stars on both Google and Yelp. We were even on Willamette Week's "best places to eat this week" several times. That's in large part because of them.

It's funny because I was in knots all day yesterday knowing I would have to tell the staff we would be closing — telling them they would no longer have a job. I woke up at 4am unable to sleep. I had a headache and was on the edge of tears the entire day. But the first person I told, Christopher, gave me a big hug and said he was sorry — for me. Most of the rest of the staff was asking if I was okay and was worried for me after I told them. It was very humbling. It also makes me even more ashamed that I failed them.

Harrison said, "It's not your fault," but it is. There are things that definitely made success harder, from city red tape and fees to a contractor that took 6 months longer than he should have and cost me most of my cash reserves. But ultimately, we just never had enough business and that's on me. I chose to serve a food that downtown lunchers weren't really interested in. I chose too big a space for a new restaurant serving something unusual. It's on me. Entirely.

I also want to thank my managers, Pablo and Kaleb, who worked more hours for no additional pay trying to help me keep Zapa alive. They had helped me over the last couple weeks put together a schedule where they were going to work a lot more hours just to see if we could stay afloat long enough to find a partner to change the restaurant to something new. But when business actually dropped after a positive review in the Oregonian and I had to put payroll on my personal credit card just to make sure everyone got paid, I knew it was over.

For me, this has cost me almost everything. I paid myself far less than minimum wage for the last 8 years trying to save up, first to open the Chinatown Mi Mero Mole and then to open this. I even took out a loan on my house when construction costs ballooned. Every penny that I had and every penny that Mi Mero Mole had is gone. The focus now will be keeping Mole afloat for my wonderful staff there after the damage I inflicted by opening and failing with Zapa.

Which is a story familiar to pretty much all small business owners. I haven't talked to one about my problems and mistakes yet who doesn't immediately get it. Only a very lucky or shrewd few haven't been on the edge of losing everything. I was talking to a fellow restaurateur the other day who is about to close the last of the three restaurants he has owned in Portland. He was once one of the hottest chefs in Portland with one of the hottest restaurants in Portland. He said he loves cooking for people and wishes he could just have a 50 seat shop serving the food he loves but he doesn't know if that's sustainable in Portland anymore. I'm rapidly approaching 50 and starting over sounds awful. I put a lot of my hopes for the future into Zapa. As an obese man whose body has been breaking down on him increasingly over the last decade, I figure I've got 20 years left max. Frankly, if I didn't want to hurt people who care about me, I'd probably go full Kevorkian and be done with it. And that's also something most small business owners entirely get.

So come see me, Pablo, and Kaleb at Mole. Don't order from Caviar or Postmates or Grubhub. Go out to a small restaurant that can't afford a brand manager or PR firm. Find a place where the chef cooks what he loves, where they want to share something meaningful to them with you. Order the dish you've never heard of, that's not on the menu because it sells, but because it's too dear to the chef to remove it. Let yourself be educated. Let your palate learn and explore. Understand how much care and passion and hope and pain goes into your meal whether it's a chef with a dream or an immigrant family trying to eek out a better life for their kids.

Mil gracias. Ni modo.
First spotted by OregonLive.com