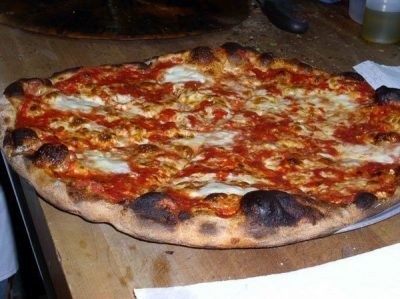 I am surprised by the results of this years survey. In 2010 Ken's Artisan Pizza won over Apizza Scholls by a tiny amount. In 2011, the two tied. This year, Apizza kicked the pants off of everyone. 1054 votes were cast in this category. The rankings are as follows:
1. Apizza Scholls – 30% of the total. 4741 SE Hawthorne Blvd Portland, OR 97215 (503) 233-1286 Map

2. Ken's Artisan Pizza – 23% of the total. 304 Southeast 28th Ave. Portland, OR 97214 (503) 517-9951 MapReview

The next three are separated by only four votes, so I'm going to call it a tie. It should be noted that they only received about 6% each:  

3a. Dove Vivi – 2727 NE Glisan St. Portland, OR 97232. (503) 239-4444 Map.

3b. Nostrana – 1401 Southeast Morrison St. Portland, OR 97214 (503) 234-2427 Map. Review

3c. Lovely's Fifty Fifty – 4039 N Mississippi, Portland OR. 97227 (503) 281-4060. Map
This is the Lovely's first appearance on this list. Folks often want to know which are my favorites. I love both Ken & Brian equally. I tend to go to Ken's just because it is closer to where I live.
You can see all of the Reader Survey 2012 winners here.

View Portland Oregon Reader's "Best Pizza 1212" in a larger map