(updated 6/17. If you are looking for Ken's Artisan Bakery, you will find it here.)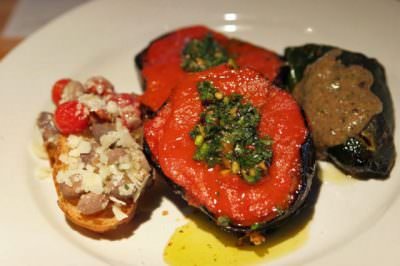 Seems like not too long ago, it was said you could not get a bad meal in Italy. Sadly, that has certainly changed, and as the American lifestyle and more materialism creeps across Italy's cities, a poorly done dish and lazy cooks are more common, at least in the high-traffic tourist art cities. But I'm wondering lately if some day it will be difficult to get a bad meal in Portland. True, we have some distance to go before we can make such a claim, but as more restaurants flourish by consistently delivering on the promise of a good experience, the more standards rise, more customers demand quality and the more everyone benefits.
Much has been written in the local press about the wildly successful Ken's Artisan Pizza – the 700 degree oven, the perfect crust, the paint can lighting, the reclaimed roller-coaster wood for the tables, the little bowls of sea salt — and one wonders if any more can be added. It's been said that its pizza is as good as what you find in Italy. It has also been said that the comparison is beside the point, and that the pizza doesn't have to be exactly like anyone else's to stand on its own as a great experience. And stand tall it does, almost on its own pedestal, to join what a very few others have done to alter the standard in Portland for what pizza should be. In fact, from the packed house night after night, the lines of people happily waiting, the glowing reviews, Ken Forkish has created a veritable object of desire with his pizzeria.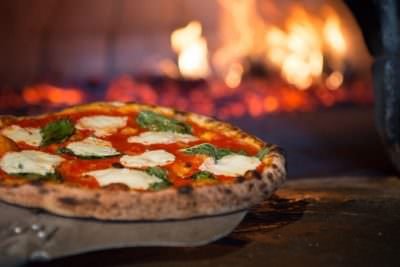 Ken's Artisan Pizza was born out of the huge success of the Monday pizza nights at Ken's Artisan Bakery on the west side. Pizza devotees lined up from the moment of the east side opening back in summer of 2006, and today you'll be lucky to avoid a 20-minute or more wait for a table at any time. Having trouble getting in to Ken's, in fact, is the only real complaint from diners. The restaurant won't even take reservations for parties of six or more, although on one recent occasion the long table in the back seated a large birthday party so some exceptions may be possible. In summer, when tables can be extended outdoors, the problem is less severe, although not eliminated.
Ken's has adopted a formula that works seamlessly in its simplicity, and probably allows for more control, flexibility and consistency in assuring a positive experience for customers. The menu choices are not extensive. By not trying to be everything to everybody, Ken's can focus on making the select dishes really shine and change along with the seasons. The same attention to craft, ingredients, and technique that has made his bakery one of the very best is employed here to great effect.
The space is not large. The traditional open kitchen is replaced by the floor-to-ceiling wood-burning stove, which roasts the tomatoes for the pizza sauce, the seasonal roasted vegetable plate appetizer, and a dessert cobbler or crisp. Just in front, the pizzaiolo and his assistants are busy at work, forming pizza dough and other preparations on a counter. Stacked wood for the oven rests below the pizza counter. On the other side is the bar. But a soaring vault, neutral color palette and railroad layout keeps it from seeming cramped. The entrance door leads to a ramp along a wall that separates the waiting customers from the tables, which whether by accident or design has the pleasant effect of preventing any sense of hurry or guilt to bear down on the diners. The décor is sparse, a kind of cross between faux rustic and minimalist design, but who needs more when the brightly colored dishes emerging out of the oven add so much adornment?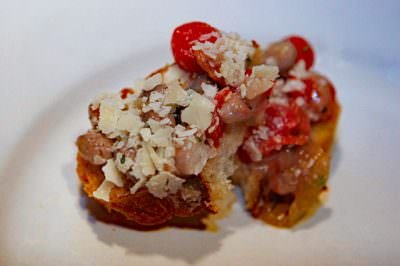 The pizza is the main event but not the only one. There are five choices for "Salads and Starters", up to eight pizzas, and two or three desserts. In the summer, the mixed heirloom tomato salad is sweet enough to give one pause about ordering dessert. There is always a Caesar salad, and a San Daniele prosciutto starter, sometimes with juicy melon but other pairings work very well. In December, it was served with candied Meyer lemons and blood orange vinaigrette. Choices regularly include a green salad with seasonal touches, such as the recent roasted apples with shallot and sherry vinaigrette and Gorgonzola crostini. Salads run from $9 to $12.
The vegetable trio plate changes frequently based on what is in season and at market, but you can count on a roasting that leaves flavors intact and distinct dressings that are light, complementary and balanced for each of the trio. I've been known to make a dinner out of this starter, a glass of wine and a dessert. This week in June, the plate offered carrots, chickpeas, pipian; potatoes, kale, tarragon aioli; and roasted Brussels sprouts, maple-mustard vinaigrette, crushed hazelnuts. It was priced at $12.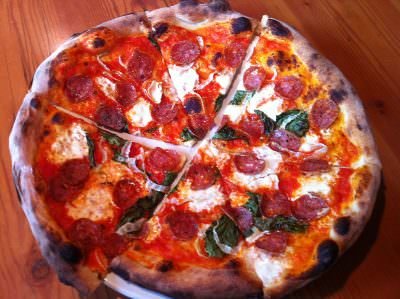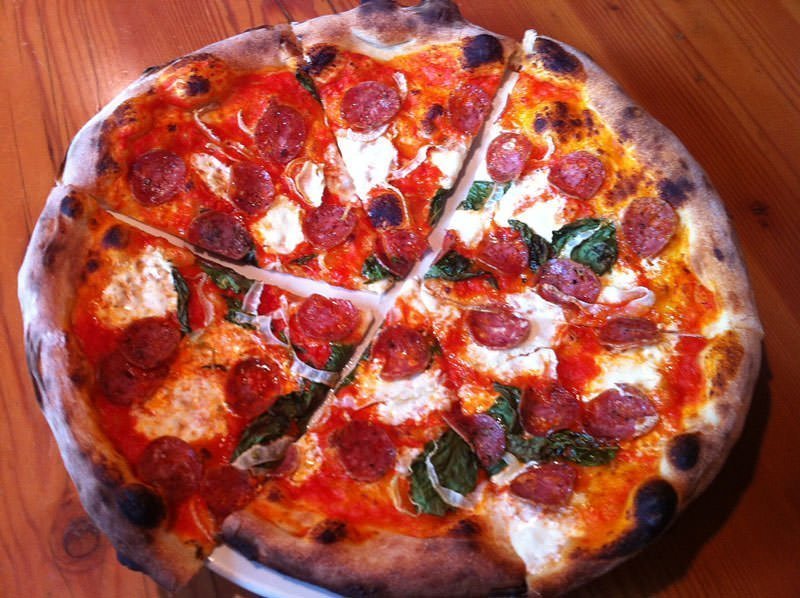 The pizza choices range from basic, such as the Margherita with tomato sauce and, mozzarella and basil; the Margherita with a pile of arugula on top (off-putting to some but very authentic to Italy), to the extra spicy Soppressata made with hot salami, tomato sauce, mozzarella and basil, to the seasonal selection. An autumn option is topped with squash and goat cheese. The other regulars are Anchovy; Arrabbiata with hot Calabrian chiles; the Amatriciana with house cured pancetta, red onion and Parmesan; and the Fennel Sausage and Roasted Onion, with a choice of sweet or with Calabrian chiles. The tomato sauce used on all of the pizzas has a mild sting to it from red chili, and the toppings are light. You will not find any one topping overwhelming another, as in too much sauce or cheese. In fact, one time a pizza was even a little too dry. The crust is not just there to hold the toppings; it is a delight in and of itself. A bit of crunch, a bit of chew, a mild taste of charcoal and unbeatable any place in town. The Margherita runs $13, others $15 – $18.
If you like baked fruit, then Ken's is your place for every season. Roasted apricots with mascarpone, crisps of apple, pear and hazelnut, or peaches and Marionberry, figs, cherries – they all end up in the oven at one time or another. Usually they are served with house made ice cream, in vanilla, or pumpkin or berry flavor. One of the best things about the desserts is that the sweetness is secondary to the ingredients' nature. This past weekend we had the apple crisp with brown sugar gelato and caramel sauce. For those who would rather skip the fruit, there is always the option of ice cream and usually a cake-like dessert. On this same evening, there was an inspired Peppermint Fudge Sundae, of white and pink candy cane gelato mildly scented of mint and cream, with a rich chocolate sauce and thin chocolate and mint cookies. If you have young children, run, don't walk to order this one. The Fallen Chocolate Soufflé Cake with caramel gelato, revealing such a purity of bittersweet chocolate it seemed to define the word, didn't need the gelato at all (but one did not mind) to satisfy. Desserts typically cost $8.
The beer and wine lists are fairly extensive, offering a large range from the 100 bottle list. Choose from thirteen wines by the glass. It is possible to order a drink and eat appetizers at the bar.
On our many occasions at the restaurant, the service was impeccable. If we had to wait for a table, we were given an accurate estimate of the waiting time. Wait staff is attentive but not cloying and aims to please. Every time I've been there Ken has been supervising, and whether or not that is a reason for a consistently great performance I suppose remains to be seen should he ever depart the premises.
Phone: 503-517-9951
Address: 304 S.E. 28th (Pine), Portland, OR. 97214 Map
Hours: Mon-Sat 5-10pm, Sunday 4-9pm.
Website: Ken's Artisan.com