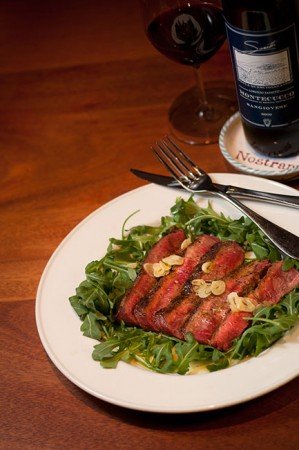 As happened in 2010 and 2011, Nostrana wins by a large majority for Portland's Best Italian Food. The separation between the second group is pretty close, so I listed a few. Last year Genoa was 2nd, so Tabla has moved up. 732 votes were cast. I think that the big disparity in price played a big part between Italia and Genoa, the latter being more expensive so less people are likely to have gone there. Italia has come up in votes significantly from last year.
Updated 6.5. I just realized that some people put votes as "Mingo" and some for "Cafe Mingo". I try to weed all these out when I build the pivot table, but didn't notice my error until it this morning. I've readjusted the results to reflect the change. 
Nostrana – 23.2% of the vote. 1401 Southeast Morrison St. Portland, Oregon 97214 (503) 234-2427 Map. My review

Tabla Mediterranean Bistro – 6.2% – 200 NE 28th Ave, Portland OR. 97232 (503) 238-3777. Map My review

Piazza Italia – 5.8%. 1129 NW Johnson St Portland, OR 97209. (503) 478-0619 Map

Cafe Mingo – 5.2%. 807 NW 21st Ave. Portland, OR 97209 (503) 226-4646. Map

Genoa –(closed) 5.1%. 2832 Southeast Belmont St. Portland, OR 97214 (503) 238-1464 Map. My review

Ciao Vito – 3.8%. 2203 NE Alberta, Portland, OR 97211 (503) 282-5522. Map

DOC – 3.0%. 5519 NE 30th Avenue, Portland, OR. 97211 (503) 946-8592. Map

Accanto– 3.0%. 2838 Southeast Belmont Street, Portland, OR. 97214 (503) 235-4900 Map
By request, my favorites are Tabla and Nostrana, in that order. You can see all our 2012 Reader Survey awards here. 

View Reader's Survey: Best Italian Food in Portland Oregon 2012 in a larger map