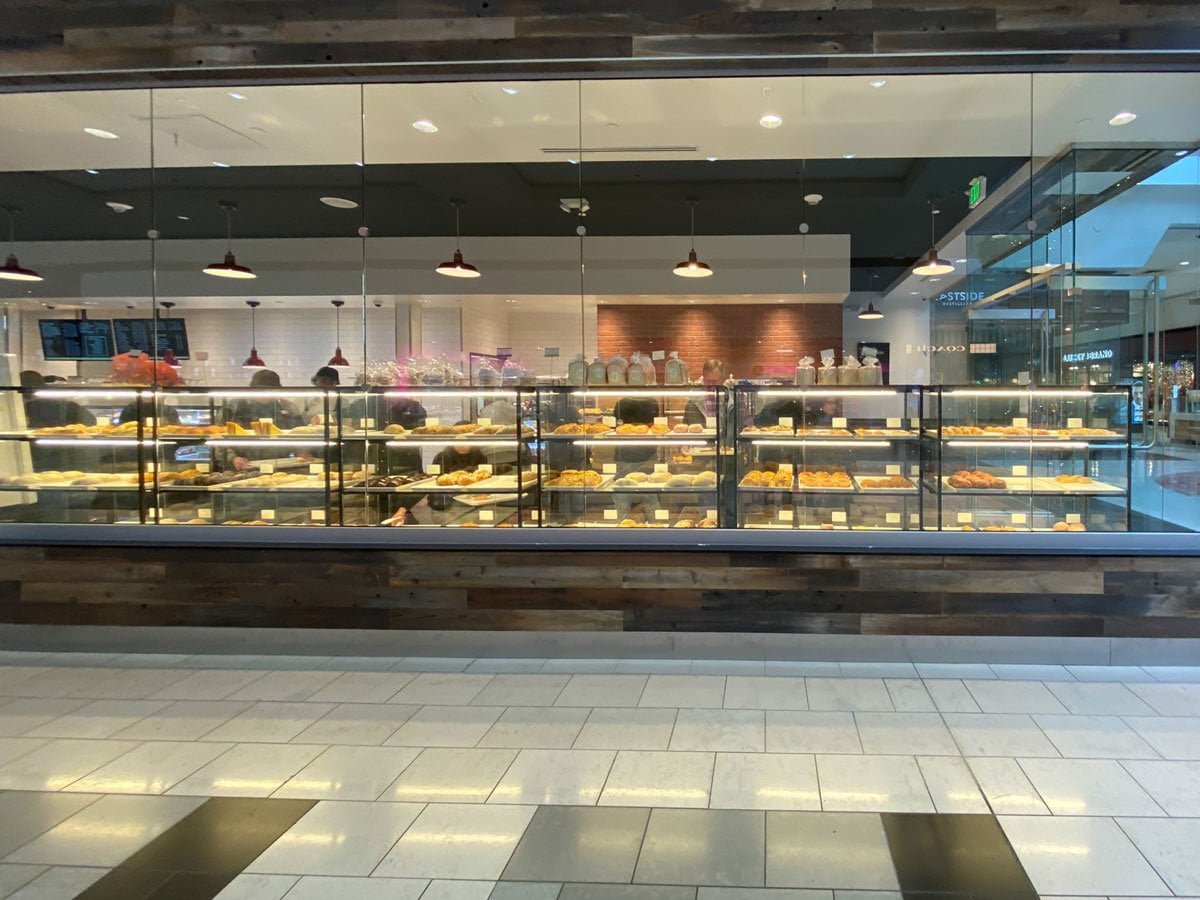 After many months of waiting, 85°C, the international bakery has opened in Washington Square.
The bakery is currently having a soft opening, but you'd never know it by the size of the crowds.
Taiwan is taking over Washington Square Mall with the opening of Oregon's first 85°C Bakery Cafe, an international cafe that first opened in New Taipei in 2004. This joins the Taiwanese restaurant Din Tai Fung which opened in 2018 – now that the crowds have died down a bit you should check it out too.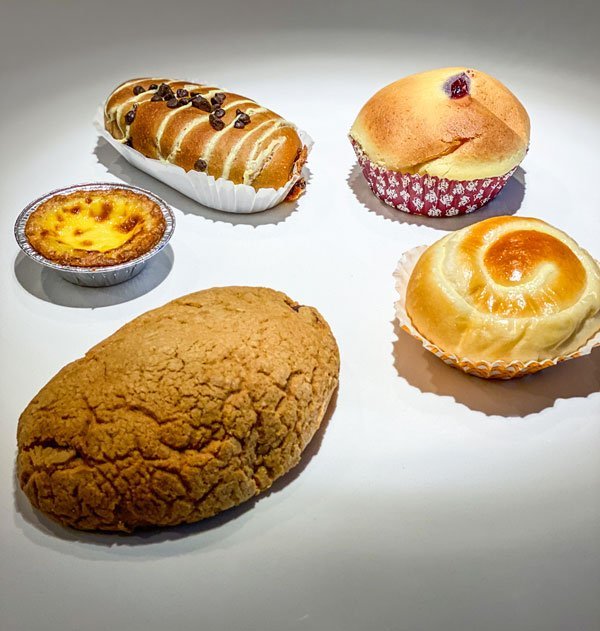 The company is a money-making beast, boasting over 1000 retail locations around the world, with the average US store reportingly generating 3/4 of a million dollars a year. Technically the chain is registered in the Cayman Islands, not Taiwan.
Coffee is also a focus; the name of the chain is based on the founders' belief that "coffee holds its flavor best at a steady temperature of 85 degrees Celsius. To us, the name 85°C symbolizes our devotion to provide coffee of the highest quality…"  "85°C Bakery Cafe is not an ordinary cafe. Each cup of coffee is individually brewed with Guatemalan coffee beans for a smooth, rich taste. All of our drinks are handcrafted and made to order." Starbucks makes similar claims and we all know how gourmet their coffee is. Cough. I thought it was just an average chain quality.
The lineup includes buns from Taiwan, Japan, Denmark and Europe with a mix of sweet and savory options. They claim over 50 different types of pastries are baked fresh every hour, but since the chain has a USA central kitchen in La Brea, CA, I have a feeling some of cakes and whatnot are baked offsite.
It was snack time when I passed by, so I stopped in and tried six different pastries. The biggest question in my mind was how it would compare to Tous le Jours Bakery to which I gave a middling review when it opened in downtown Beaverton in March 2019. Base on my single visit, Tous le Jours should be nervous.
I sampled sweet buns as well as a savory pork version. Overall everything was okay. The selection is huge, the bread structure is serviceable if a bit doughy, the sweet items not overwhelmingly so, and flavors were okay though not remarkable. While 85°C is by no means a great bakery; it's fine if you are in the mall and want something sweet. But other than visiting for the novelty, I wouldn't drive to it from out of the area and deal with mall parking just to pick up some pastries.
So how does it compare with their closest competitor? In my sampling, I think the pastry is better than anything I've tried at Tous le Jours, which, though I walk past it frequently, I haven't been inclined to return to since I wrote my review.
Positives:
Large selection. They have something for everyone including savory items like garlic cheese bun, ham & cheese, spicy sausage, etc.
Finished cakes are very pretty with average prices – most are in the low $30 range. They have a large selection of cheesecake, tiramisu, mousse cakes, black forest, etc.
The space is clean and the staff is pleasant and helpful.
Prices are very reasonable; I paid less than $2.00 for most of mine.
If you like old-fashioned egg tarts, you will like these.
Swing by Din Tai Fung for a good lunch while you are in the mall.
Negatives:
The coffee is average, even their vaunted "Salted Cream Foam" version felt like a gimmick.
I seem to be in the minority, but I'm not a fan of food adorned with out of season fruits in the offseason.
The flavors aren't particularly distinctive. It can be a bit difficult to figure out exactly what you are tasting.
Mall parking. The store itself is inside the mall, across from Nordstrom.
85°C Bakery Cafe
9753 SW Washington Square Rd #D02, Tigard, OR 97223  Map