As first reported by Portland Monthly, Sara Hart has sold Alma Chocolate to Moonstruck.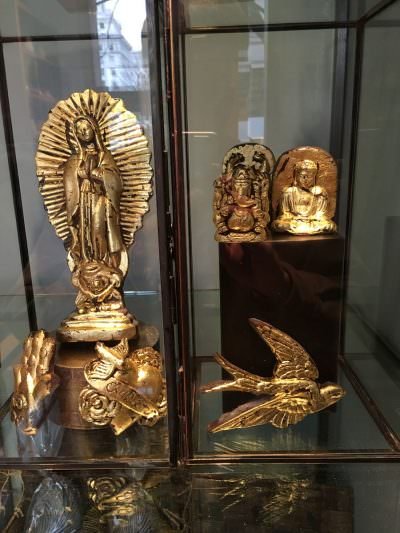 According to the magazine, Alma quality isn't what it used to be –
Hart stepped away from day-to-day operations and brought on private investors, and Fox left Alma entirely. Visiting earlier this year, we found that Alma's creative drink menu had soured, while the baked goods—peanut butter chocolate chunk cookies to chocolate coconut macaroons—paled in comparison. Shortly before the news of its Moonstruck acquisition, Alma made the announcement that it was closing its Main Street location after three years of "stressing at the seams."
We ran a profile of Sarah Hart in 2008 where she talked about how she developed her chocolates fashioned after religious icons.
There is this whole sin and redemption way of talking about chocolate – like 'it was decadent' – or 'I was really bad' – or, 'I was in ecstasy.' There's all this really heightened language, so that's what was swirling in my head when I thought it would be really fun to make chocolates like religious icons. And then we gilded them because that makes them more like statuary or reliquary and also because gold has a similar sort of history."

Hart initially tried to make the molds herself, but she says, "I realized pretty quickly that I wasn't going to make them as well myself as I could think of them in my head." So she contacted an old friend from college who is a sculptor and he crafted them according to her vision. All of the first recipes came from Hart herself, but now she says, "I have people working for me, and they're really talented and good, and they want to make stuff too, and so it doesn't all come from me anymore." In addition to crosses, Buddhas, and devils, the bar chocolate comes in the forms of flaming hearts, sacred crowns, the Virgin Mary, anatomically correct hearts, and swallows, just to name a few, and are all covered in the thinnest layer of edible 24 karat gold.
The NE 28th Ave. cafe will remain open for now.