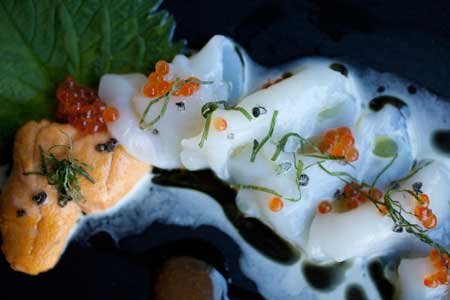 Before I leave on vacation, a few bits of news. But first, join me in a moment of silence for Berkeley's Cafe Fanny. Alice Waters opened the cafe 28 years ago, but closed it last week, when it was decided the restaurant was no longer "economically viable". Cafe Fanny shared a parking lot with Acme Bread, and Kermit Lynch Wine Merchants, which made it a absolute must for anyone visiting the East Bay. I am especially sad, as I was planning a visit there on Sunday morning. Instead, I will have to drown my sorrows at Chez Panisse. Pray for me.
---
Tabor Tavern,
"a neighborhood tavern with good food and drink, welcoming staff and fair prices, is slated to open in east Portland this spring. Located at the northwestern edge of the Mt. Tabor neighborhood on the corner of 53rd and east Burnside, Tabor Tavern will serve pub fare, fresh-brewed craft beers on draft, as well as a full complement of spirits and wines.  Tabor Tavern will be open 7-days a week for lunch, dinner and Sunday brunch.  Children will be permitted until 8:00 p.m.

Owner Ken "Zig" Naffziger has more than 25 years of industry experience, including stints as regional manager with McMenamins and Lompoc Brewing.  "It has been a life-long dream to have my own place," said Naffziger.  "I am an avid fan of pub culture and hope to create the kind of place fellow fans would like to congregate." Naffziger brought in restaurant consultant, Sean Herron of Big Idea Group as advisor on this project.
Let's hope the food is better than McMenamins. You can read the press release here.
---
Southpark is premiering weekend brunch
Southpark's brunch menu celebrates fresh ingredients from Northwest farmers and fishers, and even produce from the Portland Farmers Market up the street. Dishes like the Belly Sandwich – pork belly with two fried eggs, cheddar, aioli and potatoes, feature pork butchered in-house from Singing Pig Farm, a coveted farmer relationship Southpark has nurtured since the restaurant's inception 14 years ago. Other breakfast items include a Smoked Salmon Hash – two poached eggs and potatoes; Breakfast Pizza – layers of bacon, thinly sliced potatoes, over-easy eggs and mozzarella cooked in the brick oven; Fried Chicken Sandwich – biscuits, sausage gravy and honey butter; and a selection of House-made Pastries – sour cream blueberry coffee cake and oatmeal scones with blood orange curd. The menu is balanced with lunch dishes such as Bouillabaisse – fish, prawns, clams and mussels; Heirloom Carrot Soup; and Fisherman's Connection – the day's fish special paired with seasonal vegetables.
Convenient to the Portland Farmers Market. Press release here.
---
Portland Farmers Market at PSU will open its 2012 season on March 7th. This season, three newcomers join the family of vendors at the Saturday PSU location. Pono Farm & Fine Meats from Bend, OR, will offer pastured, hormone-and-antibiotic-free Wagyu and Red Angus beef, as well as Berkshire and Red Wattle heritage pork and an inviting array of handmade fresh and smoked sausages. Temptress Truffles will sell wild, locally-harvested forest edibles from mushrooms to huckleberries to truffles, as well as handcrafted truffle butters, salts and oils. Champoeg Farm will join the market lineup around the holidays with pasture-raised turkeys. Click here for a complete list and map of the 2012 vendors.
---
From the Oregonian, Wafu's Trent Pierce is opening a new seafood restaurant downtown. Pierce, Chefstable's Kurt Huffman and investor Ben Blank are looking for a space in downtown Portland. You may remember Trent Pierce from the late and lamented Fin Restaurant.