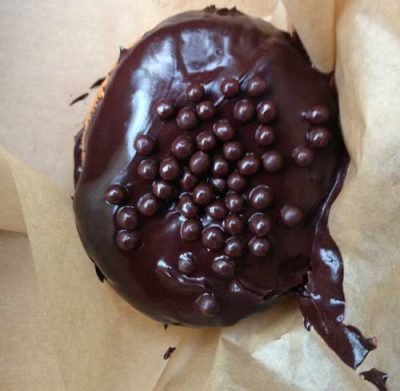 A few items of note from the PR file today. First comes notice that Blue Star Donuts is opening a store on NW 23rd –
PORTLAND, Ore. (Mar. 11, 2015) – Portland's favorite artisan donut shop will be expanding to its fourth location on NW 23rd St. In signature celebration style, Blue Star Donuts will roll out the red carpet to the new location with free donuts in hand on

Wednesday, March 18

. Customers are invited to join in the festivities on opening day from

3pm until 7pm

, while supplies last. Limit one free donut per customer. Additional items and beverages available for purchase. The shop will begin operating with normal hours on

Thursday, March 19

. Visit Blue Star Donuts at 921 NW 23rd St. open daily from

8am – 8pm

or until out. Phone: 503-265-8659.
Next, Coquine is going from pop-up to brick-and-mortar sometime in May –
FOR IMMEDIATE RELEASE – Coquine

, the celebrated pop-up dinner party created by Chef Katy Millard and Ksandek Podbielski will open a brick-and-mortar in late May at Southeast 69

th

and Belmont Street in Portland, Oregon's Mount Tabor area, it was announced today. Serving as a full service destination restaurant and neighborhood café, Coquine will elevate the neighborhood's dining scene with Chef Millard's signature sophisticated and playful style in a distinctive yet welcoming space.
…The husband-and-wife team will continue to foster and support their close relationships with farmers, foragers and food lovers alike in the community, as well as their commitment to sustainable practices and a completely visible food chain. Ingredients will be hand selected from local producers like Sweetbriar Farms, Dancing Roots, and DeNoble. Coquine's beverage program will highlight winemakers and brewers from the Pacific Northwest and around the world as well as diner's favorite classic cocktails.Coquine will welcome guests with 32 seats inside and 34 seats outside, with Podbielski applying an attention to detail to the front of the house where friendly and attentive service will be valued as highly as the quality of food. Coquine's atmosphere is refined without taking itself too seriously, and details like ceramics and glassware sourced from local artists, and an unbeatable playlist help to set the scene for a truly memorable dining experience
Also… best wishes to Bob for a speedy recovery.