The restaurant will close in mid-May for a remodel and change in concept and name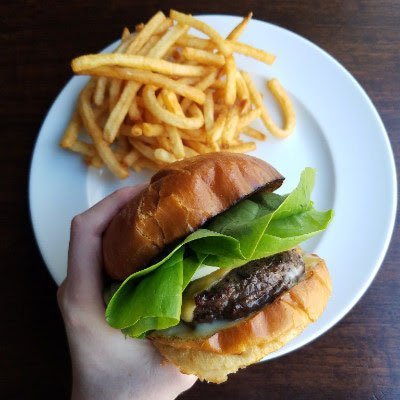 <updated with a statement from Castagna below>
When Zefiro restaurant closed in 2000, the Caesar salad was one of the things I missed the most.  It was right out of San Francisco's Zuni Cafe playbook, one of my favorite versions ever, a lovely salad made with brilliantly green whole romaine leaves, lots of garlic, huge croutons and a classic dressing.
I'd been a weekly regular at Zefiro for years, and when I heard co-owner Monique Siu had brought the recipe to her new SE Hawthorne restaurant, Café Castagna, I rushed to check it out. But on my first visit, it was the burger that blew me away. From my 2005 review, "The house-made bun is perfectly toasted to a slight crunch. Pickles, onions, tomatoes, and lettuce are served on the side, to add as you wish. The pickles are homemade masterpieces; even people who don't like pickles rave about them. Onions are sweet and fresh, snapping cleanly as you bite into them, and the meat always arrives cooked as ordered, with a consistent grind, juice running out the back and onto your plate when you tear into it. One bite and I am back on the ranch in Waxahachie, Texas, the brass bell echoing across the pastures calling the cowboys to lunch. The entire ensemble arrives with a huge mound of excellent, crisp, salty shoestring fries."
I've gone back and indulged in the Caesar and burger combination many times. Year after year it placed in the top 10 of our Best Burger in Portland poll. But, as they say, all good things must come to an end.
This week, Portland Monthly wrote that after 17 years the café is closing to be replaced with a new concept. I must say, I'm not surprised. It has felt like the restaurant is stuck between keeping regular customers who expect to find the original dishes on the menu and others who want the food to evolve and change. Over the years Monique Siu has brought us some of the best concepts in the city, and I'm excited to see what she has up her sleeve as she remakes the restaurant. In the meanwhile, get over there and indulge in the burger – it still stands tall among the best in town.
Castagna restaurant next door will stay the same.
Café Castagna restaurant
1758 SE Hawthorne Blvd, Portland 97214
Here is the text of the Castagna newsletter that was released Friday morning:
Dear Friends,

After much deliberation, I have decided that it is time to say goodbye to Café Castagna.

The last 17 years have been a wild ride and it has been a true pleasure for the Café to be a part of Portland's dynamic, passionate, ever-evolving dining scene. But the time has come for a change. While we don't have a hard date for the closure, we are planning on continuing our regular dinner service until mid-May.

In the meantime, we're playing the hits! Over the coming weeks, we'll be bringing back some of the Café's favorite dishes for a final encore. Think seared scallop with fennel salad, Belgian endive with apples and hazelnuts and asparagus pizza with speck and an egg. And of course, Portland's best burger (at least we think so!)

Being part of this beautiful neighborhood for a decade and a half has been nothing but amazing, and we hope to see all yours faces at the Café one more time before we hang up the spurs.

Castagna Restaurant will be carrying on as usual.

Yours,

Monique

PS: While we can't reveal much in the way of details yet, we do have an exciting new project in the works. Stay tuned!