Restaurants stalking, Priceline buying OpenTable, another cart pod closing, Case Study Coffee expanding, Corvin exploding, Batali producing and one more that I can't end in "ing."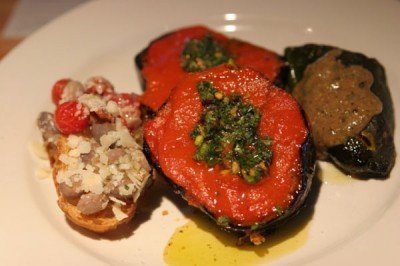 You may read reviews before going to a restaurant, but did you know that some restaurants Google you? It's true, especially in large cities. Restaurant owners now troll social media looking for tidbits such as, what you look like, your profession, your neighborhood, events in your life, and how often you post about restaurant experiences. When that information is combined with databases like Open Table which shares even more information – how much you tend to order, what percentage of tip you tend to leave, how you treat staff, if you order dessert/cocktails/wine, and whether you tend to linger over your table, it gives the restaurateur a powerful amount of information about you. From GoodFood.com,
The five most common pieces of information restaurants share, Premutico says, are customers' food and wine preferences, notable habits (e.g. likes to have a drink at the bar before being seated), seating preferences (corner booth, window seat), allergies and – last but certainly not least – if the customer is a good or bad tipper.

But the Dimmi system goes even further, allowing restaurants to codify diners with attributes such as wine connoisseur, adventure eaters, quick eaters (good for table turnover) or friends of the chef or owner.

On the flip side are codes for loud talkers, frequent no-shows or PIAs – pain-in-the-ass customers with excessive demands.

Other tidbits restaurants note include postcode (you can infer a lot from four digits, Premutico says), whether someone is an 'upgrader' (diners who go for the works, like coffee and cognac) and, controversially, whether or not the diner is good-looking (some places may seat a diner differently based on their looks, Premutico says).
Now that Priceline has bought Open Table for 2.6 billion dollars (this for a company that isn't making much money), I can't help but speculate that they wanted it for more than the income that the service brings in – perhaps it is just as much about the treasure trove of information about your personal habits.
Want to bet that Yelp is the next one to be snapped up? It should be noted, that Yelp bought reservation company SeatMe about a year ago, and has been rolling out a free reservations service for restaurants.
---
Another food cart pod is closing, this one at Southwest 6th and Columbia. According to the cart owners, the landlord needs the space for parking. According to FoodCartsPortland,  "The vendors who will be displaced include Aybla Grill, Morning Wood Espresso, Taqueria So Mexican, Saffron indian, E-San Thai, Love Belizean and Thai Pasta 2." Back in May, the folks over at the Cartopia pod at SE 12th and Hawthorne also announced that they would have to vacate to make way for a new apartment building. Foodcarts also says that Good Food Here at SE 43rd and Belmont will also close.
---
The march continues: Case Study Coffee is opening a third location on NE Alberta, where it will share the little courtyard with the Tin Shed.  Eater says "The new location will be home to a vintage (1948) German Probat roaster with a continent-spanning story, as well as 1,100 square feet of space split between the ground floor and the mezzanine, with lots of outdoor seating. Unique among Portland roasters for selling no wholesale coffee, Case Study will offer its famed fleur de del caramel latte along with pour overs, espressos on an undisclosed machine, and their symphony-in-a-cup drinking chocolate. Five blocks down, just behind the new Little Big Burger, Case Study's new warehouse will house a full educational space complete with cupping room and espresso bar. " Expect it to open in July.
---
Do you have a Coravin Wine Access System? Rather than removing the cork from a bottle and displacing oxygen with nitrogen, the Coravin system inserts a thin, medical grade needle through the cork to remove the wine, replacing it with argon gas. When you remove the needle, the cork re-seals itself, so you can taste a wine to see how it is aging, or just pour off one glass for those times when you are home alone, depressed, sure no one really cares about you, and think a little tipple would fix you right up. Very slick, except the company has stopped shipping amid reports that some wine bottles explode into tiny shards of glass when pressurized by the device.  According to the website, they are repackaging the system to include a "neoprene wine bottle sleeve". I can't help but wonder if placing the bottle in a sleeve will fade the allure of the system for some oenophiles, but I'd try one – except for the $300 price tag.
---
Mario Batali now has an internet show on Hulu featuring cool NYC places he loves and people he finds interesting. The second is with Gabriel Hamilton of Prune, and the author of Blood Bones & Butter. Black and white – points, filmed in part from the top of a tour bus – points, and a great scene at the "whispering gallery" in Grand Central Station where they eat oysters and confess to each other. They are short, and worth your time.
---
Saveur has announced the winners of their 2014 Food Blog Awards. The overall winner is "i am a food blog", which is a nicely designed and photographed compendium of recipes and stories.  I always like going through the different categories, especially as they list both a "reader's choice" and the "editor's choice". If you are looking for more material for your daily read, check out the winners here. I'm a big fan of Pen and Plate, and The Five Second Rule.
Ok, it's been a couple of lousy weeks, and I'm hitting a wall. More catching up soon.