Trevor Payne takes over as Executive Chef at Verdigris
Trevor Payne is taking the helm at Verdigris, the Irvington French restaurant from Johnny Nunn. Nunn is getting ready to open Corzetti, an Italian restaurant. Payne has lots of Portland restaurant experience, including Taylor Railworks, Little Bird, and Olympia Provisions. His most recent position was as executive chef at David Machado's Tanner Creek Tavern. "As Executive Chef, Payne plans to expand Verdigris' menu with country French cuisine as the primary inspiration, with diverse influences informing that. He'll maintain Verdigris' commitment to seasonality and creating a warm, personalized and memorable dining experience for every guest."
Verdigris is located at 1315 NE Fremont St., Portland
Aaron Adams Promotes Kei Ohdera to Chef at Farm Spirit
Aaron Adams, executive chef and owner of Farm Spirit restaurant is moving into the role of business owner, entrepreneur and culinary mentor as he promotes Kei Ohdera into the chef role at the restaurant.  Kei has worked at Farm Spirit since 2016 and will be responsible for the day-to-day menu development at the modernist vegan restaurant.  Aaron will continue to oversee business operations for Farm Spirit and his new powerlifting gym, Strength Union, which opened in March.
Kei, a native of Japan, is a graduate of the CIA, and worked at Nihonryori RyuGin in Tokyo and Blue Hill at Stone Bars, both named one of the world's 50 best restaurants. He moved to PDX in 2016, taking a job at Aviary.
1414 SE Morrison, Portland, OR 97232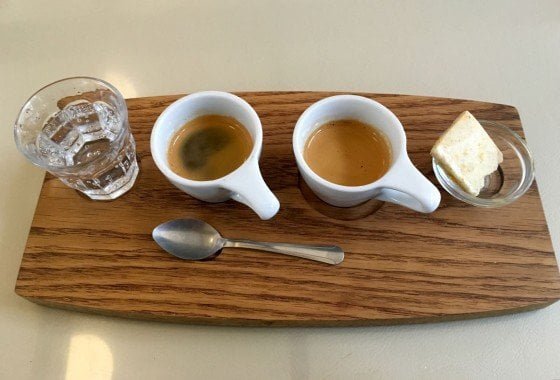 Either / Or Coffee is set to open second location
There is something about Either / Or in Sellwood that makes it one of my top coffee picks in Portland. Now comes news that they are opening a second store next month at 4003 N. Williams. Their main roast will continue to be Heart as well as rotating other local micro-roasters, and they will continue to make their own syrups, chai, pastries and their popular coffee mocktails. Though I will miss the Sellwood store, the new location will be much larger, will have a food menu, and as seems to be the case with many coffee houses these days, will become a full bar at night. You can read more about Either / Or in our coffeehouse profiles.
Nong's Khao Man Gai opens second brick and mortar location
"Making you happy. One chicken and rice at a time." A new Nong's Khao Man Gai restaurant has opened at 417 SW 13th Ave in Portland, across from Cacao Chocolate. The store will replace her first location in the food cart pod at SW 9th and Alder which is slated to close for the construction of a new hotel.
Cacao Chocolate closes Heathman Hotel store
Cacao Drink Chocolate has closed their Heathman Hotel store. However, you'll still be able to get their large curated selection of bars and truffles at their 414 SW 13th Avenue location, as well as their trio of thick drinking chocolates, which makes for a great first-date stop. I haven't heard any rumors of what is going into the Heathman's closet-sized space.