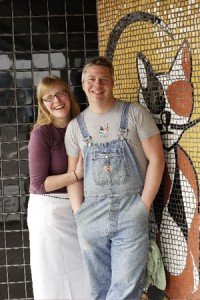 Updated 7/23/19 – The Country Cat is now closed.
It's been just over a year since Country Cat opened, and I thought it was time to go back and take a second look.
Ever since it opened, Country Cat has been a subject of heated debate. Should the fried chicken be boneless? Should it be drizzled with maple syrup? If you look at the comments below from my original look, you'll see some of the back-and-forth that has taken place.
Country Cat does not try to be an epicurean destination, but rather sets the bar much lower. This is not a restaurant of subtle flavors and cutting edge technique. Instead, Country Cat welcomes everyone from families to retired folk and tries to make everyone happy by providing good food at reasonable prices. Though the road is sometimes rocky,  this restaurant has provided a much-needed blessing to what used to be a somewhat seedy neighborhood.
My experiences have varied quite a bit from meal to meal. On some evenings most dishes are a home run. Other nights the food can be disappointing. Service follows along the same lines – sometimes excellent, sometimes a bit below average. They need to work on greeting people with at least a glass of water or taking a drink order in the first ten minutes after you've sat down. However, once your server has made it to your table, they are quite affable and don't make you feel rushed.
The restaurant itself is a comfortable space. The large bar area provides a good place to wait for your table. Much of the seating is booths, a nice touch these days when restaurants tend to maximize every available foot of space. There is an open table area off to one side; I've noticed families with small children tend to get seated over there, which keeps them from bothering other diners if the kiddies get noisy. Sound baffling is strategically placed throughout, but it still gets very noisy; one evening I couldn't wait to get out the door and away from the din. Lighting is very good, though I've always dined here on the early side when it is still light outside, so can't speak for late night. There is an open kitchen on the back wall, with a terrific chef's counter. I've had enjoyable meals sitting there and watching Adam and company at work. If you enjoy that sort of thing, it's a great place to watch the action.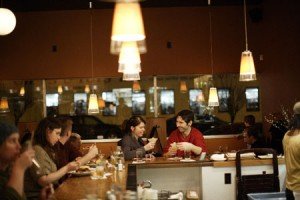 A full bar is available with ten specialty drinks, like a Kentucky Housewife – Bulleit bourbon, sugar, soda, and fresh mint over crushed ice, Hickory Wind – Maker's Mark, Pernod, sugar, & bitters served up, and a Courvoisier Side Car. All of them have great potential, but every drink is missing that oh-so-important balance of flavors. The beer list is excellent, four on tap, and eight by the bottle, ranging from Boulder Brewing Sweaty Betty, to Bud Light and everything in between. A mix of about twenty red and white wines are on the list, eleven are available by the glass. This is a simple list at low prices with a low markup. Not an oenophiles' dream, but some good choices for everyday drinking.
So let's talk about the food. As I said, the aim here seems to be to provide a good meal at a reasonable price. Owner Adam Sappington worked for many years at Wildwood, so it is not a surprise that many of the entrees at Country Cat are grilled. Choices include items such as grilled artichoke skewer ($12), a mixed pork grill with rolled belly, brined chop and smoked shoulder ($20), molasses and hickory-smoked duck legs ($20), grilled Strawberry Mountain beef ($20), and bacon-wrapped trout ($16). I'm sure you notice the trend.
There are items on the menu that will appeal to just about anyone. The butter lettuce wedge salad with green goddess dressing is a throwback to a more simple time, and when done right, is creamy with bright herbal notes; easy to make, but difficult to make really well, it needs the correct balance of spice, acid, and salt to go along with the herbs which can actually be a bit bitter. This dressing deserves a comeback though, and props to them for thinking of it. The butter lettuce wedges were huge but still buttery and tender, and the dressing is the best I've had in ages though the balance could be a bit better. Though the egg is billed as "soft-boiled", it is actually more hard-boiled ($8).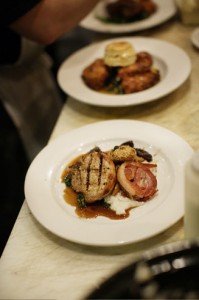 Adam's bacon-wrapped trout is so traditionally mid-western and mid-century it could be on the cover of the Time Life Foods of America series circa 1966. Large, fresh, beautifully cleaned, perfectly cooked and moist, wrapped in generous strips of crispy bacon – a textbook example of how to do this dish. In general, Country Cat seems to excel with fish. Another night I had pan-roasted Arctic char with also was perfectly cooked. It was a more modern presentation, glazed in mint crème fraiche, with the ubiquitous fava bean, orange & fennel salad. A solid dish ($20).
The braised Strawberry Mountain beef did nothing for me. Though it looks and smells really good, and the meat is fork-tender, it is so dry it's hard to swallow. It is served with chunks of cornbread and pecans, a few pieces of arugula, and basil and balsamic dressing. The one time I had this dish it was inexcusably disappointing ($20).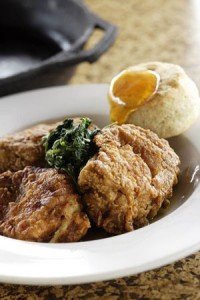 Skillet fried chicken is a tricky dish, and very regional, much like BBQ, meaning that one person"s ideal fried chicken can be drastically different than that of another's, especially if you grew up in a household that made really good fried chicken. It is difficult to find a restaurant version that is moist, juicy and still has a crackling crust. The Country Cat version is pretty good. The chicken comes in a tower atop a mound of bacon braised collard greens. Interestingly enough, the chicken is boneless, which I thought was quite nice (though they seem to have switched back and forth since they opened). It is technically perfect and retains a vinegary and spicy aftertaste. It comes with a large, fluffy sweet cream biscuit; nice and flaky, tasting of butter. All in all, it's a very filling entree. Would I order it again? Damn right, I enjoyed this dish ($18).
Another decent dish is the Cattail Creek Farm lamb. It isn't a huge portion, but is big enough, especially if you have a salad too. It is served with snap peas tossed in hazelnut butter, roasted mushrooms, and little gnocchi-like goat cheese and potato dumplings. The lamb has a nice mellow, slightly gamy flavor, and arrives cooked to order. The potato dumplings are light and tasty, soaking up the sauce from the lamb. Overall, a fairly good attempt ($22).
A "heritage burger" comes on a French onion bun, with a thick slice of cheddar and garlic mayonnaise. Both times the burger was cooked exactly as ordered. House-made catsup on the side is a nice touch. Is it the best burger in Portland? Not to me, but for those that prefer a thick patty, you are going to like this incarnation. A liberal amount of excellent onion rings were piled on top. Thin, crispy, salty, I loved them ($11).
Finally, we get to desserts. They have an interesting selection, though I wonder if they aren't suffering from 'make a few days ahead' syndrome. I've had warm rhubarb pie with buttermilk ice cream, sour cherry pie with ice cream, "fudgy" Bundt cake with "Manhattan" cream, topped with hot chocolate, and lemon-ginger meringue tartlet with candied lemon. Unfortunately, most of the items are average restaurant fare. The Bundt cake is the standout – chocolaty and moist, it should make any chocolate lover happy. It's nice to see a restaurant in town that is managing to hold the costs of all the desserts to $6.00
Overall, Country Cat shows good potential and is a wonderful asset to the neighborhood. Unfortunately, things are uneven and frequently fail to live up to their potential. Adam has made a commitment to putting out quality food at a fair price, and for the most part, he exceeds, though rarely excels in this endeavor.
Photos by John Valls.
Phone: (503) 408-1414
Address: 7937 SE Stark, Portland, OR 97215
Hours: Daily 5pm – close. Brunch daily 9am – 2pm