[Update 7.09 : Since this incident happened, the restaurant has changed hands.]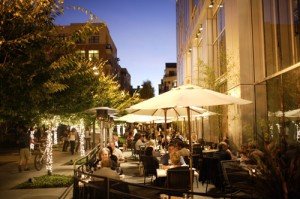 For a restaurant that reportedly spent $5,000,000 on the interior and claims to be customer service oriented, you'd think they might have the graciousness to handle a situation like this another way. Personally, I don't care to give my business to an establishment that would traffic in rudeness. Here is the story:
A friend called me in early November, asking for a restaurant recommendation. His boss's 50th birthday was coming up and he wanted to give him and his wife a gift certificate for a meal that would be really special. Since they have two young children, any night out would be an occasion to celebrate. I had heard several good things about the new French restaurant in the Pearl District called Fenouil and recommended he send them there. Here is the rest of the story, in his own words.
"I'm all up for promoting great restaurants in our area. I stopped by around 3:30 in the afternoon while the staff was preparing for the dinner seating. I spoke to the manager asking if it would be possible to buy a dinner certificate for $100. It took him a while as he ran up and down the stairs trying to figure out how to do this. I didn't mind waiting, because I could tell from the beautiful interior that it was the perfect place to send my boss. The manager finally came back and said this was their first gift certificate. He had spoken to the Chef and they agreed to print out the certificate on their menu stock. Then they spent another 15 minutes trying to figure out how to charge for it on their computerized cash registers."
"They handed me the certificate with the manager's card stapled to it. At that time I asked them if this was enough since the certificate looked really plain… they guaranteed me it was all I needed."
[Note from Food Dude: He called me and mentioned them making the gift certificate after he left the restaurant]
"Fast forward to February. My boss was saving this certificate to share it with his wife for her birthday. On February 3rd they had a wonderful dinner, even pausing at the end to send me a text message saying that is was one of the best dinners they have ever had. However, 45 minutes later, I got a call from him saying the restaurant wouldn't take the gift certificate, that they used gift cards. I was in total disbelief, but luckily I only live 6 blocks away, so I went down with a copy of my bank statement showing that I had purchased it, the date, and time."
"When I got there my boss and his wife were sitting at the front door with a very disappointed look on their faces, to Baird (not sure how you spell his name), the manager."
"I promptly apologized to them and asked the manager what the problem was. He showed me the certificate and claimed that he didn't believe they ever issued it. Now I'm sure it's possible that someone could have stolen a blank menu and printed the certificate on it, but not only did I also have the manager's card, but also documentation showing the purchase!"
"I showed him the paperwork and asked him to verify the transaction in their computer. He said, "trust me… our registers are not as sophisticated you think". Frankly, I didn't believe him. Don't tell a technical specialist that their high-tech custom point of sale register does not have this basic capability. Even if this was true, it would be ridiculous they wouldn't have a paper record of this transaction. He kept telling me nobody knew about the certificate. For a restaurant of that caliber not to keep track of a $100 certificate is beyond me. As a consumer, I am willing to pay good money for services; it's not my job to keep track of how or when the certificate is used."
"The whole time he kept stating that "he's never seen anything like it" and that "people have tried to pass similar things like it before". It was clear he thought we were trying to pull a fast one. The whole time he listened to me, he had a grin, like he thought the situation of me being embarrassed in front of my boss, not to mention the inconvenience, was funny."
"At one point, Baird had told my friends they could go; that they were going to honor the certificate. Then as they were leaving, he apparently changed his mind and ran out, further embarrassing them, and asking where they were going. The way they were treated, it was obvious the management assumed they were guilty of fraud, and treated them like criminals."
"The sad part is my boss said everything from the food to the service was perfect. He and his wife said it would have been one of the best dining experiences they ever had if it wasn't for the ending. Having the manager come to the table in front and tell them in front of the other patrons that he thought the certificate was fraudulent, was embarrassing. Having the manager tell them they could leave, and then chase them into the parking lot saying he had "changed his mind" was even more embarrassing. "
"I went back just before closing to talk to the management. The whole experience was so disturbing, I wanted to discuss it with them when I was not so upset. Unfortunately, the manager I had talked to earlier had already left for the evening, so I ended up speaking to Rick Lumagui, another manager. I had told him how disappointed I was at the way the situation had been handled. There were so many other things they could have done like taking some basic ID information and make a promise to check the books the next day and call if there was an issue. Instead, they ended up embarrassing everyone involved, and ruining a birthday celebration."
"Rick confirmed that they could probably look up the transaction upstairs to prove the certificate was legit in their system. He explained to me that there were three managers. Only two were working that night, and the third was probably the one who issued the certificate."
"He could tell that I was not happy with things, and asked me to bring my friends back another evening. I told him that we were not looking for a free meal, but it would help a lot if the restaurant would call my boss to apologize for how they were treated that evening. We were hoping to hear something from them by Tuesday, but still have not received any call or letter."
"The sad thing about the whole situation is, because of the way this situation was handled, it will probably cost Fenouil many customers, as my boss and his wife tell their friends and neighbor's in Lake Oswego about their experience. I can tell you one thing. As a Pearl district resident, I will never purchase a gift certificate or recommend my family/friends to go to Fenouil."
Update: After this story, the owner of Fenouil contacted the couple that had their gift certificate refused. He was very apologetic and offered them a free meal, which they declined, as they have no interest in going back. The person who originally purchased the certificate has not been contacted. The owner also left a comment below: #28.
There is a complete follow-up post with lots of comments here.