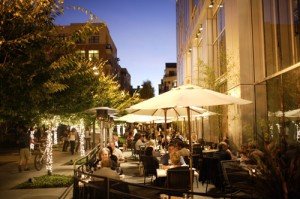 Urban Works Real Estate has announced that the folks behind Davis Street Tavern will be opening a second restaurant, Jamison, at the former Fenouil space. According to their blog post, the "menu will focus on classic New American cuisine while emphasizing local farmers and purveyors, using seasonal ingredients, and showcasing comfortable elements of fine dining". Can't fit many more buzz words in that description!
Fenouil, a French restaurant, which closed in May of 2011. If you have been reading this site since 2006, you may remember my "Customer Service F for Fenouil" story that ran back then, and generated a huge amount of traffic.
The 220 seat dining room and mezzanine will undergo a revamp, and they expect to open in May 2012.
Now for the editorializing.
220 seats is a huge space, especially for Portland. This has to be one of the most expensive restaurant leases in the Portland area, so they are going to have to fill the seats every night to make it. It scares me that the last owners, Spaghetti Factory which had such deep pockets who owned Fenouil couldn't make it there. Also, another part of the problems were issues with the building itself. With it's glass doors and view of the square, it is one of the most striking dining rooms around, but those same glass doors resulted in cold dining experiences in the winter months, and the upstairs mezzanine made it difficult for the kitchen to get hot food to those tables. I'd bet .50 that, if they are going to try to correct those issues, they won't make their hoped for opening date.